Wednesday, April 6, 2016
By Cory K. Doviak
NJS.com Editorial Director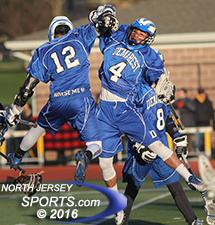 Cole Hinds (right) scored the game's final three goals to give NV/Demarest its second win of the season, a 10-9 victory on Tuesday at River Dell.
RIVER EDGE – For most of the game Cole Hinds was patrolling the midfield. With River Dell dangerous in transition situations all game long, Hinds was useful in defense of that as his speed and stick-handling ability was needed to slow the Golden Hawks, who came into Tuesday's matchup with confidence after having opened the season with two straight wins.
But when Northern Valley/Demarest, which is trying to work its way up the ranks in a crowded field of fledgling programs in Bergen County, found itself behind by multiple goals for the first time in the game late in the third quarter, Hinds was moved into a more forward position to help facilitate a comeback attempt.
"I started off at middie in this game and I have been playing middie all season so far and I don't know if I was liking it too much. It was different because last year I played attack and that is kind of what I am used to," said Hinds. "I switched back to attack about halfway through the game today and I felt right at home."
Hinds certainly looked comfortable as, with his team trailing by two goals entering the fourth quarter, accounted for all of the offense over the final 12 minutes. He scored the only three goals of the final period and, when the Demarest defense held firm on River Dell's final possession, the Norseman extended their promising start to the season with a 10-9 victory in River Edge.
"River Dell has a great program, they have a great feeder program and for us to be down 9-6 and comeback to win 10-9, our kids did a great job today," said Demarest head coach Tony Mattola. "Our defense played great, our goalie [Pat Lee] played great and we got some huge goals from Cole Hinds in the fourth quarter when we needed it. It was a great team effort."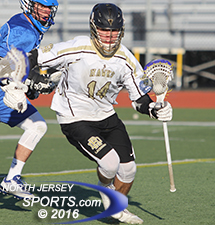 Matt Coppola scored four goals, including the one that gave River Dell a 9-6 lead late in the third quarter.
Both defenses were effective, especially in the first half. The game was tied at 2 after the first quarter and Sean Jansson's short-hopped from the top of the arc with 5:09 left in the half was the only goal that either team scored in the second quarter as Demarest held a slim 3-2 advantage at the break.
The second half was a bit more wide-open as River Dell found some opportunities in transition and a three-goal run late in the third quarter looked like it had changed the game in the Golden Hawks' favor. Nick Sirico set up Matt Coppola to break a 6-all tie with 4:56 left in the period, Richie Gneidling took a hit but finished through contact to put the Hawks up 7-6 and Coppola scored again to make it a two-goal RD lead.
A goal by Henry Ferber with :06 left in the third quarter might have started the Norsemen's fight-back, but it was Hinds who took over at the head of the charge in the fourth. He snuck in from behind the next to get Demarest within a goal with 9:30 left in the game and, after a quiet period of six scoreless minutes from both sides, Hinds got it tied with a nifty move from the right of River Dell keeper Alexander Samuel.
Shut off on his first foray into the crease, Hinds drifted outside before making a hard cut back toward the goal and finished from a tight angle to tie the game at 9 with 3:30 left in the game.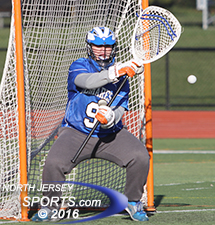 Pat Lee finished with 12 saves for Demarest, the last one with five seconds left that sealed the win.
"I posted up and did an inside roll there. I got underneath [the defender] and there was no slide [help]," said Hinds. "I saw the opening and I put it in."
Demarest took advantage of a River Dell turnover as Hinds scored from the high slot to put his team up 10-9 with 1:17 remaining and Anthony Volpe then won the ensuing faceoff to give the Norsemen the ball back, but a turnover and then a foul in the box gave River Dell a chance to work a set play on its final possession, which started from a dead stop on the left wing with 19 second left.
Sirico drove hard toward the next to draw some defenders before flicking a pass to Connor Belthoff, who slashed one hard and on frame. Lee, the Demarest keeper, was up to the challenge, however, as he made the save a waist height and then flung the ball to the other end to run out the rest of the clock.
"I knew that I just had to make one more save and then get the ball down to the other end of the field so they couldn't get off any more shots," said Lee, who finished with 12 saves for the game. "I think that the defense did well to prevent a shot from right on the doorstep and I just had to make the save and clear it out."
Demarest's defense was stingy, especially when it had the time to set itself. River Dell did most of its damage on quick counter attacks, but when the Norsemen long sticks could set their feet, they were tough to break down.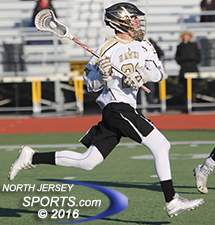 Nick Sirico had three goals for River Dell, which fell to 2-1 on the season.
"Our only loss so far was against Ramsey even that was not as bad as it has been in years past and today we stopped a team that has been beating us pretty good for the past four or five years. I think it was 12-6 last year," said Nick Kayserian, Demarest's senior defender. "As a whole I think we are playing much better than we have in previous seasons and I think we have a really good chance to exceed the expectations that everybody else has for us and maybe even the ones we have for ourselves."
Jansson led Demarest (2-1) with four goals and also added an assist. Hinds scored all three of his goals in the final 9:30, Ferber converted both of his shots into scores and Mikey Herkert also scored for the Norsemen.
Coppola (4 goals) and Sirico combined for seven of River Dell's nine goals while Belthoff and Gniedling split the other two for the Hawks (2-1), who lost for the first time this season.
"We did not come out strong at all. I don't think we played well in the first quarter and we struggled to get back in it for the rest of the game. We had a lead early in the fourth quarter, but if we had played better early we might have had more of a cushion," said Matt Winchell, who is the fourth different River Dell head coach in as many seasons. "The kids have been playing together for a long time, but we still have to get used to each other. We don't run a lot of plays, we don't run a lot of different defense. We focus on the fundamentals and try to take advantage of what we do well. This was the first time we have played tough competition this year and I think there is a lot we can learn from this loss."
CLICK HERE FOR MORE PHOTOS FROM THIS GAME. TO BUY A COLLECTOR'S PRINT OF THIS STORY, PLEASE VISIT 4FeetGrafix.com.