Friday, April 1, 2016
By Rich Barton
NJS.com Staff Writer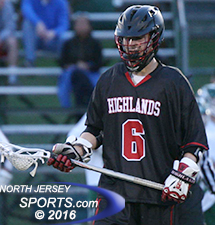 Ethan Plaskes' two consecutive goals gave Northern Highlands a 6-1 halftime lead before it held on for a 7-6 win over Ramapo on opening night.
FRANKLIN LAKES – As the final minutes wound down it appeared as if Northern Highlands had a lock on a convincing opening-night road win over a rival. The mood was celebratory as Highlands held a four-goal lead with less than two minutes to play. But when the final seconds were ticking off the clock, the Highlanders were no longer watching with a team-wide smile. They were instead hanging on for dear life as Ramapo remarkably threatened to force overtime.
Ramapo scored three straight goals in a 60-second span then won a faceoff to gain possession with a chance to force an extra session. The Highlander defense got the one stop it needed by deflecting a shot in front then running out the clock to open the season with a 7-6 triumph on Thursday night in Franklin Lakes.
Ramapo hit the post with its second shot of the game and that sound served as a wake up for the visiting Highlanders. Taking advantage of three man-up situations in the first half, Northern Highlands jumped out an early lead. Charles Ratner, Thomas Hebner and Keenan Allward scored in a 2:51 span to give the Highlanders a 3-0 lead after one quarter.
"We just wanted to come out strong and set the tone right from the first draw," said Northern Highlands' Ethan Plaskes. "We felt like we had the right matchups and we were getting all the hustle plays during the first half. The gameplan was to settle the ball and have a long time of possession. When we did that and made the extra pass, good things happened and we got the ball in the back of the net."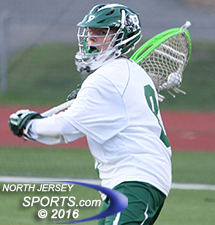 Sophomore Johnny Caponi made nine saves for Ramapo.
Blake Eischen got the Green Raiders on the scoreboard early in the second quarter. The remainder of the period was all Highlanders with Ethan Plaskes causing havoc up top. He scored consecutive goals to close out a dominant first half with Northern Highlands holding a 6-1 lead.
Ramapo started off the second half strong with a goal from Will Hartgers. Just 25 seconds later that momentum was gone. With the defense sagging off, Hebner walked into space and let one rip from 12 yards out for a 7-2 lead.
"I saw in an earlier man-up situation that they had two defenders pretty wide up top kind of allowing me to take that space. I didn't take it first time but I knew when it happened again that I'd have the space to get off a good shot."
The deficit was 7-3 in the final minutes but Ramapo never gave up hope. After scoring just three goals over the first 46-plus minutes of regulation, the Green Raiders needed just one minute to equal that output.
Andrew Robbins scored from a tough angle off a feed from Eischen. Freshman Matt Karsian picked a good time for his first varsity goal to cut the lead to two with 1:03 to play. Robbins followed with another goal 16 seconds later to slice the nearly insurmountable deficit all the way down to a single goal with 47 seconds left.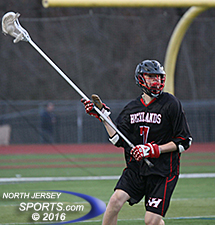 Ed Winters had a hand in the final play that preserved the win for Highlands.
The unsung hero of the comeback was Ramapo draw man Steven Knight. He won three straight, including one that gave the Green Raiders a chance for the equalizing goal. Robbins came around the net and tried to get off a leaping shot in traffic. The shot was deflected by Hebner and Ed Winters collected the ball before it went out of bounds. The Highlanders were able to maintain possession from there until the final buzzer to hold on for win No. 1 on the season.
"It was pretty crazy there at the end but we stayed calm and stayed confident," added Hebner. "We aren't happy with the way we finished the game, but it's a perfect time to learn from it. Better that this happened in the first game of the year rather than a county or state tournament game.
Plaskes and Hebner each found the back of the net twice for Northern Highlands (1-0). Ratner added a goal and two assists in front of goalie Greg Colmen (four saves).
Robbins had two goals and an assist, all in the second half, for Ramapo (0-1). Eischen, Hartgers, Trevor Ivanow and Jack Landel had the other goals. Sophomore netminder Johnny Caponi finished with nine saves.
The Highlanders were able to breathe a sigh of relief after holding on for a big win to start the season.
"The most important thing is that we stuck together and came out with the 'W'," added Plaskes. "We knew this was going to be a tough game and that they wouldn't quit. Beating a team like Ramapo to start the year is huge for our confidence. It shows how well we can play when we play together, but it's also a teaching point. We have a whole season left and we still have a lot to work on."
CLICK HERE FOR MORE PHOTOS FROM THIS GAME. TO BUY A COLLECTOR'S PRINT OF THIS STORY, PLEASE VISIT 4FeetGrafix.com.