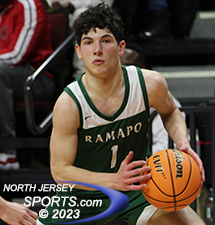 Chris Cervino scored a game-high 19 points for Ramapo, which finished off the best season in its history with a 55-42 win over Nottingham in the Group 3 state final.
PISCATAWAY – When Nottingham was forced to call its first timeout five minutes into Saturday's Group 3 state final, it was already in a heap of trouble. JP Dickerson, one of four seniors in the Northstars' starting lineup and an offensive weapon they could not afford to lose, was on the bench having picked up fouls in the first three minutes and Chris Cervino had just gone on a personal 6-0 run to put Ramapo ahead.
With all due respect to Nottingham, which won 22 games this season and a state sectional title, the writing was already on the wall. Ramapo was locked in and, making its third trip to the Group 3 state final in the last four times that it has been contested, was not going to let this one slip away. With a 16-3 run to close the first half the Green Raiders put an exclamation point on one of the best public school seasons in Bergen County history.
With a not-as-close-as-the-score-suggested 55-42 win at Jersey Mike's Arena on the campus of Rutgers University, Ramapo picked up its 30th win of the season, won its first-ever outright state title in boys basketball and became the first Bergen County public school to do it since Teaneck went back-to-back in 2016 and 2017. In a 30-3 season, Ramapo lost zero games against public school opposition.
Nick Veir has been the Ramapo head coach for the past two seasons, which have both ended at Rutgers. He is now 1-1 in state finals.
"I talk to coaches who say, 'Cherish this, it is a once-in-a-lifetime experience. We've been here twice and I have been very fortunate to coach this group. I give all the credit to the boys," said Veir. "I coach a phenomenal group of kids and they play super hard for me. Getting over the hump and winning this game, I am super excited for my team, for the program and for the Ramapo community."
Nottingham's Donta Alexander hit a 3-pointer to close the first quarter scoring to get the Northstars to within 11-8, but that was just kind of delaying the inevitable. Junior point guard Peyton Seals, just name first-team All-Bergen County and most likely soon to be named to a like position on All-State teams, opened the second quarter with a 3-pointer, the first of his 9 points in the period that helped the Raiders pull away.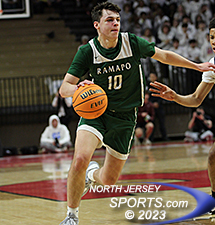 Peyton Seals finished with a double-double of 16 points and 10 rebounds for Ramapo, which finished at 30-3.
Meanwhile, Ramapo held Nottingham to just four first half field goals and just one in the second quarter when it outscored the Northstars 20-5. It was nothing fancy, just straight up man-to-man.
"Even when we weren't clicking on the offensive end I think our defense was amazing. We made it really difficult for them," said Seals. "They had some really good players, but I think we kind of took them a little bit out of their rhythm."
Seals' pull-up jumper with 5:03 in the first half put Ramapo up by double digits for the first time and then the Raiders just showed off. Playing without two starters – Wyatt Eglinton Manner and Nehemiah Burleson -- for the third straight game, Ramapo still had too much for Nottingham to handle.
TJ Keese's two free throws drew Nottingham to within 22-14, but then Chris Cervino hit a 3, Nate Burleson laid in a lob on the fastbreak, Wingfield scored on a putback and Seals hit both ends of a one-and-one as the quick 9-0 run put Ramapo comfortably in front at the break, 31-13.
Wingfield, a sophomore who has soaked up Nehemiah Burleson's minutes, had 10 rebounds in the first half alone. Zach Schnorbusch, starting in Eglinton Manner's stead, played lock down defense and was a ball-mover on offense as Ramapo routinely passed up good shots for better ones.
The Ramapo lead ballooned to as many as 20 in the second half before when Nate Burleson got free on the break for a layup to make it 35-15. Nottingham (22-9) had its best offensive stretch right after that as Dickerson and Joe Lemly bookended 3-pointers around and Alexander's driving layup for an 8-0 spurt that forced Ramapo into its only timeout of the afternoon.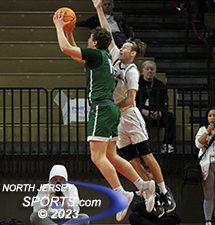 Sophomore Charlie Wingfield finished with 8 points and 12 rebounds for Ramapo, which will have seven of its top eight players back next season.
Schnorbusch then set up Cervino for a layup on the restart and Ramapo scored 7 straight points to put the game away for good. The Raiders were up 47-26 after three quarters and Nottingham set up the white flag when it cleared its bench with 2:54 remaining. Alexander (13 points) and Dickerson, who scored all 11 of his points in the second half, were the only Nottingham players to finish in double figures. Joe Lemly and Keese added 6 points apiece.
"We set the goal to get back here this season. We got here last year and we couldn't finish it, but we got it done today and it feels great," said Nate Burleson, who will play football at the University of Nevada next year. "This is one heckuva group of guys to play with. We had some many options on this team, so many players with so many strengths. We put it all together and had a Super Team."
Cervino (19 points), Seals, who finished with a double-double of 16 points and 10 rebounds to go along with 5 assists, Nate Burleson (12 points) and Wingfield (8 points) accounted for all of the scoring for Ramapo.
The crazy part is that seven of the top eight in the Ramapo rotation with be back next season with Nate Burleson being the lone exception.
"This is a special group. We all kind of decided to stick with our public school and we knew we could compete with everyone we went up against including the private schools. We wanted to play the best teams and prove ourselves and we did that," said Seals. "This is a great feeling. To finish off the season like we just did…I love my guys and I can't wait to do it again."
The Tournament of Champions was axed this year, so that is a wrap on the 2022-23 high school basketball season.
"We had such a great year start to finish and maybe we might have snuck up and won a game or two in the T o C if they had it, but it is not so bad to end your season on a win, either," said Veir. "We will take this and we are very happy to have it."
FOR MORE PHOTOS FROM THIS EVENT CLICK HERE. TO BUY A COLLECTOR'S PRINT OF THIS STORY PLEASE VISIT 4-FeetGrafix.com.