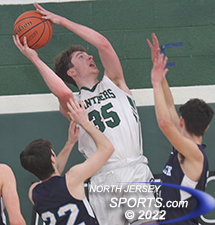 David Luberoff finished with a triple-double for Midland Park, which advanced to the North 1, Group 1 state sectional final with a 55-35 win over Waldwick.
MIDLAND PARK – David Luberoff has emerged over the past few years as one of Bergen County's most clutch performers not only because of his 6-foot-8 frame and his skill set, but also because of his calm demeanor on the court. However, facing rival Waldwick with a section final berth on the line Luberoff felt himself lose his composure for a second.
After being double teamed from the opening tap and picking up his third foul early in the third quarter, the senior forward knew that this game could potentially be the end of his season and career in a Midland Park uniform. Holding a tenuous 3-point lead going into the fourth quarter, Luberoff knew it was time to shake off some tough calls and be the leader he has been all season.
Luberoff was absolutely dominant when his team needed him most. He had 14 points, six blocks, four rebounds, and two assists in the fourth quarter alone as second-seeded Midland Park advanced to the North 1, Group 1 section final with a 55-35 victory over No. 3 seed Waldwick in front of a sell-out crowd on Saturday afternoon at Midland Park High School.
"We started to get into a flow when we moved the ball quickly," said Luberoff. "I deal with double teams every game, so I know I have to stay composed. I lost that a little bit in the third quarter. But once we got ahead and they had to come out their zone. Once they went to man-to-man I felt like they couldn't guard us and we had to attack."
Instead of trying to force feed Luberoff inside the Panthers took with the Waldwick defense was giving them. That was open three-point looks from the corner and they were hitting them early. Russell Pigg hit a pair from long range and Sean Fells came off the bench to hit two himself as Midland Park held a 17-9 lead after one quarter.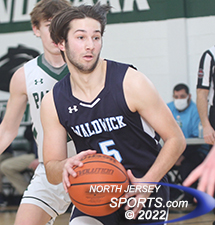 Logan Wejnert finished with a team-high 19 for Waldwick, which finished its season with a 17-10 record.
The Warriors, who lost both regular-season meetings against Midland Park, did not panic. Senior guard Logan Wejnert can score in bunches; something the Panthers know all too well. He dropped 30 and 29 points in their previous two meetings before heating up in the second quarter. Wejnert hit four of his five shot attempts in the period, including a three-pointer that gave a Waldwick a one-point lead that they took into the halftime locker room, 24-23.
The lead was still one when Luberoff picked up his second offensive foul of the game and his third foul overall with just over five minutes to play in the third quarter. Instead of trying to attack Luberoff and see if he could pick up his fourth foul the Warriors elected to stall the ball out for nearly two minutes. The Panthers decided to come out of their zone and put pressure on the ball. It was effective as the Warriors not only came out of the 'four corners' approach, but it got the Warriors out of the rhythm they were playing with up to that point.
With starting point guard Kyle Martinkis out with injury in all three of the Panthers' state tournament games, senior Michael Herlihy has taken over that job. Although more of a classic pass-first type of guard, Herlihy got a rare open look and made the most of it. His three-pointer near the top of the key snapped a tie and gave Midland Park a three-point lead which they took into the fourth quarter, 31-28.
"With (Luiberoff) getting so much attention in the paint the rest of us have to step up and hit open shots," said Herlihy. "I had to take that shot and have an answer if they left me open. Our ball movement was much better in the second half than it was in second quarter. Waldwick was doing everything they can to stay in the game and they had a good gameplan. We just had to stay patient and keep working until we got the shot we wanted."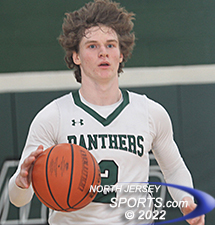 Russell Pig scored 14 of his 15 points after halftime for Midland Park.
If the Panthers were going to keep their season alive, Luberoff needed to stay out of foul trouble, remain composed, and be a dominant force in the paint. Luberoff set the tone with a bucket and an assist on the Panthers' first two offensive possessions and a total of four blocked shots on the Warriors' first two possessions. Luberoff was making plays in the paint on both ends on nearly every possession. He also got some help from Dan Fells, who scored all seven of his points in the fourth quarter as the Panthers pulled away to move one win away from a section title.
Luberoff finished his scintillating performance with a triple-double for Midland Park (21-6). He had 22 points, 13 rebounds, 11 blocks, and four assists. Pigg scored 14 of his 15 points in first half, going 4-of-7 from 3-point range.
"We play our best when we play good, fundamental basketball," said Midland Park defensive stopper Billy Stoehr. "It was about communicating and working together on defense then working to get the best possible shot on offense."
Wejnert finished a stellar four-year career with 19 points for Waldwick (17-10). From the beginning of the second quarter up until the final minute of regulation, Wejnert was the only Warriors' player to score from the field.
Midland Park will hit the road for the first time in state tournament play for the North 1, Group 1 section final. The Panthers will face off against top seed and Passaic County Tournament champion Paterson Charter. The teams faced off a few weeks ago in the NJIC Tournament semifinals with Paterson Charter taking a wire-to-wire 71-39 win. But with a championship at stake and the pressure finally off the Panthers, they will go into the game with plenty of confidence.
"I'm so proud of what we've done so far, but we have to turn our eyes to the section final now," added Stoehr. "It is really important for us to get into our usual regimen before the game and keep doing what has worked for us. This is the game we've wanted all season and we've got nothing to lose. We're going to come as prepared as we can be for this game and we're going to come out firing."
FOR MORE PHOTOS FROM THIS EVENT PLEASE CLICK HERE. TO BUY A COLLECTOR'S PRINT OF THIS STORY PLEASE VISIT 4-FeetGrafix.com
---