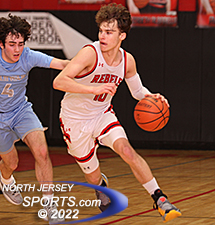 Junior point guard Richard Machado hit three first quarter 3-pointers to get Saddle River Day rolling in a 65-52 win over Mahwah in the Jambo's Round of 16.
ALLENDALE – In order to be considered one of Bergen County's best point guards, one has to perform on Bergen County's biggest stage. Saddle River Day's Richard Machado got his chance in the Round of the 16 of Jamboree on Saturday afternoon and seized the opportunity. Facing a tricky matchup against a hungry Mahwah squad searching for a signature upset and with the Thunderbirds' defense focused on stopping Saddle River Day's 6-foot-7-inch center Parker Neuenhaus inside, Machado had to look more for his shot.
It took him no time warming up as he found a spot on the floor that felt comfortable and continued to let if fly from there.
The junior hit all three of his first-quarter three-point attempts. All of them came from the exact same spot in the corner, including two straight to end the period. That gave sixth-seeded Saddle River Day a nine-point lead and it never dipped below that margin as the Rebels advanced to the quarterfinals for the second time in school history with a 65-52 triumph over No. 11 seed Mahwah on Sunday afternoon at Northern Highlands Regional High School in Allendale.
The backcourt of Machado and David Alexandre had success throughout the game offensively. Machado with his long-range shooting and Alexandre with his drives and pull-up mid-range jumpers. The Rebels grabbed 10-3 until Mahwah cut to down to a single point on back-to-back threes from J.P. Ingrassia.
After hitting an early three from the corner, Machado answered Mahwah's spurt right back in the final two minutes of the opening stanza with two more threes from the same corner to make it 18-9 after one quarter.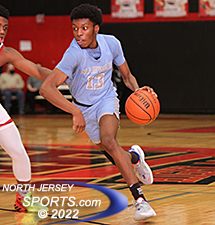 Anthony Appiah and Mahwah got as close as nine points in the fourth quarter..
"I knew when I was warming up that I felt a pretty good touch on my shot," said Machado. "With the way they were collapsing in the middle. Even when they contested I felt confident I was knocking it down. Our team plays at its best when we play simple and just make the right play. We had to have good ball movement and be unselfish if we were going to get good shots against their zone."
The Rebels' backcourt remained in control throughout the first half before making a more concerted effort to get the ball into Neuenhaus during the third quarter. The junior center went to work and hit on a floater in the paint to make it an 18-point lead. It seemed like the game was all but over, but Mahwah (16-4) refused to give up.
The Rebels started turning the ball over and the Thunderbirds started to convert those into points. Kiernan Moynihan, Nick Mazzella, and Anthony Appiah all hit threes in the fourth quarter. Appiah's deep three trimmed the lead down to nine with just over two minutes to play to get the Mahwah crowd back into it. A short jumper from Alexandre halted the run and the Rebels methodically ran out the clock from there.
Machado finished with 21 points, six rebounds, and six assists for Saddle River Day (14-2). Neuenhaus added 17 points and seven rebounds with Alexandre adding a double-double (15 points, 10 rebounds). Led by a host of defenders, the Rebels also held high-scoring Mahwah guard Nico Masi well under his scoring average.
Saddle River Day will make just its second appearance ever in a Jambo quarterfinals. Their opponent the second time around will be the same as it was their first time, No. 3 seed Ramapo. After the biggest win in program history last week on the road at St. Joe's, the Rebels are brimming with confidence. If there is a time for them to take another huge leap forward, this is it.
"We're capable of playing good defense and we showed that today, especially in the first half," said Saddle River Day head coach Anthony Gallo. "We knew Masi was a really tough guard and we had to follow him wherever he went. It's always nice when Machado goes four for four from three in the first half and Parker gets going inside. I was encouraged by our first half, but we didn't take care of the ball well in the fourth quarter when they put some pressure on us. As you continue to move on in the tournament the teams get better and you can't get away with those turnovers. We'll get back to the drawing board and get ready for a tough week coming up."
FOR MORE PHOTOS FROM THIS EVENT PLEASE CLICK HERE. TO BUY A COLLECTOR'S PRINT OF THIS STORY PLEASE VISIT 4-FeetGrafix.com
---