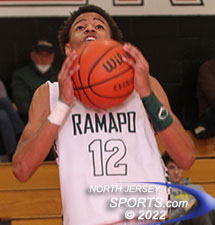 Nate Burleson, Jr. helped Ramapo get out of the gates quickly in Ramapo's 67-37 win over Fort Lee in the Round of 16 of the Bergen County Jamboree..
ALLENDALE – After letting a seven-point lead slip away during the fourth quarter of a loss to Ridgewood on Thursday, a young Ramapo team was devastated, but it was a lesson already learned. The Green Raiders quickly moved past that and are now poised to make another run through the Bergen County Jamboree.
Nate Burleson, Jr. and Wyatt Eglinton-Manner combined for 13 first-quarter points to get the Green Raiders off to their customary fast start. There would be no letdown this time around as Ramapo, the No. 3 seed, put together four good quarters to take care of 19th-seeded Fort Lee, 67-37, and advance to the Jambo quarterfinals on Saturday afternoon at Northern Highlands Regional High School in Allendale.
"We're a really good team and we're mentally strong, we couldn't let one tough loss define us," said Burleson, Jr. "When you have Ramapo on the front of your jersey you know there's a target on the back of it. We had to step up today and play fast. When we keep the tempo up, we feed off of each other and it gets us going."
Fort Lee won the tap and got a putback from Greg Garcia to take a 2-0 lead. It would be the Bridgemen's first and only lead of the contest as Ramapo quickly responded with a Chris Cervino 3-pointer. The Green Raiders put on an offensive clinic throughout the first half. Eglinton-Manner and Grant Sloan were making all the hustle plays on offense with Burleson, Jr. being the beneficiary on the other end. He hit all three of his first quarter shots, including a 3-pointer from the corner, as the Green Raiders took control early with a 19-6 lead after one quarter.
Bemiwo Ogedegbe finsihed with 8 points for Fort Lee..
The second quarter was more of the same. With sophomore Peyton Seals running the offense, the Green Raiders continued to work it through and often passed up good shots to get better ones. All five starters scored in the second quarter and David Weidmuller scored on a backdoor cut along the baseline for a layup in the final seconds to put Ramapo in full control by halftime, 35-17.
The sophomore-laden Green Raiders kept their feet on the gas throughout the second half. Fort Lee looked to make it a push early in the third and cut the lead down to 14 on a three-pointer from Isiah Stang (11 points). But the Green Raiders never flinched and quickly bumped the lead up over 20 on a three-pointer by Cervino and breezed into next weekend's quarterfinal round of the Jambo.
After attempting just one free-throw in the first half, Ramapo hit 12-14 in the second half. The Green Raiders showed off their balanced scoring attack with four players in double-figures. Burelson Jr. led all players with 15 points. Seals finished with 13 points, while Eglinton-Manner and Cervino each added 12.
Peyton Seals and third-seeded Ramapo will play No. 6 Saddle River Day in the quarterfinals.
Ramapo will take on sixth-seeded Saddle River Day, a 65-52 winner over Mahwah on Sunday, in a quarterfinal showdown. It will be Ramapo's biggest test of the tournament by far. But with a team that has only one senior (Sloan) this team has grown up quickly. They have become a force to be reckoned for the remainder of this season and for the next couple of years to come.
"We want to play good competition this time of year," said Seals. "We know we look young when you look at our roster, but this is a hard-working team that is really close on the court and best friends off the court. We've got to come out every game and prove ourselves. We still have some work to do but we'll be ready."
FOR MORE PHOTOS FROM THIS EVENT PLEASE CLICK HERE. TO BUY A COLLECTOR'S PRINT OF THIS STORY PLEASE VISIT 4-FeetGrafix.co
---
m.