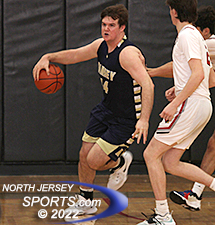 Michael Featherstone after grabbing the final rebound in Ramsey's 51-48 win on the road at Westwood on Thursday night.
WASHINGTON TOWNSHIP – With 17 seconds left in the game Ramsey had a one-point lead and two free throws, then missed both and grabbed the offensive rebound. With 10.9 second left in regulation Ramsey had a one-point lead and two free throws, then missed them both and won the offensive rebound. Same scenario played out again with :09.4 seconds left and this time it was sophomore Michael Bernius' turn to toe the line in a pressure situation.
"I have never been in an atmosphere like this before. Last year I was on JV," said Bernius. "I never played in a gym with a student section being so loud, but I just tried to block it all out and make [the free throws]."
Bernius was true on both, which saved Ramsey from a disastrous final trip to the offensive end. His two makes gave Ramsey the 3-point cushion it needed to execute a sound defensive strategy in the waning seconds. With a foul to give, Ramsey gave it as Westwood's Robbie Carcich was dribbling up the floor and then head coach Michael Christiansen chose to foul again, putting the Cardinals at the line for a one-and-one with just :02 remaining.
"They have a bunch of guys that can really shoot 3s and they were lighting it up from there all night long. I thought the best opportunity for us was to put them in the one-and-one," said Christiansen. "We didn't really want to give them a look at an open 3 because they have multiple guys that can shoot it."
Connor Roche, one of Westwood's two senior starters, finished with a game-high 16 points.
The strategy worked perfectly. Westwood missed the front end of the one-and-one and Ramsey (3-1) bounced back from its first loss of the season with a 51-48 win in Washington Township on Thursday night. The Rams also denied Westwood head coach Rob Carcich the 300th win of his career.
"We are just so young. I know we start two seniors, but basketball wise we are inexperienced. You saw it at the end. We had one big rebound to grab and we didn't get it. It's great for one of our guys to get 12 rebounds in the game, but the one we needed we didn't get," said Rob Carcich, who is in his first season at Westwood after a successful run at Passaic Valley and a stop at Wayne Hills. "We have a lot of learning to do. We can put things on paper, we can practice and we see it develop on the floor, but we have never experienced it in game situations. We will get there."
Both teams' in-season growth has been slowed by COVID. Ramsey's loss to Pascack Hills on Tuesday was its first game since December 19, while Westwood (2-1) was playing in just its third game of the season. The ring rust showed in the first quarter that ended with Westwood in front 10-8 and through the opening half as the Cardinals held a 23-20 lead as both teams struggled to unlock the other's zone defense.
The action picked up markedly after halftime especially when Westwood's Connor Roche got hot. He seven points in a 10-0 run that lasted 2:38 and gave the Cardinals their largest lead of the game at 35-24 with 2:45 left in the third quarter. Ramsey responded with eight straight points and Luca Sancilio's 3-pointer from the win got the Rams to within 35-32 heading into the fourth quarter.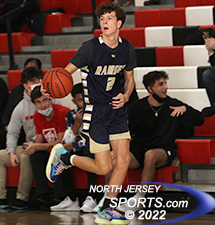 Michael Stone made two clutch 3-pointers in the fourth quarter for Ramsey.
There were three lead changes and three ties in the entertaining final period. Michael Stone nailed a 3-pointer off a designed play on which he inbounded the ball from under the basket, ran to the corner and then nailed a triple to forge the first of those ties, 37-all. Michael Featherstone's conventional 3-point play with 5:01 to go gave Ramsey its first lead of the second half at 40-37 and its first since the score was 8-7.
"We were coming off a loss and we were down by 11 or 12 at some points tonight, but there is just no end to the fight in this team. It's a simple as that," said Featherstone. "We had a good preseason and then we started the season with a couple of wins and had some momentum. Then, bang, we get shutdown. It takes a little while to get going again not just conditioning wise, but chemistry wise getting back on the court together. We got it together in the second half and played great."
Westwood played great at times, too, and took its last lead, 41-40, on a Sam Arcieri fastbreak bucket off a feed from Robbie Carcich 4:26 to play. There were ties at 41 and 44 before Ramsey nudged back in front for good, 47-44, with 2:28 to on another Stone triple. Featherstone made both ends of a one-and-one to make it 49-46, Robbie Carcich made two free throws to make it a one-point game with 43 seconds to go before the defining sequence shaped up at the other end.
Westwood committed its 10th foul with 17 seconds left, but Ramsey missed both attempts before Robert Fuerst grabbed the long rebound of his own miss. With just under 11 seconds left, Sancilio fought for the rebound off of Ramsey's second straight empty trip and knocked it off a Westwood player to grab the Rams another possession, which led to Bernius' two free throws that extended the lead to three. Christiansen's strategy slowed Westwood's advance up court and Featherstone grabbed the last rebound of the missed front end to seal the come-from-behind win.
"We had two turnovers down the stretch when we were just trying to keep it and make them come foul us, but continued to battle through it and we finally knocked down the couple of free throws we needed on the third try," said Christiansen. "We had a long shutdown. We were off from [Dec. 19] to January 3 with nothing but a couple of zoom meetings and it affected us on Tuesday and a little bit again tonight. We have a lot of work to do but it was nice to be able to hold on and get the win."
Eight different players scored for Ramsey with Featherstone leading the way with 12 and Bernius contributing 10 off the bench. Fuerst scored all 9 of his points after halftime, Stone's 6 points came on those two clutch fourth quarter 3-pointers, and Sancilio made two triples as well. Connor Farrow made two field goals and Danny Veenstra and Noah Eide split the other four points for Ramsey. Westwood got all of its points from its starting 5 with the two seniors – Roche (16 points) and Edwing Fakik – combined for 28 points. The three sophomore starters scored the rest with Robbie Carcich, finishing with 11, Sam Arcieri added 7 and AJ Batelli had the other field goal.
FOR MORE PHOTOS FROM THIS EVENT PLEASE CLICK HERE. TO BUY A COLLECTOR'S PRINT OF THIS STORY PLEASE VISIT 4-FeetGrafix.com.