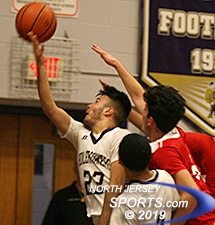 Garfield point guard Mihajlo Bebekoski finished with 16 points in the Boilermakers' 73-68 win over Elmwood Park on Thursday night in the season opener for both teams.
GARFIELD – Over the past several seasons, Garfield has been a solid, but relatively inexperienced team looking to gain some respect come Bergen County Jamboree and state tournament time. With 80 percent of the starting lineup returning this season, youth and inexperience can no longer be a crutch for the Boilermakers to lean on.
Taking on Elmwood Park in a season-opening afternoon tilt in front of a packed house, the Boilermakers saw both what they are capable of being and also how far they have to go towards being a dangerous team late in the season.
Garfield built a 24-point lead before holding off a fourth-quarter surge to earn a 73-68 victory over Elmwood Park on Thursday at Garfield High School.
"We executed what we wanted to early on but we have to learn how to close out a game," said Garfield head coach Chris Storms. "I thought we wasted too many possessions. We want to get out in transition and we want to run. But when we need to settle down and get a good shot, we have to do a better job of playing within ourselves."
Elmwood Park point guard Raydell Nivar hit a three-pointer to open the scoring, but that lead would be the Crusaders' last as Garfield forced the pace throughout the first half and consistently converted turnovers into layups, including consecutive ones from senior and four-year starter Nakie Graham, to give the Boilermakers a double-digit lead after one quarter, 21-11.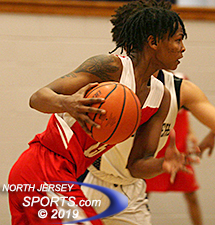 Elmwood Park's Nick Williams was all over the place as he finished with 22 points, 14 rebounds, four assists, three steals, and two blocks.
"It's always important to start the game off right and attack right away," said Garfield point guard Mihajlo Bebekoski. "We came into the game really focused and that showed with how we played in the first quarter. But we lost our focus later in the game and got ourselves in some trouble."
The Crusaders stayed close behind the play of Nick Williams and Ali Sufan in the second quarter until the final minute when Garfield created some breathing room. Bebekoski drilled a three from the top of the key and a steal led to a Louis Sosa layup to make it a 14-point lead at the half.
The halftime intermission did little to slow down the Boilermakers. Even without 6-foot-5 forward Elias Chery available for the game, Garfield showed off its depth and got solid production off the bench from Xavier Schofield, Wilfredo Marquez, and Sosa. Five different players scored during a 12-2 run to start the second half for a commanding 24-point lead midway through the third quarter.
It looked like the outcome was all but certain, but the Crusaders showed some fight. Williams was making plays all over the floor to help his team get within striking distance. After playing a handful of minutes in the first half, Essem Assaf came off the bench to provide a huge spark in the second half. He scored all 14 of his points in the second, including 10 in the fourth quarter. His floater from the baseline cut the lead to down to six with 3:17 to play. The Crusaders got the lead down to six on four different occasions over the final 3:17 but never got any closer until the final margin.
"I love how hard we fought to get back in the game but we dug ourselves too big of a hole and it took a lot of energy for us to climb out of it," said Elmwood Park head coach Kevin Tuohey. "When we started playing disciplined and trapping effectively things started clicking. But it's hard to win games when you're undisciplined for the better part of three quarters."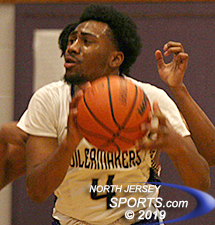 Garfield's Nakie Graham finished with a game-high 24 points.
Graham led all players with 24 points for Garfield (1-0). Bebekoski added 16 points and Zack Cook had 11 of his 15 points in the first half. Williams finished with 22 points, 14 rebounds, four assists, three steals, and two blocks for Elmwood Park (0-1). Nivar chipped in with 14 points and Joe Leto finished with 10.
Things do not get any easier for Garfield in the upcoming week. They will battle Wayne Hills on Monday before taking on Bogota the day after Christmas. The performance as a whole was not what the Boilermakers wanted. However, they look at it as a learning tool to make them a better team moving forward.
"Not our best game but it's game number one and we got a win," said Graham. "We know we can score. It's about defense, rebounding, and hustle to get us to that next level. We'll learn our lessons from today's game and it will make us a better team. For us to do what we want to do it has to be a full 32 minutes every time we step on the court. This is the season that we want to show North Jersey that Garfield is for real."
TO BUY A COLLECTOR'S PRINT OF THIS STORY PLEASE VISIT 4-FeetGrafix.com.