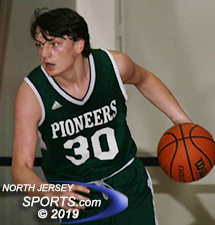 Dylan Bedder finished with game-highs of 20 points and 22 rebounds as New Providence led wire-to-wire in a 62-43 win over Wood-Ridge in the Group 1 semifinals.
EAST ORANGE – Wood-Ridge has been North Jersey's feel good story over the past week with two straight road upsets to win the North 1, Group 1 state sectional title. So in the Group 1 semifinals against a senior-dominated New Providence squad, a closing 8-0 run in the final minute of the first half gave Wood-Ridge all the momentum and just a four-point halftime deficit. However, the opponent this time was just too tough and it marked the end of a miraculous playoff run.
New Providence center Dylan Bedder had his way inside with game-highs of 20 points and 22 rebounds as New Providence led wire-to-wire in a 62-43 win over Wood-Ridge in the Group 1 semifinals on Thursday night at East Orange Campus High School.
"We basically said we wanted to control the pace and force them off the three-point line because we saw that they could get hot in a hurry," said New Providence senior guard Greg Meyers, who scored his 1,000th point earlier this season. "We feel confident at this point in the season if we limit our turnovers, take care of the ball and play our game that we're going to win."
To say both teams started off cold was an understatement with neither team scoring for the first 3-plus minutes of the game. The Pioneers finally got rolling late in the opening stanza with drives to the basket by Greg Meyers and Stanton Leuthner before Bedder started to use his 6-foot-6 frame. Lightning-quick point guard Sean Dillon fed him inside for a bucket that put New Providence ahead by double-digits, 12-1.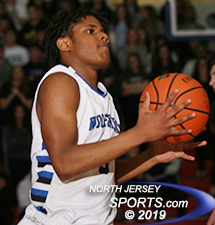 Moshe Wilson helped lead Wood-Ridge on a magical postseason run and a 20-10 final record.
Liam Winslow hit an off-balance three at the first quarter buzzer for Wood-Ridge's first field goal, but the Pioneers held onto that double-digit until the final minute of the first half when the Blue Devils took advantage of some Pioneer miscues with the ball to get back in the game. Two turnovers and a rushed shot turned into three-pointers by Winslow and Ryan Sarver along with a Winslow layup at the buzzer to pull the Blue Devils within four, 30-26, at the half. New Providence longtime head coach Art Cattano knew he had to make some changes schematically and also light a fire under his players.
"I was pretty mad going into halftime and said basically two sentences that I thought got the message across," said Cattano. "They knew and they responded. We went man-to-man in the second half and we played much better defensively once we went to it. To get to this point it's hard work and a lot of things have to go your way. We've got great kids, great leadership and the chemistry is getting better and better with each game."
New Providence went back to its original gameplan on exploiting mismatches, driving to the basket, and feeding Bedder on the block as often as possible. It did not take long for that strategy to work with the Pioneers quickly regaining control of the contest. Bedder scored 10 points in the third quarter as New Providence outscored the Blue Devils 20-5 to stretch its lead to 50-31.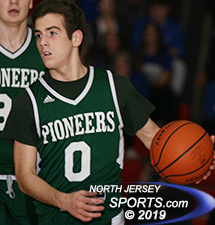 Sean Dillon and New Providence will play Burlington City on the Group 1 state final on Sunday at Rutgers.
"We had great success in the third quarter and that's because we moved the ball and played great defense," said Bedder. "We know they were smaller than us and we had to use our height to our advantage."
After missing a dunk on the opening possession of the fourth quarter Bedder made good on a second opportunity just 90 seconds later. His two-handed flush was the punctuation on the Pioneers' first trip to the Group 1 state final in 20 years.
Meyers added 16 points for New Providence (28-3). Leuthner added eight points with Richie Wawzycki, Owen Kovacs, and Dillon each chipping in with six apiece.
Winslow had 14 points and Ryan Sarver added 10 for Wood-Ridge (20-10). Although the run came to an abrupt end it will never diminish the feeling of being a champion when very few thought it was possible.
"We fought hard but we ran into a really good team tonight," said Wood-Ridge head coach Jimmy Maher. "We just couldn't knock down open shots early and It was an uphill battle. But to go from where we were last year to winning a section and just having a chance to play here has been a pretty special experience for these kids."
FOR MORE PHOTOS FROM THIS EVENT PLEASE CLICK HERE. TO BUY A COLLECTOR'S PRINT OF THIS STORY PLEASE VISIT 4-FeetGrafix.com.