Dylan Bedder had a double-double in the second quarter alone for New Providence, which started fast then held on for a 61-54 win over Weehawken in the North 2, Group 1 state secitonal playoff opener.
NEW PROVIDENCE – Through three quarters Weehawken looked like most No. 15 seeds playing at a No. 2 seed in the state tournament. Having never led in the game, the Indians trailed by 20 against New Providence heading into the fourth quarter. Weehawken head coach Jake McNish always has kids who play hard and this team proved to be no different. With each passing possession the belief grew among the Indians that they could actually come all the way back and steal the game, and they nearly did.
Weehawken trimmed the lead all the way down to four inside the final minute before three free-throws by junior point guard Sean Dillon iced the game as New Providence survived a scare to beat Weehawken, 61-54, in the first round of the North 2, Group 1 boys' basketball state playoffs.
New Providence looked inside to 6-foot-5 center Dylan Bedder early and often to first set a tone and then steadily build its lead. He was an absolute force on both ends of the floor; scoring in the paint, getting to the foul line, snatching one rebound after another and blocking shots. He remarkably had a double-double in the second quarter alone, grabbing 10 rebounds and scoring 10 points, eight of those from the foul line, as the Pioneers took a 10-point lead into the locker room for halftime, 34-22.
"We have to pick up the slack without (1,000-point scorer Brian Kelly) in the lineup and I had to play physical right from the beginning of the game," said Bedder.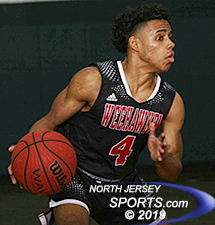 Jon Duran hit six of his 10 three-point attempts for a team-high 18 points for Weehawken.
Jon Duran hit a three-pointer to open the second half and cut the lead to nine. Dillon answered right back with a deep 3 of his own to bump the lead back up to double-digits. Richie Wawzycki added a three from the wing and Bedder followed with a putback inside to push the Pioneers' lead up to 20, 56-36, after three quarters.
"Honestly, we felt like we had the game won and you can't afford to do that in the state tournament," said Dillon. "We got complacent, we took our foot off of the gas and they started hitting shots. We won but it wasn't the ending we wanted tonight. Now we have to put this game behind us and focus on what we can do moving forward."
But the poise the Pioneers were playing with quickly evaporated into bad decisions with the basketball and poor shot selection. The Indians took advantage of that as their outside shots began to fall. Duran hit back-to-back threes to cut the lead all the way to six, 58-52 with less than three minutes to play.
Weehawken had a chance to cut the lead in half and the shot was on line but just a bit long. The Indians were then forced to foul until putting the Pioneers in the bonus. Dillon missed a front end of a one-and-one and Weehawken's Marc Torres hit a jumper to cut the lead to 58-54 with 25 seconds remaining. Dillon atoned for her earlier miss by knocking three more free-throws to put away pesky Weehawken.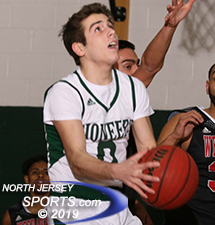 Sean Dillon and New Providence will host Shabazz in the quarterfinals on Thursday.
"Their big kid (Bedder) feasted on us inside and by the time we adjusted we were running out of time," said McNish. "I thought we're better than our record shows we were this year. But what happened tonight is what has happened to all year, we just struggle to put four good quarters together."
Bedder finished with an eye-popping stat night for New Providence (24-3). The senior had 28 points, 25 rebounds, and five blocks. Dillon added 17 points and 11 assists.
Duran hit six of his 10 three-point attempts for a team-high 18 points for Weehawken (9-17). Rosado added 13 points, eight rebounds, and four blocks.
New Providence advances to play seventh-seeded Shabazz on Thursday night in New Providence. Pioneers' longtime head coach Art Cattano, who won his 500th game earlier this season, knows his team needs to rectify some things quickly if they are going to realize their goal of winning a section title.
"We won but it doesn't feel like it with the way we finished tonight," said Cattano. "We have kids who've been here for awhile and they know what we need to. We need to pull it together and this better serve as a wake-up call. If we don't correct our mistakes from tonight our season will be over on Thursday."
FOR MORE PHOTOS FROM THIS EVENT PLEASE CLICK HERE. TO BUY A COLLECTOR'S PRINT OF THIS STORY PLEASE VISIT 4-FeetGrafix.com.