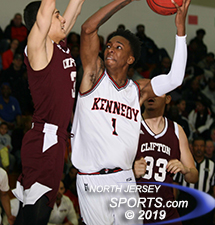 Avante Gilbert notched a triple-double (10 points, 13 rebounds, 11 blocks) to pace Kennedy in a 48-45 win over Clifton that earned the Knights the Passaic County Tournament championship.
WAYNE – After sparingly getting minutes on the varsity as a junior, Kennedy senior Jahmir Tyrell worked extremely hard in the off-season in the hopes of cracking the lineup during his senior year.
Everything seemed to be falling into place as Tyrell spent all of his senior season in the starting lineup helping lead the Knights to the Passaic County Tournament final. But on the day of the championship game Kennedy head coach Tommie Patterson told him that he was replacing him in the starting lineup. It could have ego-crushing blow to Tyrell but the senior swing was not focused on his minutes. He was focused on how to help the Knights become champions, no matter the capacity in which he did it.
Locked in a back-and-forth battle with Clifton, Tyrell was called upon in the fourth quarter. He rewarded his coaching staff, his teammates, and his own patience by taking over down the stretch.
Tyrell lit up the stat sheet but his most notable contribution would be in the scoring column. He scored eight of his ten points in the fourth quarter as second-seeded Kennedy won the Passaic County Tournament title with a 48-45 win over fourth-seeded Clifton on Saturday at Wayne Valley High School.
"This was a team effort and all of our players stepped up to get the job done," said Patterson. "Our teams know each other so well that we needed to switch things up. I took Jahmir Tyrell out of the starting lineup to give us some more firepower off of our bench. He understood and bought in, our whole team did. They came together and won this championship together."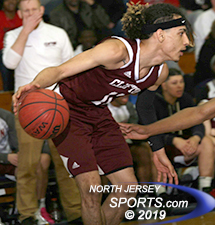 Ian Felix scored a game-high 16 points for Clifton, which was making its first county final appearance since 1975.
The energy in the Wayne Valley was live right from the opening tap and grew as the game went on. That was helped along by a physical game where neither gave an inch. The score was tied at the end of the first quarter and the lead exchanged hands six straight times in the second quarter. Avante Gilbert was all over the floor on both ends throughout the first half to keep the Knights on track before the Mustangs grabbed the lead in the final two minutes. Armani Brinson's three-pointer was followed by a pair of free-throws from Ian Felix to give Clifton a 25-21 halftime lead.
The Mustangs' lead was three points when the complexion of the game changed in a 12-second span midway through the third quarter. Brinson and Felix picked up their fourth and third fouls, respectively, to open the door for Kennedy.
Spanning the third and fourth quarters, the Knights used their deeper bench to their advantage. They forced five turnovers and used that to embark on a 12-0 run. Tyrell had two steals during the run and another player off the bench, Jay'Quan Briggs, had all four of his points and both of his steals during the spurt to give Kennedy a 40-33 lead.
"We knew Brinson was their primary ball handler and without him out there we had a chance to get on a run," said Gilbert. "It was a tough game but we weren't going to let it slip through our hands. We picked up our press and our traps were effective. They forced turnovers and those turnovers turned into buckets."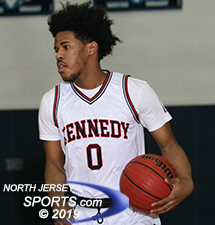 Deishon Harrison and Kennedy will enter the state sectional playoffs as a county champ as the No. 5 seed in North 1, Group 4.
Playing in the program's first PCT final since 1974, Clifton had no intention of waving the white flag. Guard Wendell Abellard played lights-out defense throughout and came up with a pair of big steals that led to buckets. He knocked down a three-pointer then dove on a loose ball, which led to a pull-up elbow jumper from Felix. Then after a missed shot Lazar Jovanovich delivered a long outlet pass to Felix for a layup to tie the game at 40 with 2:40 to play.
The Mustang faithful were riled up but Tyrell quieted the crowd with a baseline drive that put the Knights ahead to stay. The Knights struggled at the foul line over the final two minutes but got enough defensive stops to survive and secure their second county title in the past three years.
"Our offense wasn't pretty because of how Clifton plays defense but we matched that with the way we play defense," said Tyrell. "We have a bunch of guys on this team who can score 10 points on any given game. With Clifton focusing on other guys on our team I had to be aggressive when I got the ball. Starting or coming off the bench doesn't matter. I try to contribute whenever I'm on the floor and do whatever it takes to help my team win that championship."
Despite coming off the bench Tyrell had his best overall effort of the season for Kennedy (16-8). He finished with 10 points, six rebounds four steals, four blocks, and three assists. Gilbert notched an impressive triple-double with game-highs of 13 rebounds and 11 blocks to go with 10 points. Felix led all scorers with 16 points and Abellard added 11 for Clifton (19-7).
The Mustangs are the top seed in North 1, Group 4 and the Knights the No. 5 seed. So there is a possibility of the teams meeting up in the section semifinals. While the Knights celebrated this win the focus has now turned to their next goal.
"We'll enjoy this one but not for too long," said Gilbert. "It's back to practice tomorrow and head into states this week. It feels great to be county champs but our work isn't over yet."
FOR MORE PHOTOS FROM THIS EVENT PLEASE CLICK HERE. TO BUY A COLLECTOR'S PRINT OF THIS STORY PLEASE VISIT 4-FeetGrafix.com.