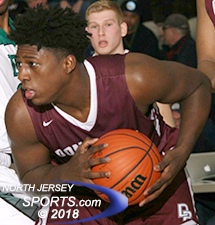 Marcellus Earlington punctuated a masterful performance with a three-point play in the final minute as Don Bosco survived a late scare to repeat as Non-Public A state champs with a 61-54 win over Camden Catholic.
TOMS RIVER – After a magnificent run through the state tournament last year, a loss in the Tournament of Champions final left a bitter taste in the mouths of the Don Bosco Prep players.
With most of the team returning, the tenor of this entire season was one of unfinished business. To get to the Tournament of Champions, a team must first win a state title and the Ironmen looked to be well on their way to doing that holding a 14-point lead over Camden Catholic with just over five minutes to play.
But when that lead got sliced all the way down to two points, the realization set in that this whole ride could be over in a flash. Luckily for the Ironmen, having their foot in the bear trap and then wiggling their way out of it seems to suit them just fine.
For the second time in three days, Don Bosco Prep played in a game with a whacky ending, but when the final buzzer sounded, it was the Ironmen once again who were celebrating.
Senior forward Marcellus Earlington punctuated a masterful performance with a three-point play in the final minute as Don Bosco survived a late scare to repeat as Non-Public A state champs with a 61-54 win on Saturday at RWJ Barnabas Health Arena in Toms River.
"After the crazy win we had against St. Peter's Prep the other night, we felt like we had a second life and we had to take advantage of it," said Rutgers-bound Ronald Harper, Jr. "We worked too hard and came too far to take anything for granted. I think that helped us start strong and get into a flow early."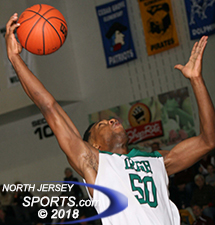 Uche Okafor and Camden Catholic finished their season with a 23-7 record.
Matt Herasme was the hero on Thursday night when he hit a game-tying three-pointer with three seconds left in regulation and then made two free throws with 0.6 seconds remaining for a 60-59 win over St. Peter's Prep in double overtime.
The Ironmen were hoping not to need those type of heroics against Camden Catholic. Earlington got it going right from the opening tap and Harper drilled a three from the top of the key with Don Bosco leading 12-8 after one quarter.
Earlington nailed a three-pointer to start the second quarter and point guard Michael Concannon hit a double-clutch shot off the glass to bump the lead up to 11, which the Ironmen took all the way to the locker room at the half, 27-16.
Both teams kept grinding away in the second half with the Irish cutting the lead to six. Concannon answered back with a three from the corner in the final seconds of the third quarter to bump the lead back up to 12, 42-30, heading into the fourth.
Owen McGlashan threw down a one-handed jam to make it a 14-point lead. The safety net of that lead quickly evaporated thanks for the red-hot shooting of Camden Catholic's Dominic Dunn. He hit a pair of NBA-range threes and then scored on a conventional three-point play to whittle Don Bosco's lead down to two, 51-49, with 2:34 left.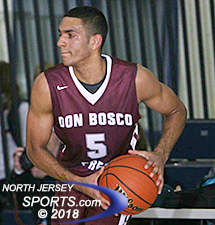 Matt Heasme has been a force in the state playoffs as Bosco heads for a second straight trip to the Tournament of Champions.
"We got out of our rhythm and before we knew it we were only up two," said Earlington, who recently committed to play at St. John's University. "Our team has a lot of experience and we pride ourselves on not getting rattled. We knew we had the lead and we had the ball, as long as we kept our composure we feel confident that we'll find a way to close out games."
There was no panic among the Ironmen though. Herasme came up big once again by drawing a foul on a drive to the basket and then hitting both free throws to make it a two-possession game, 53-49. The lead was still four with a minute to play when the Irish ramped up the pressure to try and force a turnover. On consecutive possessions, the Ironmen moved the ball quickly to break the pressure. Harper threw down a dunk before Earlington converted a three-point play as the Ironmen survived another scare to retain their title as Non-Public A state champs.
"To beat a team as disciplined as Don Bosco Prep is you almost have to play a perfect game," said Camden Catholic head coach Matt Crawford. "It was honestly a little disheartening at halftime. We thought we played pretty well except we look up and we're down 11. We never stopped fighting and we made them earn it down the stretch. We lost to a great team today but we went down swinging."
Earlington led all players with 24 points, 12 rebounds, and four blocks for Don Bosco Prep (27-2). Harper and Herasme added 14 and 10 points, respectively. Dunn scored 11 of his team-high 18 points in the fourth quarter for Camden Catholic (23-7).
The Ironmen will wait to see if they receive a bye for this week's Tournament of Champions. With another state title in the books, the Ironmen are looking to become the first Bergen County program to win a T of C title.
"Our goal was getting back to the T of C and winning it," said Concannon. "We've had a couple of scares the past few days but we've gotten out of it. Losing last year in the T of C final was heartbreaking. That has driven us all year to be better on both ends of the floor. Winning the title is the only thing left to win and that's what we are trying to do. It's T of C or bust."
TO BUY A COLLECTOR'S PRINT OF THIS STORY PLEASE VISIT 4-FeetGrafix.com. FOR MORE PHOTOS FROM THIS EVENT CLICK HERE!