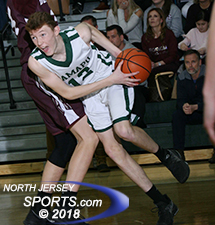 Colin McKenna and Ramapo finished off a perfect season by beating Don Bosco Prep, 64-54, and winning the Junior Jambo title.
MONTVALE – Freshman basketball games are often played right after school in front of a gaggle of a few parents and a handful of classmates. But as Ramapo and Don Bosco Prep battled for the Bergen County Freshman Tournament championship, better known as the Junior Jambo, the players got the sense that this game would be different than any other they had played up to this point. The gymnasium at St. Joseph Regional was jam-packed and the pressure was on. That suited Ramapo just fine with the Green Raiders using their depth to their advantage.
Nine different players cracked the scoring column and five players had at least nine points, led by Colin McKenna's 14, as top-seeded Ramapo shook off a slow start and won the Bergen County Freshman title with a 64-54 win over second-seeded Don Bosco Prep on Saturday night in Montvale.
"This is what we wanted all season; to be tested and win a county championship," said Ramapo's Brayden Hicks. "We knew Bosco was a good team and they would come out strong. But we're confident that we could get some stops. When we get stops on defense that usually leads to us executing on offense."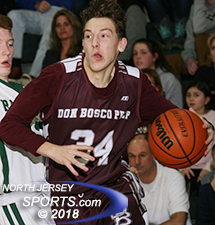 Joey Carroll was a force inside for Don Bosco Prep, but his playing time was limited by foul trouble.
Versatile forward Joey Carroll got Don Bosco Prep off to a good start with a conventional three-point play followed by a three-pointer in a 12-3 run to open the game. Ramapo never panicked and got back in the game behind the hot shooting of Michael Denblaker. He scored all nine of his points in the first quarter, including back-to-back threes, to snap Bosco's game-opening spurt. The most important play of the first half came in the final second of the first quarter when Carroll picked his third foul and was forced to the bench for the rest of the half.
That opened things up inside and the Green Raiders took advantage by not only driving to the basket more but also turning hustle plays into baskets. Case in point was the play of Sean Clapp. In a 45-second sequence he scored on a layup, took a charge that negated a basket and led to a Ramapo bucket, then dove on a loose ball that turned into a layup by McKenna en route to a 34-24 halftime lead.
"(Carroll) was big inside. When he was out of the game we went to the basket more," said Clapp. "That gave guys like Colin (McKenna) and I more confidence when we drove to the basket. Winning this tournament was our main goal as a team and we worked hard for this from day one. We couldn't let this opportunity slip away."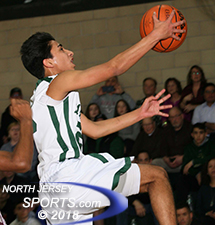 Nick Estevez scored 12 points for Ramapo, which finished off the season without a loss.
The Ironmen hoped to make a run with Carroll back on the floor, but that hope was short-lived as he picked up his fourth foul on a McKenna layup just 2:09 into the third quarter. McKenna converted the three-point play before Ramapo's depth really became a factor. Bosco made several key baskets to try and spark a run, but Ramapo responded with key baskets late in the third quarter. Brayden Hicks hit a deep three and Jack Levy added another three-pointer. Bosco trimmed the deficit down to six before John Skead came up with a big steal and a layup with Ramapo taking a 51-43 lead into the fourth quarter.
Bosco got within seven early in the fourth quarter on a basket from Phillip Park, but it never got closer than that with baskets from Clapp, McKenna, and Nick Estevez putting the game away for head coach Gary Sandberg's record sixth Bergen County freshman title.
McKenna had 14 points and Estevez added 12 for Ramapo. Hicks, Denblaker, and Clapp each added nine points. Jason Keith had four points, Levy had three, with Skead and Aidan Bennett-Jones each scoring a basket.
Mike Higgins had 12 points and eight rebounds for Don Bosco Prep. Will Darisi scored 11 points while teammates Park and Albert Serora each added seven.
To finish an undefeated season with a county championship is the pinnacle for Bergen County freshman basketball. The Green Raiders have achieved that lofty goal to show that the future is certainly bright for the program for years to come.
"I'm very proud of this team and I'm fortunate that I have so many guys who are coachable and can really play," said Sandberg. "It's difficult to get everyone minutes, but everyone buys in and this team is truly a special one. Teams that win this tournament will remember it forever. It's an accomplishment to win a great tournament like this that is not easy to win. This team rose to the occasion and more than lived up to the standard I set for them from the first day of practice."
TO BUY A COLLECTOR'S PRINT OF THIS STORY PLEASE VISIT 4-FeetGrafix.com. FOR MORE PHOTOS FROM THIS EVENT CLICK HERE!