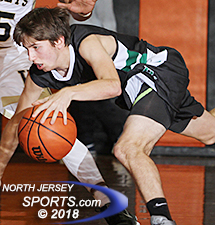 Justin Schaumberger and the Pascack Valley seniors enjoyed their Senior Night celebration with a 56-47 win over Tenafly.
HILLSDALE - It was Senior Night for the Pascack Valley boys basketball team on Thursday night and the Indians celebrated by beating Tenafly, 56-47.
"I think everyone wanted to play for the seniors," said senior Matt Harris. "All of the seniors that played tonight knew that this was one of the last times and we wanted to come out with a win."
"I'm so proud of the character of these kids, what they've been through the last couple of weeks," Indians coach Al Coleman said. "Seniors played a large part in what we did tonight, as they have all year. To see their hard work come to fruition against a very good Tenafly team, I was extremely proud of them. As I say to them, 'every night is senior night.' These guys have been grinding."
Harris opened the scoring with a layup a minute and a half into the game. In the second quarter he canned a pair of three-pointers.
"He and [senior] Justin Schaumberger are our floor leaders," said Coleman. "He's not a huge guy by stature but he carries the weight of the world on his shoulders for us."
Strong defense and missed shots by the two teams kept the halftime score down to only 18-14 in favor of the Indians. Valley senior Elan Hort's defensive prowess held Tiger seniors Max Weiner and Antonio Bonilla to a combined seven points in the first half.
After Harris drove and scored to boost the lead to six in the opening minute of the third quarter, Bonilla drained a three and junior Johnny Angbazo scored from in close to draw Tenafly within one, 20-19.
But Indians junior Justin Nicata scored from in close and then did it again on Valley's next offensive possession.
"They started feeding it in and I started getting easy baskets," Nicata said. "They couldn't stop it so we kept going back to it."
"That was the plan coming in," said Coleman. "We knew to be successful we had to pound it inside. Justin Nicata had a really good game inside and I'm happy for him. He's had an up and down year so far, but when he's good he's very good. Tonight was a great effort. And I applaud the guys for finding him and getting the ball to somebody who was getting in good position and getting good shots."
Then Schaumberger stole the ball, dribbled the length of the court for a layup and 26-19 lead, causing Tenafly to call timeout.
"I was really proud of the way they showed the character that they did to stave off any wave that they brought in the second half," Coleman said.
"We had some trouble in the beginning of the year," said Harris, "and I think we're finally starting to figure out how to work together and move the ball fast to get everyone out of position on the defense and get up the court quicker. We put a lot of work in all year and we finally got it to click. We hit our shots and we finished this game."
With the loss the Tigers fell to 11-8. There might have been a letdown as they had beaten Teaneck two days earlier. But Tenafly coach Jeff Koehler was not making any excuses.
"They beat us to every loose ball and every tough rebound in the first half," he said. "We didn't play inspired tonight. We were off, too, we missed a lot of foul shots, missed a lot of layups. They obviously are very well-coached and he out-coached me. I have to do a better job of getting the team ready."
Harris finished with 17 points and Nicata contributed 14 as the Indians broke a six-game losing streak with the win. They haven't been the same since 6-foot-7 senior forward Alex Lin left the lineup with an injury.
"Everybody understands what we lost," Coleman said, "but what we've been trying to focus on is what we have. It's a really nice group of kids in there. They work hard and they do everything we ask them to do. I'm just so proud of how they have battled through all the adversity they faced the last few weeks."
"It wasn't easy," Nicata said, "but we fought back and we're working hard to make up for Alex's loss and hopefully he'll be back soon. It was special for the seniors to get the win. We really wanted to go out and play for them."
TO BUY A COLLECTOR'S PRINT OF THIS STORY PLEASE VISIT 4-FeetGrafix.com.