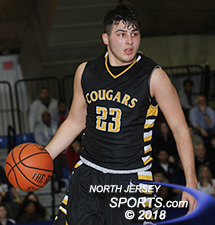 Michael Ferrara scored 10 first quarter points for Cresskill, which showed no let down after its Jambo upset in a 76-57 road win at Emerson on Monday night.
EMERSON - Cresskill put the huge, overtime upset victory over Hackensack in overtime last Saturday behind them on Tuesday night and got back to business with a quality 76-57 road win over Emerson.
The Cougars avoided a letdown to get past this league rival.
"After the game against Hackensack I was a little worried the guys wouldn't be prepared. But they came out and were mentally focused," said Cresskill head coach Dan Egorow. "They executed when it came down to it which was important for us. It shows a sign of maturity."
"Coach made it clear we weren't going to let that (a letdown) happen," added senior Mike Ferrara. "Just because we beat Hackensack doesn't mean we can just show up. We have to play hard and we did."
Egorow got the players together for a short practice Sunday to keep the team focused.
"We needed to make sure we got into the gym," he said. "We were in the gym for an hour and 15 minutes. We just needed to get something going - something constructive in a structured setting - so we would be prepared for today."
The extra practice session worked - especially for Ferrara, who scored 10 of his 21 points in the first quarter.
"In the beginning they were laying off me," Ferrara said, "so I just kept shooting. From there I was hot and I kept shooting."
The game was close for the first 12 minutes of the game. Emerson junior John Dime's (27 points) three-pointer gave the Cavos a 14-12 lead with a minute to go in the first quarter, but Cresskill senior Luka Radovich (game-high 29 points) scored from in close and then drained a three 30 seconds later to give the Cougars a 17-14 lead heading into the second quarter.
The Cougars bolstered their advantage late in the second quarter. Junior Pete Durocher drove the basket for Emerson to cut the Cougars lead to 24-20 but Radovich swished a three and senior Harrison Lucibello stole the ball and dribbled the length of the court for a layup and 29-20 lead.
Then Cresskill turned up the defense and Emerson was forced to pass the ball around the perimeter, looking for an open shot. But the Cougars weren't giving up any easy baskets.
"The defense starts with [senior] George Sikoryak," said Radovich. "Against Hackensack he played unbelievable defense. I don't know how he doesn't get tired. We build off of his defense. We see him going hard so we're motivated off of him to keep going."
"It's (defense) a staple from when coach [Marty] Rivard was coaching at Cresskill and then coach [Mike] Doto," Egorow said. "We want to be a strong defensive team. I thought we gave up a little too many points but that says a lot about Emerson offensively. They really grind you down. They had some great opportunities, some great looks, and they make you work defensively. There were times when we were on the defensive end for 30, 40 seconds. But our guys get in a stance and keep working at it, which is really important, especially when we get into the state tournament."
The Cresskill offense caught fire in the third quarter as they opened the second half with a 12-3 run to boost their lead to 19. Radovich hit a pair of threes, senior Wellington Ventura tallied a three-point play and Lucibello drained a three off a steal.
"We're all basketball players" Radovich said. "A lot of teams in our league of small schools don't have a lot of players who are strictly basketball players. A lot of schools have football players playing basketball. Our starting five and a couple of people off the bench are basketball players. We know how to play together - we've been playing together since second grade. We know what to do with each other. If one person is down we have to pick him up and keep going together. Someone is hot one night; the next person is hot another night."
"We have 10 seniors and on any given night anyone can go off," Egorow said. "A lot of times it's Luka (Radovich) but that's because he's such a great player. Wellington (Ventura), on any given night, can dominate down low. Michael (Ferrara) can stroke it, George (Sikoryak) can stroke it and Harrison (Lucibello) had one of our biggest shots of the night coming in the second half. It motivated us to get moving. They're so unselfish and they play together and they really feed the hot hand. They know each other inside and out, which is really nice. They have some really good chemistry."
The Cougars improved to 21-0 and have a league game against Bogota Thursday and a Bergen County Jamboree semifinal game against Don Bosco Prep on Sunday.
"We knew it wasn't going to be easy," Radovich said of the win. "We [only] beat them by eight points [earlier in the season] so we knew they were a tough team. Coming off the huge win against Hackensack we had to come out fighting right from the beginning. We came out pretty strong in the second half and battled through it. Even though we got into some foul trouble we still got through it as a team and finished."
"We play as a team," Ferrara added. "It's awesome that we have so many players growing up together. We've been playing forever. We know who is hot, when to give it to them and what they're good at."
TO BUY A COLLECTOR'S PRINT OF THIS STORY PLEASE VISIT 4-FeetGrafix.com.