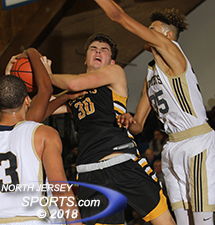 Senior Luka Radovich had a lot of his shots contested on Saturday, but not the last one, a three-pointer from the corner in overtime that gave No. 6 Cresskill a 57-56 upset of No. 3 Hackensack in the quarterfinals of the Bergen County Jamboree.
HACKENSACK – Cresskill's scouting report correctly predicted that the Cougars would have their hands full with Hackensack's aggressive and athletic defense. There were a whole lot of blocked shots and many others whose trajectories were changed as the Comets challenged just about every field goal attempt that Cresskill took…except the last one.
With time winding down in overtime in the quarterfinals of the 62nd Oscar F. Thompson Memorial Bergen County Jamboree inside the Rothman Center on the campus of Fairleigh Dickinson University, Cresskill senior George Sikoryak started a drive down the left side. He stayed low and kept his head up as a couple of defenders converged just inside the three-point line and then, when the traffic got too heavy, he shoveled the ball into the corner where Luka Radovich, surprisingly, was all alone.
"Jump shots were getting blocked the whole game so I was going to pump fake, but I saw no one there," said Radovich, a senior who was camped in the left corner. "I knew I was taking [the shot] as soon as I got the ball."
And when did he know that his shot was going in?
"As soon as it left my hand."
Radovich's shot, which gave Cresskill a two-point lead, fell straight through the middle of the basket and landed with five seconds left in the extra session. The Cougars had to sweat it out through a Hackensack timeout and then a last-ditch, halfcourt heave by the Comets, but when the final buzzer sound Cresskill had pulled off a Jambo classic, a 57-56 victory over third-seeded Hackensack.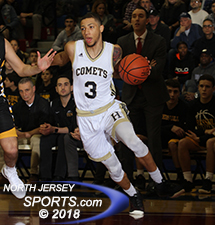 Hackensack senior Atiba Taylor, Jr. scored a game-high 22 points.
Cresskill is now 20-0 on the season and it is heading for the Jambo semifinals next Sunday against defending champion Don Bosco Prep, the No. 2 seed that eliminated No. 10 Dwight-Morrow in the quarterfinals nightcap. A quick perusal of the records shows that Cresskill will be the first Group 1 team to make the Final 4 since Waldwick in 2000 and it will be the Cougars' third ever trip to the semifinal round. It's historic stuff.
"We were down for much of the game, but we kept it close and when it came down to crunch time guys stepped up. That is all you can ask for," said Danny Egorow, who is having quite a season, his first as Cresskill's head coach. "The whole bench was into it. It was a complete team effort."
According to the seeds, this was an upset, but not as monumental a one as might be assumed when taking school enrollment into account. Cresskill is stocked with a talented senior class, it has not lost all season and it sought out a tough non-conference schedule that includes wins over public schools like Group 3 Northern Valley/Demarest, the No. 8 seed in the Jambo, and Tenafly, a Jambo qualifier, and Westwood, a state sectional finalist last season, in last week's Round of 16.
And Cresskill showed right from the beginning on Saturday night that it was not going to be run off the floor. The Cougars led for most of the first quarter and were up by as many as seven before Hackensack closed the period on a 9-0 run to take a 17-15 advantage.
Senior George Sikoryak assisted on the game-winning basket for Cresskill, which will play defending champion Don Bosco Prep in the semifinals next weekend.
The Comets got a three-pointer from the wing from Jelani Bowdoin to open the second quarter and they carried a lead into halftime, but it was just a one-point edge, 26-25. If there was one stretch of the game where it looked like Hackensack might pull away it came right after the intermission. Back-to-back conventional three-point plays by Atiba Taylor, Jr. and Toren Portee put the Comets up 32-25 and Cresskill turned the ball over four times in the first two minutes of the second half before calling timeout to regroup.
The Cougars came out of the huddle flying and put together a 10-0 run that included two made technical free throws after a Hackensack player was whistled for saying the magic words to one of the referees. Radovich made both techs to give Cresskill a 35-32 lead with 2:38 left in the third quarter before Taylor took over late in the period. The senior point guard, who will play at Youngstown State University next season, nine of the next 11 points in the game and then assisted on Chandler Williams' alley-oop dunk that put Hackensack in front, 43-37, heading into the fourth quarter.
Hackensack was up five, 48-43, with 5:57 left in regulation after another Bowdoin three from the wing before Sikoryak got free for a fastbreak basket and Radovich added four straight points to put Cresskill back in front, 49-48. There would be only three more points scored in the final 3:19 of the fourth quarter, all from the free throw line, before reaching overtime with the score tied at 50.
If Cresskill was going to win, it needed to be in a relatively low-scoring game and with a combined 100 points through 32 minutes, it was just the pace that the Cougars needed to keep Hackensack from getting comfortable.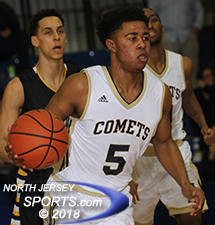 Tyren Portee finished with 16 points for Hackensack.
"They exposed some of our weaknesses, some of the things I try to harp on in terms of being a team that is going to compete for championships. We are not often forced to do so because we shoot the ball well, we are able to pressure people and we are able to pull away early a lot of the time," said Hackensack head coach Aaron Taylor. "So teams don't really get a chance to make us work on the little things and today they made us do that. They made us work on the defensive end, they attacked the offensive glass, they made free throws, they stayed disciplined on offense and they took good shots."
Cresskill scored the first two points of over time on two Ferrara free throws, there was a tie at 52 and Hackensack led by as many as three at 55-52 with 1:28 left after Seth Brown made one of two free throws. Radovich set up Harrison Lucibello for an easy bucket to make it a one-point game, Sikoryak forced a 5-second call against a ball-handler on the defensive end and Cresskill was down 56-54 before using its last time out with 18 seconds left.
Sikoryak, who started the fateful sequence with the ball in his hands, takes it from there…
"We were working on ball screens all week in practice so we went to a high-ball screen [set by Wellington Ventura] and I came off it and saw the big. Coach was saying how hard it would be to finish [a layup] and they were all telling me to kick it out," said Sikoryak. "I drove, I tracked the defense, I kicked it out and [Radovich] is a great shooter. I had great confidence that he was going to knock it down."
Knock it down he did and Cresskill is heading to the semifinals where it will run into another Bergen County stalwart, the defending champion Don Bosco Prep Ironmen, who return a host of players from last season's Jambo championship team that went all the way to the Tournament of Champions final. But that is for next week. Saturday night was reserved for celebration of a big win for a program that has been one of the standard bearers of small school basketball in Bergen County for many years now.
"It's a great night for Cresskill basketball and we keep the tradition alive by doing the little things. We are probably one of the few teams that still rolls the balls out and does loose ball drills during practice. It says a lot about our guys to go out there against a Hackensack and not back down," said Egorow, the head coach and a Cresskill High School alum. "At the end I did not want to over-coach. We were doing the pick-and-roll all night and it was working for us so we stuck with our simple play there. Luckily, Luka was in that corner, his guy stepped out and George made the smart pass. He is our best shooter and you don't want the ball in anyone else's hands in that situation with that shot other than Luka."
Cresskill got contributions from everyone it ran out there, but Egorow tightened his rotation, especially in the second half and overtime, and the scoring was evenly dispersed through its starting five. Radovich finished with 18 points, Sikoryak had 13 and Ventura had 12, but his efforts were not best characterized in the point total. Ventura mixed it up in the middle all night, and must have been full of bruises and floor burn on Sunday morning. Lucibello made all four of his free throws and had the key overtime field goal on his way to 9 points and Ferrara had the other 5 points for Cresskill including the two overtime free throws.
Hackensack got a game-high 22 points from Taylor and 16 from Portee, but struggled to find that third scorer. BJ Saliba (7 points) was held to just two after halftime, Bowdoin made the two three-pointers to total his 6 points and Razeyah Surrell and Williams split the other two field goals for the Comets, who will look to regroup in time for a run in the North 1, Group 4 state sectional tournament where they are the No. 2 seed.
"I don't think that there is a better motivator than a losing a game like this that you were expected to win," said Taylor. "I don't think there is much more that I have to say and we will see if the message sinks in."
TO BUY A COLLECTOR'S PRINT OF THIS STORY PLEASE VISIT 4-FeetGrafix.com. FOR MORE PHOTOS FROM THIS EVENT CLICK HERE!