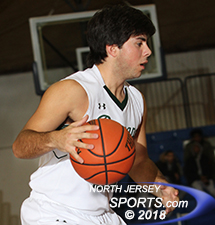 John Whooley hit a 3-pointer with 1:51 left in the third quarter to give Ramapo the lead for the first time and for good in a 48-37 win over Teaneck in the quarterfinals of the Bergen County Jamboree.
HACKENSACK – It was all teed up for Ramapo on Friday night in the quarterfinals of the Bergen County Jamboree and it was evident right from the warmups. Let's just say that there was little wait time in the Teaneck layup line as the Highwaymen, amidst disciplinary issues that have yet to fully run their course, suited up only six players at the Rothman Center on the campus of Fairleigh Dickinson University.
But instead of diving right into its depleted opponent without making a splash, Ramapo instead suffered through a first half that looked a bit like a belly flop with all of the accompanying water displacement.
Ramapo could muster only four first quarter points and trailed by as many as 13 points Malik Legette hit a three-pointer from the corner with 2:15 left in the first half. That's right, through 13:45 of game time, Ramapo had scored just five points, made just one field goal and trailed a team that had only one extra pair of hands by double digits.
"I give a lot of credit to those [Teaneck] kids. I know they are going through a lot of adversity right now, but they showed up and played and really delivered a punch to us that we were not expecting in the first half," said Ramapo head coach Joe Sandberg, who used nine different players in the first quarter in search of the right combination.  "Basically I was just throwing everyone out there to see if I could find someone who might turn the momentum in our favor."
There was not one guy that did it, but the with math on its side in terms of number of players available, number of fouls that could be absorbed and the amount of surface area that needed to be covered on the big floor at FDU over 32 minutes, Ramapo found a solution.
Junior Vernon Johnson scored a team-high 11 points for Teaneck, which had just six players available.
The Raiders outscored Teaneck 14-1 in the third quarter and when it got in front it dropped the hammer in a 48-37 victory that puts fourth-seeded Ramapo into the Jambo semifinals opposite No. 1 Bergen Catholic, which had little trouble with No. 9 Dwight-Englewood in the nightcap.
"The first half was not Ramapo basketball, the second half was," said Ramapo senior Andrew Curcura. "Six players? We just thought we could go out there and win the game, but we should have known better. It messed with our head a little bit at the beginning, but we got through it and we got the win and that is all that matters."
For Teaneck to have any shot it needed to keep Ramapo from finding an early rhythm and it could not have worked out better for the Highwaymen, who retreated quickly into packed in a two-three zone and dared the Raiders to beat them from the outside. Ramapo's output of three first half field goals proved that to be an effective strategy and Teaneck head coach Jerome Smart tried everything he could even though the bag of tricks was limited by roster constraints.
Smart pulled his players back to the other end of the floor when Ramapo was shooting free throws to save a run down the floor, he played offense/defense with his one sub, James Wicklund, as often as he could and he tried to save his timeouts not so much for strategy sessions as much as for periods of rest.
It worked in the first half. The second half was a different story.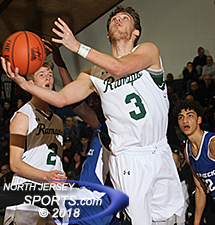 Jason Oppler scored 11 points and had 5 assists for Ramapo, the No. 4 seed, which will play No. 1 Bergen Catholic in the Jambo semifinals.
"I was trying to steal possessions and our kids fought hard, but once they made the adjustment to start trapping VJ [junior point guard Vernon Johnson], that forced the ball into other players hands so we couldn't take the time off the clock that we were able to in the first half," said Smart. "Now we were taking shots in 15 or 20 seconds instead of 60 seconds or 45 seconds, so the game got longer, they got more possessions and it was a tough situation."
Ramapo trailed 22-13 at the half, but its fortunes started to chance right with the first bucket of the second half when sophomore Max Pernetti banked in a jumper from the foul line to kickstart a 14-0 run that lasted for just about the entire period. John Whooley scored seven of his nine points in the span of 2:36 when he beat the last defender down the floor twice and also nailed Ramapo's first three-pointer of the game. That shot, with 1:51 left in the third quarter, gave the Raiders their first lead of the game, 24-22, and they stayed in front the rest of the way.
"We were getting good shots and I knew they were going to start to fall eventually," said Whooley, a junior. "I was open, I shot my shot and I was just hoping it would go in. We were all out there doing whatever we could to help the team win."
Sage Robinson's free throw with only 25 seconds left in the third quarter finally broke Ramapo's run and Teaneck's scoring drought, which lasted for 8:13. The Highwaymen trailed 27-23 heading into the fourth quarter and crept back to within one point on two different occasions in the first 1:45 of the final period, but KC Hunt's conventional three-point play with 6:01 to play and Pernetti's three-pointer from the top of the key 18 seconds later finally broke the fifth-seeded Highwaymen.
Forced to chase the game, Teaneck had to come out of its shell late and Ramapo shares the ball as well as any team in Bergen County. The Raiders found driving lanes and easy baskets to pull away.
All six players that Teaneck had scored at least two points and Johnson led the way with 11. Hunt finished with a game-high 17 points for Ramapo and also added four blocked shots. Jason Oppler had five assists to go along with his 11 points and Whooley scored all nine of his points in the second half. Pernetti blocked three shots and scored five points, while Curcura, Justin Hu and Kyle Hroncich evenly split the other six points for Ramapo, which beat Teaneck for the first time in 10 tries in the six years that Sandberg has been the head coach.
"We had never beaten Teaneck before in my tenure here and we have lost a lot of tough games to them. I don't know if my kids really believed me when I said that we had to come out and play hard even though they only had six guys out there," said Sandberg. "Teaneck came out and executed their game plan, but our kids hung in there and we were fortunate enough to come out in the second half and make some plays. Every game now we are seeing a lot of zone and if we are not making shots then it is going to be a slugfest, but when we can get a lead and get over the hump, teams have to play us and it's a different game because we are pretty athletic and we have some guys that can really go to the basket."
TO BUY A COLLECTOR'S PRINT OF THIS STORY PLEASE VISIT 4-FeetGrafix.com. FOR MORE PHOTOS FROM THIS EVENT CLICK HERE!