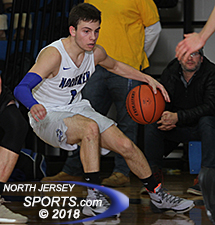 Senior Zach Stimmel helped lead NV/Demarest to a 43-33 win on Tuesday night that pushed the Norsemen's record to 16-4 on the season.
DEMAREST – Three days after a tough-to-swallow loss against Dwight-Englewood in overtime that cur Northern Valley/Demarest's stay in the Bergen County Jamboree short, the Norsemen showed their resilience by withstanding a third quarter rally by Paramus Catholic to come away with a 43-33 bounce-back victory on Tuesday night.
The Paladins turned up the defense and went on an 11-6 run to trim the Demarest lead to four, 32-28, in the first five minutes of the second half.
"We were down nine at half," said PC coach Mike Doto, "and we knew we had to pressure them a little bit and force the tempo, create a bit of a fast-paced game. We knew we couldn't go sit in a zone because they would just chew up clock on us."
Demarest senior Joe Rotonde buried a three-pointer in the opening minute of the third quarter to boost the lead to 12. Back-to-back baskets by Paladin juniors Terrence Fortune and Joseph Paulillo cut the advantage to eight but Norsemen senior Zach Stimmel drained a three to increase the lead to 11.
Then Paramus Catholic scored on its next three possessions to make the game close. First, Paulillo scored from in close and 40 seconds later junior Cameron Burns swished a three-pointer. Twenty-five seconds after that Paulillo cut the Demarest lead to four with a put-back and the Norsemen called time out.
"They're a good team," said Demarest coach Joe Dionisio. "They're well-coached. Mike (Doto) has always coached good defensive teams so they probably increased their energy a little bit."
Rotonde canned a pair of free throws with a minute to go in the third quarter so the Norsemen headed into the fourth quarter with a six-point lead, 34-28.
"They kept their defense aggressive, especially on me when I was getting a second man running at me," said Norseman senior Jake Runyon, who scored 13 of his game-high 18 points in the first half. "We're all used to it. At this point in the season we just have to adjust and we did a good job of that."
Paulillo scored on a floater to get the Paladins within four early in the fourth quarter but it was all Demarest after that. Runyon scored from in close off a pass from Rotonde to boost the lead back up to six.
"I thought we did a good job keeping our composure when it got a little close in the third and fourth quarter," said Runyon. "We stuck to our game plan, kept shooting and we were able to spread the lead out a little more and be a little more comfortable at the end."
Senior Kamoni McHarris swished a three for the Paladins with less than a minute to go but the Norsemen drained six free throws down the stretch to hang on for the win.
"We had them down to four near the end of the third," said Doto. "We were in a good position and then in the fourth quarter we got really cold. Our guys came out and competed and then in the fourth quarter we just couldn't buy a bucket. Overall it wasn't a terrible performance by us - a couple of mistakes here and there - and they made a lot of big shots on their end. That's the way it goes sometimes."
For the Norsemen the game increased their season record to 16-4, but more importantly it helped them get past the 47-44 overtime loss to Dwight-Englewood in the Jambo.
"Coming off the weekend I thought it was a good effort on our part," Dionisio said. "I was really happy with the way we were ready to play tonight. When we needed some baskets we were able to find them.To win games like this you have to withstand runs. Fortunately we were able to do that."
"I think it was important for us to get this win after what happened Saturday," added Runyon. "It was good to get back on track, get the win streak started again and forget about what happened."
TO BUY A COLLECTOR'S PRINT OF THIS STORY PLEASE VISIT 4-FeetGrafix.com.