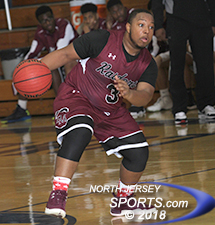 Drew Tyre and Dwight Morrow went on a 10-0 run spanning the third and fourth quarters to pull of a 65-58 upset of seventh-seeded Ridgewood in the Bergen County Jamboree Round of 16.
ALLENDALE – After a three-pointer by Ridgewood's Tommy Carver gave Ridgewood a seven-point lead midway through the third quarter in the Bergen County Jamboree Round of 16, Dwight Morrow was at a crossroads.
When most teams need a spark they often lean on a three-point shooter or a slashing guard to make something happen, but Maroon Raiders' head coach Leo Jones went in a different direction.
He called on his 'Goon Squad,' his designated group of players that come off the bench to provide a jolt of energy through hard work on the defensive end of the floor. Led by Zakkiy Morgan and Jihad Edmond, the Raiders righted the ship before taking over in the fourth quarter.
Morgan got the ball rolling with two big defensive plays. The Raiders fed off of that with a 10-0 spurt spanning the third and fourth quarters before Edmond's only two baskets over the final three quarters came in the game's closing moments as No. 10 seed Dwight Morrow reached the Jambo quarterfinal round with a 65-58 victory over seventh-seeded Ridgewood on Sunday at Northern Highlands High School in Allendale.
"This was a total team win. Everyone did their job and the guys who came off the bench were huge with the energy they gave us. It lifted us all up," said Dwight Morrow's Owen Roberts. "We felt like we could score but to win big games like this we had to get stops. Everybody bought in on what we had to do in the second half and we got it done."
Both teams shot over 60-percent in an entertaining first quarter, capped by a deep three from Roberts to tie the game at 19. Macio Robinson curled around a pick along the baseline to hit a three from the corner for a 26-21 Dwight Morrow lead. However, the shot selection that was a strength for the Raiders through the first half quickly evaporated. Ridgewood took advantage with 6-foot-7 Michael Schretter and 6-foot-4 James Miller in the post. Schretter hit a pair of layups in a 15-5 run that gave Ridgewood a 36-31 halftime lead.
Carver, Ridgewood's senior point guard, was a handful all game long for the Raiders. He swished an NBA-range three-pointer to give the Maroons their largest lead, 43-36. Jones then went to his Goon Squad and they quickly went to work. The Maroons tried to take advantage of the size advantage inside as Morgan was giving up six inches in height to Schretter. What Morgan lacked in height he more than made up for with his heart and his effort on the court that permeated the rest of his teammates.
"Our Goon Squad did a helluva a job today, led by Zakkiy Morgan," said Jones. "Undersized at 6-1 against a 6-7 big, he came ready to play and our second unit gave our first unit the energy we needed to get over the hump. We can go 10 deep and you never know who's going to step up on any given night."
The Raiders finally started getting some stops on defense and Roberts kept his hot hand from the perimeter with three-pointers on consecutive possessions to trim the deficit to two entering the fourth quarter, 49-47.
"I'm not sure if (Morgan) scored today but he was the most important player we had because of his effort," said Macio Robinson. He set the tone and we followed his lead on defense and it led to open shots on offense."
Another three from Roberts followed by a steal and a layup from Macio Robinson gave Dwight Morrow a 54-49 lead with 6:09 remaining. An off-balance shot by Marcus Robinson and a free-throw from Drew Tyre bumped the lead up to six with just under three minutes left. Ridgewood made one last push and had a chance to at least tie the game but missed three crucial free-throws.
Instead of being locked in a tie game, the Raiders were able to work the clock with a lead before Edmond put the game away. His tough runner off the glass made it a two-possession game and his layup sealed Dwight Morrow's berth in the Jambo quarterfinals.
Roberts led all players with 20 points for Dwight Morrow (14-6). Martini Martin had a solid overall performance with 13 points, five assists, and three steals. George Garrison, Macio Robinson, and Edmond each added eight points. Schretter (13 points and 11 rebounds) and Miller (15 points and 10 rebounds) each notched double-doubles for Ridgewood (10-7). Carver added 11 points and three assists.
Dwight Morrow thrived in the underdog role on Sunday and it will be in a similar position next Saturday when it faces the defending Bergen County Jamboree champion Don Bosco Prep, this year's No. 2 seed.
"We know we're the underdogs but don't have anything to lose, that's just fine for us," added Macio Robinson. "We know that we can't give a team like Bosco any breaks. This is a team that's going to leave everything on the floor. We want this opportunity and we're ready for the moment."
TO BUY A COLLECTOR'S PRINT OF THIS STORY PLEASE VISIT 4-FeetGrafix.com.