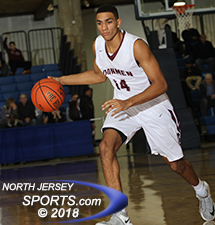 Matt Herasme scored a career-high 22 points for second-seeded and defending champion Don Bosco Prep, which beat No. 18 Bergen Tech, 77-55, in the Round of 16 in the Bergen County Jamboree.
ALLENDALE – Don Bosco Prep has earned its status as one of New Jersey's best teams by being more physical and playing suffocating defense against its opponents right from the opening tap. However when facing upstart Bergen Tech, the Ironmen struggled to get their normal stranglehold. It was a position that is largely unfamiliar to this group of Ironmen, especially against in-county competition.
Part of being a championship team,  though, is staying the course when things are not going smoothly. Led by Matt Herasme and Marcellus Earlington, Don Bosco navigated its way through a rough patch before putting its foot on the gas pedal in the second half.
Herasme dropped in a career-high 22 points, including a buzzer-beating three-pointer to end the first quarter that gave second-seeded Don Bosco Prep some breathing room, en route to a 77-55 win over No. 18 seed Bergen Tech in the Bergen County Jamboree's Round of 16 on Sunday at Northern Highlands High School in Allendale.
"At this point in the season it's about getting wins and moving on," said Don Bosco Prep head coach Kevin Diverio. "I thought we executed well offensively when we needed baskets and that carried us through the game. Bergen Tech works their tail off and gave us some problems, especially on the boards where we usually do pretty well, which allowed them to stay within striking distance into the fourth quarter."
Bergen Tech showed no fear throughout the game and kept it close throughout the first quarter. The Knights ran their offense effectively and got quality shots as a result. Andrew Yoon and Marc Martinez each hit threes to keep the Knights close. Down 18-14, the Knights had a chance to hold for the final shot of the quarter but instead took a rushed shot. That proved to be a costly move as Earlington grabbed the rebound and it led to Herasme's three at the buzzer for a 21-14 Bosco lead.
The Knights focused on keeping Earlington and Rutgers-bound Ronald Harper in check. They did that well throughout the first half but it also opened up other opportunities on the perimeter. Herasme took full advantage with a personal 8-2 run to put the Ironmen in control, 41-29, at the half.
"We started to pass up first shots for better shots and Matt knocked out a few big ones when we needed it," said Don Bosco point guard Michael Concannon. "I don't think there are too many teams in the state that can match up with us inside, so we felt confident we could score. But we were a step slow on defense for most of the first half and give (Bergen Tech) credit. When we were a step behind getting around screens, they made us pay for it."
Battling foul trouble throughout the second half, Bergen Tech did everything possible to stay close. Brian Ibeabuchi's steal and layup cut the deficit back to single-digits, 54-45, with 5:35 to play. The Ironmen never let them get any closer with five points each from Concannon and Earlington to open the lead back up before Harper punctuated the victory with a 360-degree dunk.
Herasme hit 7 of his 11 shots from the floor for a game and career-high 22 points. Earlington did the dirty work inside with 18 points and 14 rebounds for Don Bosco (17-2). Martinez finished with 19 points and Yoon added 12 for Bergen Tech (10-9).
With the win Don Bosco moved one step closer to defending its Jambo crown. Next in their path is a dangerous Dwight Morrow team. The Ironmen will be the heavy favorite to advance, but they are experienced enough to know not to take any game for granted.
"We have a good group of guys here and we know that everyone is out to get us," said Earlington. "We have to keep our crown and keep pushing each other. It comes down to playing defense and just doing what we've done for the past few years to be successful. If we keep playing hard and use the energy we had in the second half for an entire game, we'll be alright."
TO BUY A COLLECTOR'S PRINT OF THIS STORY PLEASE VISIT 4-FeetGrafix.com.