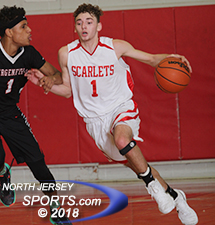 Senior David Feliz has helped lead Ridgefield Park to the cusp of qualifying for the Bergen County Jamboree with two games and three days left before the cutoff.
RIDGEFIELD PARK – At 0-3 through three games of the season it seemed pretty reasonable to cross Ridgefield Park off the list of teams that would be entering this week harboring hopes of qualifying for the Bergen County Jamboree. Nine games and a month later, however, the Scarlets' fortunes have taken a drastic turn for the better.
In fact, now winners of eight of its past nine, Ridgefield Park has two games left before Wednesday's seeding meeting and two wins gets it in no questions asked with the requisite .650 winning percentage needed for automatic entry. Road games against Garfield on Monday and Dwight Morrow on Tuesday stand in Scarlets way, but even a split might be enough. A 9-5 record would put RP in a pool with teams like Pascack Valley, Dumont, Dwight Morrow, River Dell, Bergen Tech, Tenafly and Ramsey, which will all garner at large consideration because of their Big North schedules.
At the core of the turnaround has been an increase of intensity on the defensive end.
"In that nine game span we are holding our opponents to an average of 35.5 points per game," said Ridgefield Park head coach Chris Gaskin. "We have played very good defense and that has kept us close. On the offensive end David Feliz and Alex Willoughby have started to make shots and play more along the lines of their offensive capabilities."
Two players do not a team make, however, and Ridgefield Park has gotten contributions from a variety of sources each according to what they do best. Six-foot-8 center Danny Lane, who has begun to garner attention from NJAC teams, is changing shots and grabbing rebounds, Chanz Martinez stuffs the stat sheet and Jonas Espinal has been steady at the point.
"The kid who kind of silently gets it done night in and night out is Chanz Martinez. He has 35 offensive rebounds on the season and that is a lot for a kid that is only 6-1. Jonas Espinal, even when he struggles to score the ball some nights, he is getting six assists, six rebounds and you can win with that," said Gaskin, whose program last made the Jambo in 2014. "The guys off the bench like Hector DeLorenzo and Isaiah Mendendez are giving us good minutes and we get leadership from Justin DePena, a senior who gives great effort when he gets his minutes. We have developed an identity."
Ridgefield Park is certainly a better team than it was at the start of the season and the Scarlets will get to see just how far they have come. If they get past Garfield then they will play in Englewood with an automatic Jambo spot on the line. The first time RP met Dwight Morrow, the Maroon Raiders hung a 69-41 loss on the Scarlets.
"I think that the fact that Jonas Espinal, Chance Martinez and Danny Lane all played football made it take a little longer for them to get acclimated this season. We started off with three league games, we had our moments when we struggled to score in those games," said Gaskin. "Against Dumont we were up at the half and lost, against Fort Lee we were up 15-2. We have improved since then, we have figured our roles, we are playing as a team and doing a great job."
Qualifying for the Jambo has evolved over the years. It used to be that only the top 16 teams as determined by the selection committee were included, but the field has expanded over the past few years as the local high school sports landscape has changed. Teams can still assure themselves of a spot with a .650 winning percentage, but strength of schedule is as much of criteria as anything else for those below that mark.
Now that the Non-Public schools really only knock heads with each other and enter holiday tournament and showcase events stocked with national competition, wins and losses don't tell the full story of their talent in relation to the Bergen County public schools, which even have their own pecking order now. There are the teams from the Big North that rarely get a night off in league play and those from the NJIC, which are playing an entertaining brand of hoops mainly amongst each other.
That makes it impossible to compare Jambo resumes in an apples to apples approach and the answer has been to loosen the at large criteria. NJIC teams, with some exceptions, pretty much need the .650 to get in. Big North teams generally need to be above .500 to get serious consideration and Non-Publics can and have been let in with records at the break even mark. A recent rule change also adds to the committee's flexibility as no longer does an at large team need to be seeding inside the top 16, which means they can be placed anywhere in the bracket. That frees up some extra spots.
This season there could be as many as 24 teams in the Jambo field although the top six look all but set even before the selection committee meets on Wednesday night.
Bergen Catholic, by virtue of its win over defending champion Don Bosco Prep last week, will likely be the No. 1 seed followed by the Ironmen. Hackensack will most likely garner the No. 3 seed while No. 4 should be either Teaneck or Ramapo, although that means little other than which color jersey each team wears in a potential 4/5 matchup in the quarterfinals. Unbeaten Cresskill should grab the No. 6 spot as the NJIC's top candidate and then it is anybody's guess as the committee tries to slot the remaining teams, which will include at least six from the NJIC and perhaps as many as eight.
With so much still left to be determined, Gaskin figures his team will still be in the mix even if it splits these two all-important upcoming games.
"I think we would still have a good shot. We lost to Dumont, which I think is a Jamboree team, and lost to Westwood and both of those losses were on the road by less than 7 points. If we lose on Tuesday that would be two losses to Englewood, which is a very good team," said Gaskin. "I don't know if we will get in, but at 9-5 I think we would get serious consideration and our job is to make it as tough as possible on the committee to keep us out."
TO BUY A COLLECTOR'S PRINT OF THIS STORY PLEASE VISIT 4-FeetGrafix.com.