Wednesday, December 28, 2016
By Cory K. Doviak
NJS.com Editorial Director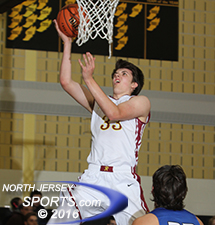 Mike Schretter scored a game-high 13 points for Ridgewood, which put on a defensive show in a 53-29 win over Demarest in the opening round of the All Groups Tournament in Cresskill.
CRESSKILL – Ridgewood's boys basketball team has had its ups and downs through the first two weeks of the season, but has working to put together a game where it all comes together. It finally happened on Tuesday night at the All Groups Holiday Tournament and the Maroons enjoyed all 32 minutes of it, or at least the 30:12 of game time during which they had the lead.
Quin Peane's steal and layup just over one minute in put Ridgewood in front for good and the Maroons went on to 53-29 win in which it had 10 different players score at least two points and allowed just six field goals through the first three quarters at Cresskill High School. Ridgewood will take on Pascack Hills on Thursday night in the tournament final and go in there with some confidence.
"The kids came out with a lot of energy, with a lot to prove, a little chip on their shoulder and tonight I think we started to move in the right direction," said Ridgewood head coach Mike Troy. "This has been a great tournament for us over the years. Generally speaking it is always four competitive, well-balanced teams and I have enjoyed, but I will enjoy it more if we win [on Thursday night]."
Demarest is a physically imposing team with three starters from the football team – Joe Rotonde, Austin Alberici and Ralph Arias, among the hoops starting five with another offensive lineman, Connor Scaglione, playing heavy minutes off the bench. The Norsemen are not the kind of team that an opponent wants to get caught playing possession by possession against. Offensive rebounds are tough to come by and all but the hardest of drives to the basket are punished.
Zach Stimmel had 8 points for Demarest and knocked down two of his team's four 3-pointers.
Ridgewood has some height and length, too, but the Maroons wanted their bigs, Michael Schretter and Quin Peane, running up and down the floor ahead of the pack instead of fighting for inches of real estate on the low blocks. Ridgewood changed up its defenses from man to aggressive zones and got its hands on a lot of passes that turned into loose balls and opportunities in transition. By opening an 11-3 lead after the first quarter, Ridgewood forced Demarest out of its comfort zone.
"We threw a lot of different defenses at them and we tried to be aggressive in whatever set-up we were in. We also ran a press that I don't want to give too many details about, but it effective because it sped up the game," said Schretter, who was the only player to finish in double figures for either team with 13. "Demarest is the kind of team that wants to play a game in the 40s. They are big, they are strong and we wanted to make sure that we dictated the pace with our defense."
Mission accomplished as Ridgewood allowed just four first half field goals. Demarest's best stretch of offense came when it scored six of the first eight points of the second quarter. Scaglione made two free throws and a nice reverse layup and Zach Stimmel came up with a steal and a layup to get the Norsemen back to within 13-9. Ridgewood answered with a 5-0 run spurred by Tommy Carver, who finished two drives, the second with a floater, to regain the momentum as the Maroons held a 20-12 advantage at halftime.
"We have a lot of talent on this team and this is really the first time that we put it all together. Our offense and our defense were clicking by all measures tonight," said Carver, who scored all six of his points in the first half to help Ridgewood pull away. "We had a couple of guys injured for a couple of game, but we were all healthy tonight, we are back at full strength and I think our defense was the most important thing for us. We used our defense and turned it into offense."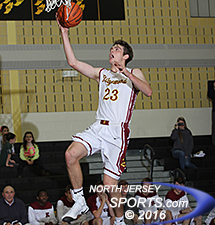 Quin Peane had 8 points for Ridgewood, which improved to 3-2 ahead of its matchup against Pascack Hills in the tournament final on Thursday.
Ridgewood opened the second half with a 7-0 run capped by Gabe Millstein's 3-pointer and then closed the third quarter with another 7-0 spurt, again finished by Millstein 3, to make it 34-16.
Schretter had a baseline dunk to account for two of his game-high 13 points, Peane finished with 8 and Carver, Millstein and Chris Zito all added 6 points for the Maroons, who are now back over .500 for the season at 3-2. Caesar Silvestro and Sean Gorman combined to go 6 of 8 from the free throw line to each finish with 4 points and Kyle Mack, Ben Geraghty and Pat McGuinley evenly split Ridgewood's other 6 points. Jake Runyan (9 points) was the leading scorer for Demarest while Stimmel and Scaglione each added 8.
Ridgewood against Pascack Hills should make for an interesting tournament final as each jockeys for position in the Bergen County public school pecking order with eyes on not only qualifying for the Jamboree but also making some noise in it.
"The Jambo is very important to us, especially because we did not make it last year and we had some games on our schedule like the one we played tonight that we did not win. So to win this game convincingly is a huge step in the right direction," said Schretter. "We are looking forward to playing [Pascack Hills] again just because we lost to them pretty badly in the first round of this tournament and we can see how far we have come, but for our team it is just one day, one game at a time. For us to be successful, that is how we have to look at it and hopefully good things will come our way."
CLICK HERE FOR MORE PHOTOS FROM THIS GAME. TO BUY A COLLECTOR'S PRINT OF THIS STORY, PLEASE VISIT 4FeetGrafix.com.