Wednesday, December 28, 2016
By Cory K. Doviak
NJS.com Editorial Director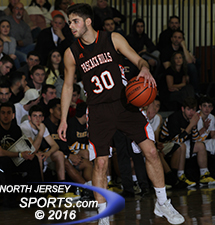 Jason Shill switch to the point late in the third quarter and led Pascack Hills on a 24-1 run that broke the game open as the Cowboys beat Cresskill, 64-45, at the All Groups Tournament on Tuesday.
CRESSKILL – Cresskill was on a run and Pascack Hills head coach Kevin Kirkby quickly signaled for one of those time outs designed to break the momentum and give his team a chance to catch its breath. Cresskill, the home team and the host of the All Groups Holiday Tournament, was on a 10-2 run and had just taken a one-point lead with 2:29 to go in the third quarter.
Kirkby not only settled his squad in the huddle, he also made a substitution that would pay off as soon as the Cowboys stepped back on the floor. By inserting Mick Walsh into the lineup and moving Jason Shill to the point guard position, Kirkby went as big as his roster allows. The tweak worked wonders.
When play resumed, Kevin Michael put back a missed shot, Shill completed a conventional 3-point play and Nick Guillemain hit a runner as the Cowboys struck back with a 6-0 run of its own to wrest back control of the game. Having been up by just one with 10:29 to play in the game, the final score shows just how dominant Pascack Hills was down the stretch as it improved to 4-0 on the season with a 64-45 victory. The Cowboys, the Group 2 representative, will play Group 4 Ridgewood on Thursday night for the All Groups Tournament trophy.
"Mike Walsh, who is a senior, does not play a lot of minutes because he has a bad leg. He's missed almost all of the last three years, but when he goes in he is like instant energy for us. He went in, we moved Shill to the point and that is when we kind of took off," said Kirkby, who has 12 seniors on his roster. "We have kids that live and die basketball, so that makes my life easy."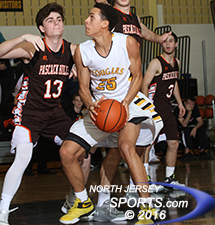 Wellington Ventura finished with 10 points for Cresskill, which had closed to within a single point late in the third quarter.
There was nothing easy in the first half and beyond for Pascack Hills as Cresskill led 13-12 after the first quarter and withstood a couple of runs that kept it close throughout a first half in which neither side had more than a five-point lead. The Cowboys' largest lead was at 7-2 after a Guillemain run out with 2:53 left in the first quarter and Cresskill's largest edge came at 13-9 in the final minute of the first period after Jagger Kushner hit a 3-pointer in transition. Pascack Hills went ahead for good at 19-17 with 5:38 left in the second quarter on a foul line jumper by Ryan Rockha, but couldn't shake the Cougars, who trailed by just three points at the intermission, 27-24.
When Michael Murphy, who had averaged nearly 20 points per game coming in, but who was slowed by three first half fouls, hit a 3-pointer right out of the locker room and Guillemain followed with a steal and uncontested layup, it looked like the Cowboys were on their way to breaking the game open. Shill's free throw with 2:48 into the second half gave Hills its largest lead of the night to that point, 33-26, but that was when Cresskill made its move.
Jack Maltby got the 10-2 run started with four straight points, a basket in the low blocks off an entry pass by Harrison Lucibello and two free throws. Luca Radovich then scored in transition and, after two Michael free throws for Pascack Hills, Maltby again scored four straight points to bring Cresskill to within 36-35 and force Kirkby into the game-changing time out.
"The first three quarters were rough. Their point guard [Lucibello] is good, he hit some threes on us, and they are pretty big for a Group 1 team," said Guillemain, the senior who was a first team All-Bergen County selection last year when Pascack Hills made it all the way to the Jambo semifinals. "The thing about our team is that most of us have been playing together since we were in second grade. We have the kind of chemistry that can get us through tough games."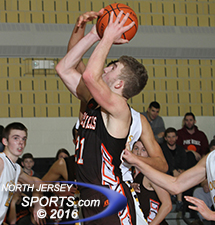 Senior Nick Guillemain scored a game-high 23 points for Pascack Hills, which improved to 4-0 on the season.
Because of the depth in the program for the last decade or so, certain players have had to wait for a spot to open before they get to make an impact of their own. Murphy is one of those. A role player off the bench last season, Murphy came into Tuesday night's game averaging nearly 20 points per game. He was slowed by three first half fouls against Cresskill, but he scored the first four points of the fourth quarter to help Pascack Hills crack the game open.
"I was the since or seventh man last year just looking for an opportunity, but this year, throughout the summer and the fall league, I started to figure out what my role on this team was going to be and we have just kind of meshed," said Murphy, who scored 7 of his 9 points after halftime. "We have 12 seniors on the team this year and we were a good freshman team, 23-3, so I have, we all have, been looking forward to this season for a while."
Any team would look forward to the kind of fourth quarter that Pascack Hills had to close things out. A 16-1 run covering the first 4:54 of the period took the Cowboys from up six entering the quarter to a clear-the-benches opportunity less than five minutes later.
Guillemain led all scorers with 23 points and Shill scored 9 of his 13 after halftime. Murphy finished with 9, Michael and Rockha each had 6, Walsh scored all 5 of his points in the first quarter and Sean Janovic added a fourth quarter field goal for the still unbeaten Cowboys.
Harrison Lucibello had three 3-pointers and a team-high 12 points for Cresskill.
Lucibello made three first half 3-pointers on his way to a team-high 12 points and Wellington Ventura (10 points) was the other double-digit scorer for Cresskill (2-3). Maltby scored all 8 of his points during that third quarter spurt, Kushner added 5 points, Radovich finished with 4 and Danny Park and Brandon Williams split the other four points for the Cougars, who will play Group 3 Northern Valley/Demarest in Thursday's consolation game.
"We gave them a real go for three quarters, but in the fourth quarter Pascack Hills, a great team, turned it on. Give them the credit because we were not able to match their intensity there late in the game," said Dan Egorow, who has coached Cresskill for the past two games. "We schedule some tough teams early. We played Dwight-Englewood up at Ramapo [College], we saw Pascack Hills her tonight and Demarest, even though their record might now show it right now, is a talented team and we will see them next. The goal around here is always to win league titles and state titles and seeing teams like this early can only help us get where we want to be later in the season."
CLICK HERE FOR MORE PHOTOS FROM THIS GAME. TO BUY A COLLECTOR'S PRINT OF THIS STORY, PLEASE VISIT 4FeetGrafix.com.