Wednesday, December 21, 2016
By Cory K. Doviak
NJS.com Editorial Director
Joe D'Amico knocked down his first three 3-point attempts for Old Tappan, which led wire-to-wire in a 71-46 victory over Pascack Valley on Tuesday.
OLD TAPPAN – Northern Valley/Old Tappan's boys basketball team knows the laid in the path of its pursuit for all of the championships that it is eligible to play for. The Golden Knights play in the same league, county and state section as Teaneck, the defending Group 3 state champion that made it all the way to the Tournament of Champions semifinals last year and has much of that team back or will at least when all eligibility issues are resolved.
Old Tappan might have started to close that gap in the last of the three games the team played last season, a three-point loss in the North 1, Group 3 state sectional semifinals, probably the stiffest postseason challenge the Highwaymen faced before the state final. With an experienced group back and with a returning first team All-County player and Division 1 prospect in senior Justin Minaya, Old Tappan is ready to resume the chase.
The Golden Knights got their second straight win to open the season in impressive fashion, 71-46, at home against a solid Pascack Valley team with its own host of returning starters and similar preseason expectations. Old Tappan scored the first point of the game and never trailed.
"This was a big one because we know how good PV is. They have kids that can shoot it, kids that when they are open they don't miss and they are never out of any game," said Old Tappan head coach Craig Ferraro. "To be able to go up and then be able to sustain the lead and curtail their runs, that was a big test for us. We battled through it and that is encouraging."
Minaya was aggressive and efficient. Not content to settle for contested jump shots, he was determined to get to the basket early and often. He got himself to the free throw line eight times in the first quarter and made seven of those free throws. He followed up his own missed shot to give the Knights an 8-2 lead and they never looked back.
Legend Dominguez scored a team-high 17 points for Pascack Valley.
"I thought we were more physical than them and I thought I could get to the rim. We got a couple of their guys in foul trouble by attacking the rim and crashing the boards and that was the plan," said Minaya, who scored 16 of his game-high 28 points in the first half and was 10 of 11 from the line through the first two quarters. "This was a statement game for sure. PV is in our league and we just have to keep up this effort and keep going."
Old Tappan (2-0) really hit its stride when Joe D'Amico started knocking down 3-pointers at a rapid clip. He made three straight attempts in the first quarter, the second one putting his team up 11-2 just 3:58 into the game. He made another to push the lead to 14-5 and he had 11 points by halftime on the way to 20 for the game.
"When we are hitting shots we can spread the floor and when we spread the floor well we play well. I definitely felt good shooting the ball today," said D'Amico. "Last year we took a loss to PV at home and we remembered that, so to play well and get this win was huge for us. We moved the ball well, we played tough defense and we hustled. We brought the intensity and that was a big part of it."
Pascack Valley (0-2) crept to within four points at 20-16 when Ryan Yellin hit a 3-pointer to open the second quarter scoring, but Minaya responded with five straight points and D'Amico, after missing his first 3-point attempt in four tries, grabbed the rebound of his own missed shot and put it back to give Old Tappan its first double-digit lead at 27-16.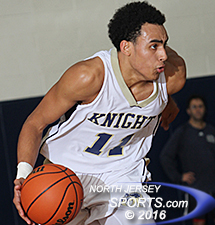 Senior Justin Minaya scored a game-high 28 points for Old Tappan, which improved to 2-0 on the season.
The Knights led 33-23 at the break and Minaya set the tone for the second half with a dunk off a Kevin Eifert bounce pass to open the third quarter scoring. That was the start of a 7-0 run that basically put the game way. It took a 7-2, third-quarter-closing run capped by a Legend Dominguez basket to get the Indians within single digits for the final time at 47-38, but Old Tappan put to rest any thoughts of a comeback with a 9-0 run to start the fourth.
Minaya and D'Amico were Old Tappan's two double digit scorers. Eifert, the senior center, scored 7 of his 8 points in the fourth quarter and also had a team-leading 9 rebounds. Erik Slater scored 6 points off the bench, point guard Michael Patullo had 5 but, more importantly, ran the offense smoothly and Sal DeBenedetto had the other field goal for the Golden Knights.
Dominguez (17 points) led the way for Pascack Valley while Lin and Matt Vasel each finished with 10. Just two games in, the Indians have already played a brutal schedule as they faced Teaneck in the opener before the road game at Old Tappan. They will have another tough test on Thursday against Northern Valley/Demarest as they seek their first win.
CLICK HERE FOR MORE PHOTOS FROM THIS GAME. TO BUY A COLLECTOR'S PRINT OF THIS STORY, PLEASE VISIT 4FeetGrafix.com.