Saturday, December 17, 2016
By Cory K. Doviak
NJS.com Editorial Director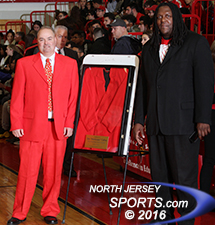 Ridgefield Park head coach Chris Gaskin and Dwight Morrow's Donald Osbourne in during the pregame ceremony to remeber RP legend Jimmy 'The Hurricane' Callan on Friday night.
RIDGEFIELD PARK – There was a celebration at Ridgefield Park High School on Friday night and it was the kind of event Jim 'The Hurricane' Callan would have loved. It was opening night of the basketball season, a girls/boys doubleheader with a pregame ceremony to honor a beloved member of the Scarlet community. This time though, Callan, the longtime voice of Ridgefield Park athletics, a coach of many sports at many levels, a character, a friend and an all-around good dude, was not there to take part, but his spirit certainly was.
The North Jersey sports community lost Jimmy Callan suddenly over the summer and so many of the people that he provided good will toward over the years were back in his gym to honor the man. There were T-shirts made up as the faux red suit that was his calling card and on the back they said '1, 2. 3 ayoo,' his catch phrase. The original red suit was in a custom frame to be attached to the gymnasium wall in perpetuity and there were smiles and memories shared by all involved, including a classy presentation by Dwight Morrow head coach Donald Osbourne and his players.
The Hurricane will be long and truly remembered.
"This was a great night, one more night to remember Jimmy and everything he meant to the school district, athletics, to the kids to just everything around here," said Ridgefield Park head coach Chris Gaskin. "His line was always, 'Ridgefield Park, where you get the total basketball experience.' It was a great crowd and a great experience here tonight for him."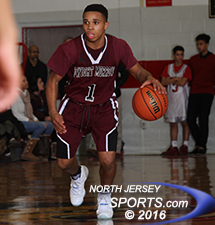 In his first game as Dwight Morrow's starting point guard, sophomore Martini Martin scored a game-high 28 points.
Yes, because in addition to the tribute there was also a heckuva basketball game played as Ridgefield Park trailed the whole way but was a close as one point early in the fourth quarter and within two twice inside the final 15 seconds before Dwight Morrow hung on for a 59-57 victory on opening night.
Dwight Morrow is a young squad without a senior in its starting lineup and even with the buzz in the gym and the associated first game jitters, the Maroon Raiders hit the ground running as they scored the first five points of the game to surge in front for good. George Garrison IV's 3-point play with 2:09 in the first quarter gave Dwight Morrow a 12-4 lead and Marcus Robinson hit a buzzer-beating three to make it 15-6 after one period.
The Raiders stretched their lead into double digits for the first time at 21-10 when Jihad Edmond made two free throws midway through the second quarter and, to that point, junior David Feliz, Ridgefield Park's leading returning scorer had yet to score. Once he got hot, he got his team right back in the game as he scored six points in 27 seconds and the Scarlets crept to within 23-20 when Jonas Espinal got all the way to the hoop for a layup.
But Martin scored 10 points in the final four minutes of the second quarter and Malachi McFadden's only bucket of the game, a 3-pointer with 17 seconds left, bumped the Dwight Morrow lead back up to 38-26 at the break.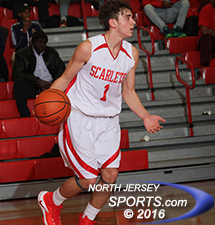 Junior David Feliz made four 3-pointers and led Ridgefield Park with 17 points.
"I was hearing a lot of stuff from the stands. Their fans were into it, but I just had to block everything out and play my game," said Martin, who scored 13 of his game-high 28 points in the second quarter. "First game of the season and we didn't do everything right, but we tried to play through the mistakes."
It looked like a season-opener as there were lots of mistakes that included lots of missed free throws and more turnovers than either head coach would have liked, but with Englewood's never-back-off style, it left plenty of possessions for Ridgefield Park to get back in the game. Alex Willoughby and Feliz hit back-to-back 3-pointers to close the third quarter scoring to get the Scarlets to within 43-41 and the last of Feliz's four 3-pointers in the game, with 6:16 left in regulation got RP all the way back to within 45-44.
"This is why we play the crazy preseason schedule that we do where we go and play teams that are just as athletic as we are or tougher than we are and it is to prepare them for stuff like this," said Osbourne. "It was an emotional night, rest in peace Jim [Callan], and I told my kids that Ridgefield Park was going to come out and fight and they came out and kicked our butts in the second half.
Ridgefield Park outscored Dwight Morrow 15-5 in the third quarter, but the Raiders never gave up the lead. Edmond scored four points in a 6-0 run that pushed their lead back to 51-44 with 3:09 to play and they were up 9 at 55-46 with 2:01 to play, but it still got dicey. Dwight Morrow made just 2 of 6 free throws in a 33-second span inside the final minute and RP made it a one possession game with Matt Reber made both ends of a one-and-one with 15 seconds left, but Zakiyy Morgan made two free throws with 13 seconds left to finally put the game out of reach.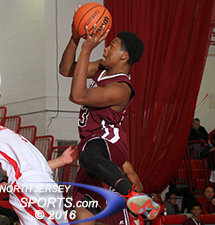 Jihad Edmond scored 8 points off the bench for Dwight Morrow.
Dwight Morrow was just 16 of 30 from the free throw line in the game, was 9 of 17 in the second half and just 8 of 15 in the fourth quarter, but Morgan, a junior forward, made 5 of 6 in the final two minutes to give the Raiders exactly what they needed down the stretch.
"I did not really play my best in this game, but knocking down those free throws at the end was big and I am glad that I could come through for my team. This was a tough game," said Morgan. "I tried to focus even with the crowd being so loud. I respect that [Ridgefield Park] program and their crowd was great for them, but I just had to focus and knock those free throws down.
Martin was Englewood's only double digit scorer and Edmond finished with 8. Morgan, Garrison and Jordan Morris each had 5 and Marcus Robinson and McFadden spilt the other six points for the Maroon Raiders (1-0). After his slow start, Feliz rallied to lead Ridgefield Park (0-1) with 17 and Willoughby and Mekhi Eden each had 10. Justin Donohue and Espinal had 6 points apiece, Reber had 4 and Brian Doscher and Danny Lane each made a field goal.
Both of these teams have room to grow as Dwight Morrow is young and talented, while Ridgefield Park has some depth that to work with. Interestingly, the Scarlets' five starters on Friday night combined to score 29 points. Its bench finished with a combined total of 27.
"The excitement of opening night and maybe you call it jitters, but we had some layups and a lot of free throws early on that we left out there. We make some of those and maybe we would not have had to make such a scramble at the end," said Gaskin, whose team was 9 of 16 from the free throw line in the game, but just 5 of 12 from the stripe in the first three quarters. "But credit [Dwight Morrow]. They played hard and every time we felt like we were creeping back they would hit a big shot to extend the lead. I am proud of my guys, but it comes down to three things: free throws, layups and turnovers. I am not saying it was a pretty game, but it was between two teams that I think will improve a lot during the season."
CLICK HERE FOR MORE PHOTOS FROM THIS GAME. TO BUY A COLLECTOR'S PRINT OF THIS STORY, PLEASE VISIT 4FeetGrafix.com.