Sunday, February 26, 2017
By Cory K. Doviak
NJS.com Editorial Director
Amire Walker scooped in a layup with 49 seconds to play to provide the winning points in Hackensack's 53-52 victory over Ridgewood in the Bergen County Freshman Tournament final.
MONTVALE – The championship game of the BCCA Freshman Boys Basketball Tournament is pure high school basketball, especially when it is two public school teams playing for the title. It is as even a playing field as there is left. A group of kids from the same two towns or sending district who are all within a couple of months of each other in age getting after it. The tournament itself is a slow build over a month's worth of weekends that ends on a raucous stage, this time in front of a packed house at St. Joseph Regional High School in Montvale on Saturday night.
Ridgewood was certainly not awed by the surroundings as made just about every shot it threw at the basket on the way to a 19-point first quarter and 35-point first half. Hackensack certainly was not deflated by the deficit, which was 12 points at the end of the first quarter, 13 points a couple of times in the second quarter and 10 points at the half.
With both teams playing up the circumstances, the second half was classic championship basketball. Hackensack did not take it first second half lead until there was 1:34 left in the third quarter and it did not take its last until there was less than 50 seconds to play in the game. It was Amire Walker's scooped-in layup with 49 seconds left that put the Comets up by a point and that was the bucket that stood up as the game-winner in Hackensack's 53-52 victory.
And it meant a lot to the Comets' head coach.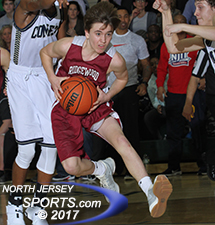 Ridgewood point guard DJ Sullivan finished with a game-high 20 points.
"First off, I am a Comet, man. There is a lot of pride in this thing. There is a lot of pride in these colors," said Ed Hodges, who was on the 1994 Hackensack freshman team that also won a county championship. "I know what it takes to get here. I have tried to explain to these guys the level of commitment it takes and to see them put it the work…it means everything. This is a special group of kids that have put up with me for the last four months, so to go home with the trophy after everything was consolidated into these 32 minutes; this means the world to me."
Hackensack swept the regular season series against Ridgewood, but in the personification of 'past performance is not indicative of future results,' the Maroons came out on fire. The Comets only first half lead came at 5-4, right before Ridgewood ran off 11 straight points and 15 of the last 17 of the first quarter. DJ Sullivan's 3-pointer gave Ridgewood its first double-digit lead at 15-5 and his assist on Luke Nataro's basket with two seconds left in the opening period gave the Maroons a 19-7 lead.
Sullivan hit two second quarter 3-pointers, Ridgewood made all four of its free throws in the period and was just making shots from all over the place as it took leads of 24-10, its largest of the game, 26-13 and 28-15. Hackensack crept back to within 33-25 on Tymeer Robinson's basket with 1:41 to go in the half, but the Comets missed for straight free throws in the final minute of the quarter and still trailed by double digits, 35-25, at the break.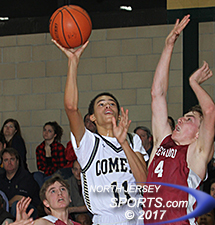 Kevin Mateo had 18 points to lead Hackensack. which finished the season with a 22-2 record.
"I have never seen us miss that many shots as we did in the first half, but to be honest with you I was not really nervous about it because I did not think that it would continue throughout. The other thing was I knew they had two kids that were pretty good shooters [Sullivan and Devin Johnson], but I could not imagine them being able to hit as many shots as they did in the first half again in the second half," said Hodges. "I just told our kids to slow down, relax, get rid of the nerves, look for the best opportunities to score and stop chucking up 3s."
Hackensack certainly settled in after the break as it opened the third quarter with a 9-2 run that got it right back to within three points and set the stage for the back-and-forth final 13-and-a-half minutes. Seth Brown and Kevin Mateo hit back-to-back 3s to put Hackensack up 40-39 and Walker hit another of the step-back variety to close the third quarter, one in which the Comets outscored Ridgewood 18-4 to take a four-point lead into the fourth.
"It was a big run in the third quarter and the thing that changed was that our teammates and our fans were pushing us to score. That motivated us," said Mateo. "I have been looking forward to playing in this [tournament] since I was in middle school. My brother played in it, I watched him and I wanted to be a part of it, too. I definitely did not want to lose this game."
Mateo got a steal and a layup to open the fourth quarter to give the Comets a six-point lead, but Ridgewood answered with a 9-2 run of its own and Matt Gluckgow's runner put the Maroons back in front, 48-47, with 4:33 to play. Ridgewood kept its nose in front for the next two minutes and had a 52-49 advantage for 1:10 of game time as Hackensack missed four free throws in that span, but Mateo hit a floater with 1:18 left and, after forcing a turnover, Walker flipped in the go-ahead layup with 49 seconds left to put the Comets in front for good.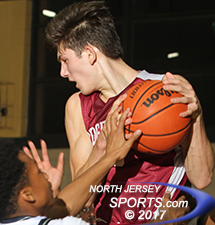 Matt Favieri finished with 9 points for Ridgewood.
"Coach told me to get the ball in and shoot, so I had to do get that done real quick. Water. It went in and the crowd went crazy," said Walker. "We came so far this season, I can't believe how far we made it, but we did not want to leave here without the W."
Hackensack still had some work to do, however, as it missed the front end of a one-and-one with 8 seconds left and gave Ridgewood the last shot, a contested 3-pointer from the corner at the buzzer that was off the mark.
Sullivan, a heady point guard, was outstanding for Ridgewood and finished with a game-high 20 points, including three 3-pointers. James Miller finished with 10 points, Matt Favieri 9, Johnson had 8 and Tommy Bourque (3 points) and Nataro's first quarter field goal rounded out the scoring for the Maroons.
Mateo (18 points) and Walker (14 points) topped the Comets, who finished the season at 22-2. Frank Wilson scored 6 of his 8 points after halftime, Spencer Zweil had all 6 of his points in the second quarter, Robinson added four points and Brown had the other 3.
CLICK HERE FOR MORE PHOTOS FROM THIS GAME. TO BUY A COLLECTOR'S PRINT OF THIS STORY, PLEASE VISIT 4FeetGrafix.com.