Saturday, February 25, 2017
By Cory K. Doviak
NJS.com Editorial Director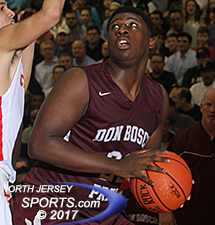 Marcellus Earlington made a free throw with six seconds left to provide the winning margin as Don Bosco Prep won its first Jambo title since 2008 with a 53-52 victory over Bergen Catholic on Friday night at Fairleigh Dickinson.
HACKENSACK – In the Bergen County Jamboree semifinal round last Sunday, Don Bosco Prep made its last 16 straight free throws to hold off defending champion St. Joseph Regional. To become this year's champion, Bosco needed to make just one more. Tie game, six seconds left, packed house and Marcellus Earlington on the line.
"My head was racing, my heart was beating fast and everything," said Earlington, Bosco's junior forward. "I was struggling from the free throw line all game, but I made that last one and that was the big one, so I am proud of that."
Actually Earlington made the next-to-last one to put his team in front and then was the one to challenge Bergen Catholic's last look at the basket, a hurried 3-pointer at the buzzer that never really had a chance to go in. When that shot landed harmlessly short of its intended target, Don Bosco Prep was free to celebrate its 53-52 victory and its first Bergen County championship since 2008.
"It is almost impossible to put into words. We have worked so hard for this the entire year," said Charlie Bagin, one of six seniors on the Bosco roster and one of three in the starting lineup. "To beat Bergen [Catholic] in the Jambo final…it's an incredible feeling."
It also was a weird feeling for Bagin, one of the most steady point guards in the county, who was moved off the ball in the final two minutes of the chess match between the head coaches. Both pulled out all of the stops down the stretch and both gave their teams legitimate chances to win.
Senior Gabe Stefanini finished with a double-double (20 points, 10 rebounds) for Bergen Catholic and hit the 3-pointer that tied the game with 1:58 to play.
There was so much strategy used all game long starting with Bergen Catholic head coach Billy Armstrong using eight different players in the first quarter and 11 in the first half trying to find the right combination to offset the diminished minutes of senior forward Thomas Binelli, who missed the semifinal round through injury and was limited on Friday night. But the coaching back-and-forth really ramped up with just under four minutes to go when BC's Gabe Stefanini picked up his fourth foul that yielded one free throw by Earlington that put Bosco up 48-47 with 3:53 to play.
Armstrong yanked Stefanini, the do-everything senior who will play at Columbia University next season, at that point and then re-inserted him at just the right moment. Stefanini returned with 2:09 left and, with 1:58 to go, he drilled a 3-pointer from the corner off a well-designed inbounds play to tie the game at 52.
Then it was Bosco head coach Kevin Diverio's turn and he did everything he could to make sure that his team would get the last shot. It was get-the-win-or-go-to-overtime and that meant moving Bagin off the ball in search of a mismatch. First it was Ronald Harper that was given the task of dribbling between the circles without being hit with a five-second call and, after a Bosco timeout with 48 seconds left, the job fell to Earlington.
"We felt we had a matchup that we could exploit where they wouldn't be able to get a [five-second] count on us. They did a smart thing [after the timeout], they switched up who was guarding Ron [Harper], so we went to Marcellus," said Diverio. "He went [to the basket] a little earlier that I would have liked, but he converted one big free throw and that was enough to get it done."
Junior Ron Harper scored 11 points for Bosco and was key to the late-game strategy as the Ironmen tried to hold for the last shot.
Earlington went to the basket with about eight seconds to go, a hard drive down the right block that ended with the foul call and he made the first of his first free throws, but there was still some late-game situational work to do. Bosco had three fouls to give and burned one in the backcourt after Stefanini grabbed the rebound of the missed second free throw. Bergen inbounded on the side and Bosco tried to give away another foul, but BC was granted a time out first, its last one. When play resumed, BC had the ball on the side near midcourt with :02.4 left on the clock.
Diverio wanted his team to give one more foul, but the play that Armstrong drew up did not allow it. Taj Benning inbounded to Stefanini, who caught the ball with his back to the basket outside the 3-point line and then shoveled it to Benning, the inbounder who ran in behind on the diagonal. Benning had time for one dribble and a lift, but Earlington held his ground, contested without fouling, got a piece of the final shot and foiled the Crusaders' final attempt.
"I was running all over the floor, I saw Taj was going to take the shot and I ran over and got my hand up," said Earlington. "Luckily, I got a piece of the ball."
That ended a classic Jambo final that was always destined to come down to the final possession. The two rivals split the regular season series with each winning on the others home floor. They could see each other again in the Non-Public North A state sectional tournament and if they do it will probably be another game just like this one; close and in-doubt the whole way.
Bosco led by seven points three different times in the first half and by as many as eight three different times in the second quarter before settling for a 28-22 lead. Benning scored the first four points of the third quarter, Bergen Catholic scored the first six and, after tying the game at 28 on Stefanini's drive with 1:48 into the second half, neither team had more than a four-point lead the rest of the way.
Sophomore Doug Edert scored 6 points for Bergen Catholic.
BC's only lead of the first half was at 4-2, it second came at 35-34 on a Benning 3-point play with 2:55 left in the third quarter and the Crusaders held a 38-37 advantage when Jayson Earle nailed a 3-pointer to close the third period scoring. The lead changed hands six times in the first 4:30 of the fourth quarter with Bergen going in front for the final time at 49-48 when Binelli knocked down a jumper from the top of the key with 3:30 to play. Bosco answered with an Ellington take and a Manley Dorme layup off a long, direct pass from Bagin to go up 52-49 with a 2:23 to play, an advantage erased by Stefanini's clutch 3 from the corner right after his reentry to set up the strategy-filled final 118 seconds.
Stefanini did everything he could to carry his team home as he finished with a double-double of 20 points and 10 rebounds. Benning scored 14, Earle and Doug Edert each added six, Binelli made two fourth quarter field goals and Tim Algenio had the other two points for Bergen Catholic, which got to the free throw line just nine times and made seven of their attempts.
Bosco was balanced as Earlington scored 8 of his 12 points in the second half, Harper finished with 11 and Chris Paul scored 10 to make it three Ironmen in double figures followed closely by Bagin and Chris Lovisolo, who each finished with 8. Dorme and Matt Harasme split the other four points for Bosco, which won its ninth Jambo title in program history and its seventh under Diverio.
"It's great because it has been a while. Two-thousand-eight was our last one, we have been here three more times since and lost all three, so to get back and win it this time feels great," said Diverio. "This group of seniors is top-notch kids and players and I am just really happy for them that they could have this success and enjoy this time."
CLICK HERE FOR MORE PHOTOS FROM THIS GAME. TO BUY A COLLECTOR'S PRINT OF THIS STORY, PLEASE VISIT 4FeetGrafix.com.