Sunday, February 20, 2017
By Cory K. Doviak
NJS.com Editorial Director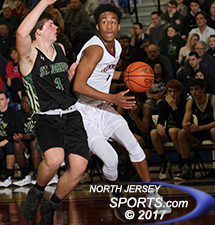 Chris Paul scored 26 points, including the 3-pointer that put Don Bosco in front for good, in a 67-57 win over defending champion St. Joseph Regional in the Jambo semifinals on Sunday night.
HACKENSACK – From the moment that Chris Paul completed a conventional 3-point play with 55 seconds left in the first quarter, defending champion St. Joseph Regional was running an uphill race. There were spurts by both teams over the next two-and-a-half quarters, but Green Knights were never again able to grab a lead or even forge a tie well into the fourth quarter.
So when Joe Radi nailed a 3-pointer from the corner with 4:43 remaining in the game, St. Joseph had to have felt some type of relief. That shot finally squared the game and there was plenty of time left to make a late-game surge in the semifinals of the Bergen County Jamboree.
Instead, that feeling of relief lasted all of 23 seconds. The next time down the floor, Don Bosco Prep's Chris Paul answered with a 3-pointer, a dagger from the wing.
"When he brings that to the table, he is really tough. Most of the game they did not even play him outside the 3-point line," said Bosco head coach Kevin Diverio. "They were on an emotional high when 'CP' made that shot and knocked it right back down."
With the lead back the Ironmen proceeded to put on a clinic on how to close out a big game. Bosco, which had success in halfcourt sets all night long, kept running its stuff, kept getting to the free throw line, kept making foul shots and gave St. Joseph a lesson in frustration as it could never make up the ground.
By making 29 of its 32 free throw attempts in the game, by making 16 of 17 in the fourth quarter and by making its final 16 in a row, Bosco advanced to the Jambo final for the second straight year with a 67-57 victory at the Rothman Center on the campus of Fairleigh Dickinson University. The Ironmen will play Bergen Catholic, a 71-61 winner over Teaneck, for the Jambo title on Friday night looking for their first championship since winning three in a row from 2006-08.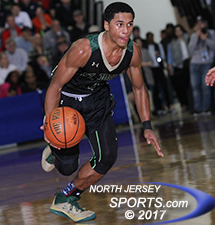 St. Joseph point guard Chauncey Hawkins scored 16 of his team-high 22 points in the second half.
"We lost to Joe's in last year's final. We had them again today and we had the goal of getting through them this time and getting back there to play for the title again," said Bosco junior Marcellus Earlington. "We knew it was not going to be easy. Chauncey [Hawkins] is a great player for them, they have great role players and this was a big win for us, a real big win."
St. Joseph got off to a good enough start as it led 5-0 and 7-2 out of the gate, but Bosco scored the final five points of the opening quarter and took its first lead, 14-12, on Paul's 3-point play to close out the first. The Ironmen spent the next two quarters both expanding its advantage and then holding off runs the other way. They led by as many as nine points in the first half before having an anxious final minute as Earlington, who scored 11 of his 15 points in the first two quarters, picked up two quick fouls to give him three for the game and Hawkins made a free throw to draw the Knights to within 30-26 at the break.
Because of its offensive patience, Bosco started to build its advantage at the free throw line in the third quarter. It made just two field goals in the quarter, but was a combined 8 of 10 from the stripe and looked like it was starting to pull away Ronald Harper made one-of-two to make it a seven-point advantage, 41-34, with 2:36 left in the third.
But the aforementioned Hawkins, the senior point guard, is indeed an outstanding high school basketball player and he erased the entire deficit by himself in the span of just 1:02. Three times in a row the Knights got stops on the defensive end, three times in a row they got out in transition and three times in a row Hawkins pulled up in space. He made two two-point jumpers and one 3 to tie the game at 41 before Manley Dorme's free throw put Bosco back in front heading into the fourth quarter.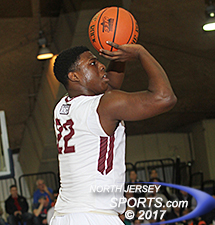 Marcellus Earlington scored 15 points for Don Bosco Prep, which will face Bergen Catholic in the Jambo final on Friday night at FDU.
Bosco (22-1) got into the bonus with 6:39 to play in the game and Paul's two free throws at that time kicked off the run of 16 made free throws to give his team a 48-43 lead. A Hawkins jumper and then Radi's 3 from the corner got SJR back even for the last time at 48, but then Paul went down the other end and turned the game in Bosco's favor for good.
Paul (26 points) played one of the best games of his high school career as he got hot early and never cooled down. He had 7 points in the first quarter and 13 in the fourth quarter, including make all 10 of his free throws and all 8 of his fourth quarter attempts. Earlington (15 points) was the only other Ironman to finish in double figures, but there were plenty of other contributors. Harper scored all 9 of his points in the second half, Charlie Bagin (8 points) took care of the ball at the point and made all six of his free throw attempts, Dorme added 7 points off the bench and Chris Lovisolo made two first quarter free throws to round out the scoring for Bosco.
Hawkins scored 16 of his team-high 22 points in the second half and Radi made three 3-pointers on his way to 11 points. Vilbert Smith and Isaac Hippolyte added 9 points apiece and Steve Foster had the other 4 points for the Knights, who fell to 20-5 on the season.
CLICK HERE FOR MORE PHOTOS FROM THIS GAME. TO BUY A COLLECTOR'S PRINT OF THIS STORY, PLEASE VISIT 4FeetGrafix.com.