Sunday, February 20, 2017
By Cory K. Doviak
NJS.com Editorial Director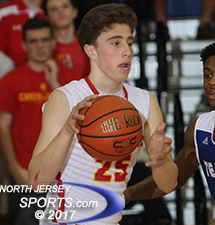 Doug Edert came off the bench to knock down four 3-pointers as part of a balanced offense for Bergen Catholic, which knocked out Teaneck, 71-61, in the Jambo semifinals on Sunday.
HACKENSACK – It is not a matter of what an opposing defense can do against Teaneck's starting backcourt, but what it does against every other Highwayman. Ja'Quaye James and Leondre Washington are going to get theirs, but two players scoring is usually not enough to win a game, especially a high level one like the Bergen County Jamboree semifinal.
While James was brilliant in hitting eight 3-pointers on his way to 34 points and Washington did his part with 17, Bergen Catholic was by far the more balanced and deeper team and it used the advantages that come with those two attributes to lead for all but 35 seconds in a 71-61 victory that puts the Crusaders in Friday night's Jambo final.
Top-seeded BC, looking for its second county title in the last three years, will play No. 2 Don Bosco Prep for the third time this season after a regular season split on Friday night at the Rothman Center on the campus of Fairleigh Dickinson University.
While James and Washington combined for 51 points, it was how Bergen Catholic reacted to those points that decided the outcome.
"First of all it is really tough [to stop James and Washington] because they are very good and the other piece to it is that they made tough shots. I talked to our guys about resolve being an important factor because they are going to make some tough shots and fans are going to go crazy," said BC head coach Billy Armstrong. "The key for our guys was going down the next time and doing the exact same thing, getting in a stance and not worrying about the last play. I thought we were great with that aspect of it."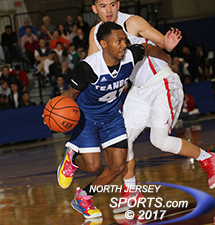 Teaneck's Ja'Quaye James made eight 3s and finished with 34 points.
While no other Teaneck player made more than one field goal and none finished with more than three points, Bergen Catholic found itself with an embarrassment of riches on the offensive end. With 6-foot-8 senior Thomas Binelli out injured, 6-foot-8 sophomore Zach Fremantle stepped into the starting lineup, scored 10 points and blocked four shots. With James going off for four 3-pointers in the second quarter alone, sophomore Doug Edert came off the BC bench to knock down three treys of his own to keep the Highwaymen from gaining any real traction.
Teaneck's only two leads of the game came at 18-16 and 20-19 both times on James 3-pointers. But Edert answered both of them the next time down the floor each time to grab the lead right back, the second time for good at 22-21 with 5:44 left in the first half. Edert added another one 50 seconds later to solidify the advantage.
The Crusaders led 38-31 at the break, went up by double digits for the first time at 43-33 after a Taj Benning 3-pointer from the corner and led by as many as 14 at 50-36 when Tim Algenio made a 3 from the wing with 4:43 to go in the third quarter. Teaneck answered with a 10-2 run to close the period and Adrian Baucom's putback got the Highwaymen back to within 52-46 heading into the final period.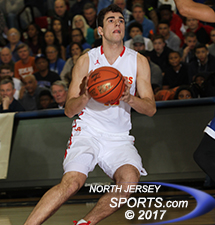 Gabe Stefanini scored 18 points and had 8 boards for Bergen Catholic, which will play rival Don Bosco Prep in the Jambo final on Friday at FDU.
Teaneck was still within those same six points at 56-50 with 5:17 to play after two Jayden Dawson free throws, but Edert connected on his fourth and final 3-pointer of the night to spread things back out. Teaneck never got closer than seven points the rest of the way.
Behind James and Washington, Teaneck could not find that third scorer as Cory Gordon had 3 points and Dawson, Baucom and Pierre Sow had two apiece to account for the rest of the offense. Bergen Catholic had no such issues as Gabe Stefanini (18 points, 8 rebounds), Edert (16 points), Benning (12 points and Fremantle all finished in double figures. Algenio (8 points), freshman Matt Zona (7 points) and Jayson Earle (2 points) all also pitched in for the Crusaders, who are now 19-5 on the season.
After a loss to St. Joseph Regional last week that ceded the league title to Bosco, Bergen will try to grab its own hardware at the expense of the Ironmen in the Jambo final.
"They are big, they are strong and, for sure, they killed us on the boards the last time we played them," said Stefanini, speaking of Bosco. "We just have to play tougher this time."
CLICK HERE FOR MORE PHOTOS FROM THIS GAME. TO BUY A COLLECTOR'S PRINT OF THIS STORY, PLEASE VISIT 4FeetGrafix.com.