Sunday, February 19, 2017
By Cory K. Doviak
NJS.com Editorial Director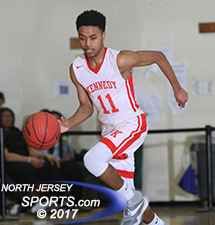 Jaylon Colon scored six straight points in less than a minute to spur Kennedy's comeback, which ended with a 61-59 win over Wayne Hills in the semifinals of the Passaic County Tournament.
PATERSON – For the first three-and-a-half quarters of Saturday's Passaic County Tournament semifinal, Wayne Hills was handling the pressure and even thriving against it. Even though Kennedy has a deep bench and shuffled through a bunch of players under instruction to harass the guy with the ball, that guy was usually Wayne Hills point guard Joey Belli and the junior had a couple of long stretches when he was just carving the Knights up.

He assisted on the basket that gave the Patriots, the No. 3 seed, a 12-point lead, the largest by either team in the game and, late in the third quarter, Belli dropped another dime with 3:52 left in regulation that gave Wayne Hills a seven-point advantage with the finish line firmly in sight.
Maybe it was that Kennedy saw its chances of making the county final dwindle with each passing second or maybe it was just that at some point the Knights, with a rotation that can go as many as 13 deep, were going to wear their opponent down. Right after Belli set up Patrick Gilmore for an uncontested lay-up just about midway through the fourth quarter, Kennedy finally got message to turn up the heat.
"These young guys are driving me bonkers," said Kennedy head coach Tommie Patterson, whose roster includes three sophomores and three freshmen. "I just want to know what took us so long to pick up the defensive intensity."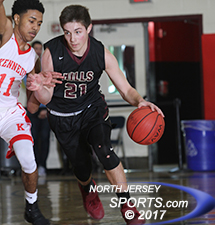 Junior Joey Belli was brilliant at the point for Wayne Hills.
Better late than never as, rather than letting Wayne Hills cruise home, Kennedy made it a sprint to the finish and the fourth quarter ended in a dead heat. A third chance tap-in by Jamir Lattimore with 46 seconds left in overtime gave Kennedy its first lead since late in the second quarter, but the Knights did just enough to hang on to it the rest of the way for a 61-59 victory.
Next up for second-seeded Kennedy is intra-city rival Eastside, the No. 1 seed that eliminated DePaul in the last game of the boys and girls semifinal quadruple header at Kennedy High School.
"I was just focused on the game and I saw the shot go up. I saw that it was going to come off on my side and I had to go and get it. I jumped and tipped it in," said Lattimore, a junior whose leaping ability and hustle made him an asset on the boards all game long. "We were going to do everything we had to to get this win. Now we are going for the County 'Chip and we are going to get it."
The first quarter was back-and-forth and ended with Kennedy in front 18-14 and it held the lead well into the second quarter before Wayne Hills went on an 8-2 run to surge back in front. Matt DiFiore flipped in a lay-up just before the horn to give the Patriots a 32-29 lead at they and they quickly set about expanding on it upon their return to the court in the second half.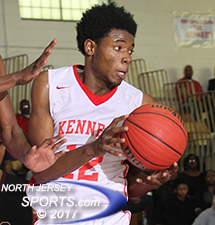 Tamir Williams scored a game-high 15 points for Kennedy, which will play rival Eastside for the county championship.
Justin Wills' 3-pointer from the corner and Jason Modak's lay-up off a pretty feed from Belli gave Wayne Hills a 44-32 lead with 2:25 left in the third quarter. Kennedy reeled the Patriots back in with an 8-2 run the other way that got the Knights back to within six points heading into the fourth quarter, but Wayne Hills showed no signs of crumbling. The Patriots went up 48-40 on a Modak putback, took a 50-42 lead with Justin Hodge went coast-to-coast and were up 53-46 after Belli handed out the last of his four second half assists, the one that set up Gilmore with 3:52 left in the game.
Yes Kennedy is deep and yes the five Knights that start any given game are not necessarily the five that are going to finish it, but facing and abrupt end to their promising county tournament run, their most established offensive player came through. Junior Jaylon Colon scored six straight points in the span of 52 seconds to get Kennedy back to within one point and it stayed a one-possession game either way for the rest of regulation.
Wayne Hills went up 55-52 when Hodge made both ends of the one-and-one with 2:05 left before Kennedy's Deishon Harrison turned the corner to get free for a lay-up and Tamir Williams made a free throw to tie the game with 1:22 left. Kennedy then got a stop and Lattimore offensive rebound to keep a possession alive long enough for Joseph Shoulars to score from the baseline off an inbounds play.
With Wayne Hills now down one, Wills looked like he might have hit one of the biggest shots in program history when he buried a 3-pointer from the corner to put the Patriots up 58-57 with 44 seconds to go, but Harrison free throw wiped out the Wills' heroics and retied the game. Wayne Hills had the last look of regulation and it was a good one, but when a step-back jumper with three seconds left came up just short, it was on to the extra session.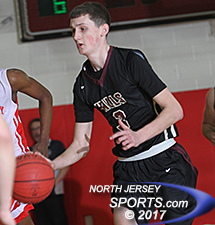 Justin Wills scored a team-high 14 points, including the 3-pointer that gave Wayne Hills a 58-57 lead with 44 seconds left in regulation.
With Wayne Hills in a zone and Kennedy not really interested in attacking it, the game slowed to a crawl for the first two of the four minute overtime. That is why it was not until there was less than a minute left that the sequence leading to Lattimore's putback got started and Wayne Hills called a time out with 32 seconds left to set it strategy.
The possession ended with Hodge being awarded two free throws with 14 seconds left, he made one of two which was matched by Harrison two seconds later. That left the Patriots still down by two with under 10 seconds left and its last gasp was a rushed effort that missed and Kennedy had the benefit of the possession arrow when a jump ball was called on the rebound. Even though the Knights missed two free throws with one second left, Wayne Hills had no way of getting off a real final shot as Kennedy held on.
Wayne Hills gave it a real go as four of its five starters finished in double figures. Wills made four 3-pointers and finished with a team-high 14 points, while Belli, Hodge and Modak scored 10 apiece. Kennedy's final line was much more diversified. Williams scored all 15 of his game-high total from inside the lane or from the free throw line and Colon added 13 while six other Knights made at least one field goal and nine in total scored at least two points. Shoulars, Lattimore Jah-Mahi Carnegie and Harrison combined for 20 points off the bench.
"I am just happy for these kids, especially the seniors," said Patterson, whose team will play in the county final next Saturday at Wayne Valley High School. "A lot of these guys did not get to play so much last year because I had six seniors that took up a lot of the minutes, so I am really happy for them."
CLICK HERE FOR MORE PHOTOS FROM THIS GAME. TO BUY A COLLECTOR'S PRINT OF THIS STORY, PLEASE VISIT 4FeetGrafix.com.