Saturday, February 18, 2017
By Rich Barton
NJS.com Staff Writer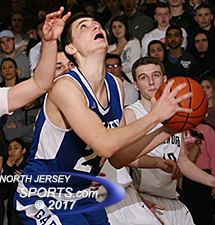 Six-foot-7 junior Marc Dadika dominated with 26 points, 18 rebounds, 4 blocks and 3 assists as St. Mary advanced to the NJIC Tournament final with a 62-51 win over Rutherford on Friday.
EAST RUTHERFORD – The atmosphere was electric before Friday night's NJIC semifinal even started and for good reason. St. Mary and Rutherford should be natural rivals as they are the lone high schools inside Rutherford's town borders, one parochial and one public, but a deeper look shows that the two programs had not met on the basketball court since 1991.
Playing in front of a packed house and with a berth in the NJIC Tournament final on the line, someone had to be a tone-setter. St. Mary's 6-foot-7 junior forward Marc Dadika gladly took on that role with a well-rounded game.
Dadika finished with 26 points, 18 rebounds, four blocks and three assists. Despite his monster performance, St. Mary's would not have been able to pad its lead without the supporting cast stepping up and knocking down shots.
"We wanted to make their defense move a lot and when we did we started getting open looks," said Dadika, who scored his 1,000th career point earlier this season. "Moving without the ball and the ball movement in general made things easier for us and everyone really stepped up tonight."
The Gaels went 6 of 7 from beyond the 3-point arc in the second quarter to take a double-digit halftime lead before holding off a late surge for a 62-51 victory in the NJIC semifinals at Becton Regional High School in East Rutherford.

The crowd was into the game right from the opening tip and neither team budged early on. The two teams traded leads on four straight possessions. Dadika struggled to solve the mystery of Rutherford's double-teaming defense, but once he did, things opened up quickly both for the Gaels and for his own game. He sealed a defender and scored his first basket to close out the first quarter with St. Mary's holding a 13-9 lead.
Senior Domenic Mignone scored a team-high 22 points for Rutherford.
The Gaels received another spark, but this one came from off the bench. Alex May hit back-to-back 3-pointers that not only padded the Gaels' lead but opened up the entire offense. Dadika also hit a pair of 3s with Ryan Fundora and Justin Dykstra each adding one as St. Mary took control of the game by halftime, 34-20.
"We figured Dadika was eventually going to get his, but when their other guys start hitting 3s all over the place we knew we had a problem," said Rutherford head coach Nick DeBari. "We had to pick our poison once they got the ball into the high post and we didn't close out on their shooters quick enough. I'm proud of how we fought right to the end but we dug ourselves too big of a hole to climb out of."
The lead ballooned up to 18 points before Rutherford made a push to get back in the game.
The Bulldogs cut the deficit down to eight three different times early in the fourth quarter only for the Gaels to respond each time with a basket on the ensuing possession. The Bulldogs had one last chance with less than two minutes to play to put the pressure on. Domenic Mignone, who also scored his 1,000th point back in January, nailed two free throws to trim the deficit to seven, 56-49, with 1:40 remaining. Mignone then deflected a pass that took a fortuitous bounce off of the referee and back into his own the hands. He fed a wide-open teammate cutting to the basket but the layup was off the mark and, just seconds later the game was all but over.
Alex Pena pulled the rebound and got the ball to Justin Dykstra, who fed Dadika for the and-one with Dadika hitting the free throw to convert the 3-point play and push the lead back into double-digits for good.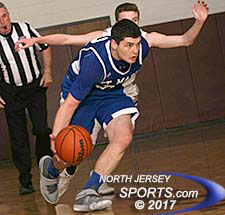 Justin Dykstra and St. Mary will play Queen of Peace on Thursday for the NJIC Tournament title.
"We're not really playing with what you'd consider a true point guard and we didn't handle pressure down the stretch the way I hoped that we would," said St. Mary's head coach Brian Gaccione. "Rutherford played hard and definitely put some pressure on us. We never panicked, though, and we knew we could make plays down the stretch as well. Dadika showed tonight what a force he can be both inside and out and we needed every bit of it."
Dadika had a huge game but he was not alone in terms of offensive production for St. Mary (16-6). Dykstra added 10 points, Pena scored 9 and Fundora added 7.
Mignone paced Rutherford (13-9) with 22 points, 15 of those coming in the second half. Freshman Jack DeBari finished one point off of his career-high with 13 points.
St. Mary's will head into Thursday night's NJIC Tournament final against Queen of Peace on a nine-game winning streak. The Gaels' confidence is sky high and they want to finish what they started.
"We know it's going to be a big game but we feel we're playing as well as we have all season," said Pena. "We've been through a lot this season and played in all types of games, so not many things are going to faze us. If we take care of the ball and play our game we'll be fine."
CLICK HERE FOR MORE PHOTOS FROM THIS GAME. TO BUY A COLLECTOR'S PRINT OF THIS STORY, PLEASE VISIT 4FeetGrafix.com.