Monday, February 13, 2017
By Jason Bernstein
NJS.com Contributor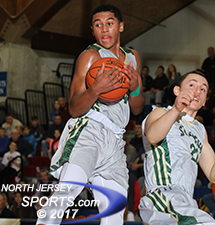 After just making it in time for the opening tip, St. Joseph point guard Chauncey Hawkins ended with a team-high 20 points in a 57-49 win over Pascack Hills in the Bergen County Jamboree quarterfinals.
HACKENSACK - Normally calm and collected, Chauncey Hawkins found himself in a panic on Sunday morning. It was not the normal angst of playing Bergen County Tournament game on the big court at Fairleigh Dickinson University or the prospect of facing a resilient Pascack Hills squad. Instead, Hawkins was worried about simply trying to make it to the Rothman Center anywhere close to the scheduled 12 p.m. opening tip-off.
"I got here about three minutes before the start (of the game)," said Hawkins. "Traffic was crazy, we almost got into an accident. Thank god we didn't, I'm just glad we got here safely and I was able to help my team win."
After a slow start, Hawkins found navigating the open court far more preferable to the slush covered roads of North Jersey on Sunday morning.
Hawkins' speed and shiftiness allowed him to score 13 fourth quarter points that propelled third-seeded St. Joseph Regional to a 57-49 victory over sixth-seeded Pascack Hills in the quarterfinals of the 61st Oscar F. Thompson Memorial Bergen County Jamboree.
Hawkins finished with a team-best 20 points for the defending Jambo champion Green Knights (19-4), who also got 14 from Isaac Hippolyte and 12 from Joseph Radi. Pascack Hills (16-3), which had won eight straight entering the day, was led by Nick Guilemain's game-high 25 points.
St. Joseph will face second-seeded Don Bosco Prep in the semifinals.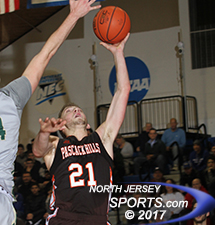 Nick Guillemain scored 16 of Pascack Hills' 20 first half points.
"Hawkins really was the difference maker for us," St. Joseph coach Michael Doherty said. "He pushed the tempo, he made some plays on both ends. That's what you hope for from that kind of player. Chauncey really stepped up and did a great job."
With St. Joseph trailing 42-40 after a Michael Murphy 3-pointer, Hawkins tied the game with a pair of free throws, then put the Green Knights ahead when he grabbed a Vilbert Smith outlet pass and took it coast to coast for the old-fashioned 3-point play with 3:59 left in regulation.
Jason Shill answered with a 3-pointer to even it up for the Cowboys, but Radi's trey put the Green Knights in front for good at 48-45 with 2:52 remaining followed by a Hawkins free throw.
Four points from Guilemain sandwiched a Smith basket to make it 51-49. However, Hawkins made two foul shots with 30 seconds left and then, on the ensuing possession, took a long rebound and used his speed to get in for a layup that made it 55-49 with just 13.7 seconds remaining.
"I think at the end of the third quarter was when I started to flip that switch," Hawkins said. "It helped, it worked."
Isaac Hippolite and No. 3 St. Joseph will play No. 2 Don Bosco Prep in the Jambo semifinals next Sunday.
"When we're not starting the game well, Chauncey gets us up," said Radi, who also had seven rebounds. "Today, he had a slow start and we had to lift him up. We're a team, Isaac and I always have his back and that happened today."
St. Joseph scored the game's first eight points - six coming from Hippolyte. The Cowboys rallied behind a red-hot Guilemain, who scored 16 points in a row for Pascack Hills. The last of those points, a left-handed drive to the hole, gave the Cowboys an 18-17 lead with 1:56 left in the opening half.
Pascack Hills led on seven different occasions, but each time the Green Knights answered with a basket of their own on the ensuing possession to tie or regain the lead.
"(Pascack Hills) is an excellent team, like us they're a senior-laden team," Doherty said. "There's an awful lot of character on that team and we were very concerned. I dreaded being down late to them because it's difficult to chase them."
"We've been here before and we know what to do," Radi said. "It's basketball. It's going to be a game of runs. When they go on a run, we just have to come back and score. We have to perform as a defense, be fundamental on offense."
Shill finished with eight points, while Murphy and Kevin Michael added seven apiece for Pascack Hills.
CLICK HERE FOR MORE PHOTOS FROM THIS GAME. TO BUY A COLLECTOR'S PRINT OF THIS STORY, PLEASE VISIT 4FeetGrafix.com.