Monday, February 13, 2017
By Jason Bernstein
NJS.com Contributor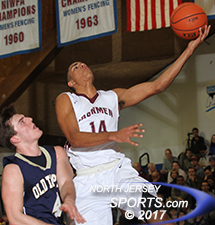 Matt Herasme hit a 3-pointer late in the first half to give Don Bosco Prep the lead for good in the way to a 57-37 win over NV/Old Tappan in the quarterfinals of the Bergen County Jamboree.
HACKENSACK - Chris Paul and his Don Bosco Prep teammates got an earful from head coach Kevin Diverio and the coaching staff during halftime.
The response was justified. The Ironmen committed 13 turnovers and forward Marcellus Earlington was the first to admit they "came out sluggish," in the first half. But there were some positives. Don Bosco was up by two points on Old Tappan and, perhaps more importantly, had the chance to make a statement when it mattered most.
"Coach always tells us that the first three minutes after the half is the biggest part of the game," said Paul. "We just wanted to come out strong and really set the tone for the rest of the game."
The Ironmen did just that.
Second-seeded Don Bosco Prep scored 17 of the first 19 points of the second half and pulled away for the 57-37 victory in the quarterfinals of the 61st Oscar F. Thompson Memorial Bergen County Jamboree.
Don Bosco Prep (20-1) will now face defending champion St. Joseph Regional in the semifinals next Sunday.
"At halftime, (Diverio) really got on us about our passing," said Paul. "We just tried our best to fix it in the second half and we did."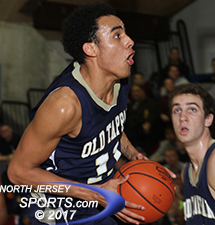 Justin Minaya, who scored his 1,000th career point on Thursday, had 12 points for Old Tappan.
The Ironmen committed just one turnover during the 6:40 surge to open the third quarter, which started with an Earlington layup, followed by a steal and two foul shots from the two-sport standout in the first 63 seconds of the period.
Kevin Eifert's basket for Old Tappan cut the Bosco lead to 29-25, but the Ironmen proceeded to unleash 13 consecutive points. Charlie Bagin hit a long range 3-pointer, followed by Paul's old-fashioned 3-point play. Bagin scored on a put-back and Ronald Harper connected on a 3-pointer. Harper's block on the ensuing Old Tappan possession created a ferocious transition slam by Manley Dorme that put the Ironmen up 42-25.
"We started off slow, then, in the second half we picked it up," said Earlington, who scored eight of his 13 points and had all three of his steals after the intermission. "The first half we came out sluggish. They had a good scouting report on us and they played really well in the first half. But we made adjustments and we played really well in the second half."
The Golden Knights (15-5) were able to take advantage of those early Don Bosco miscues, scoring nine points off of turnovers in the first 8:32 of the game.
Trailing 10-6, a pair of Eifert free throws and a 3-point play from Justin Minaya gave Old Tappan an 11-10 lead, which it extended to 15-10 after Eric Slater's steal and layup in the beginning seconds of the second quarter. The Ironmen trailed by as many as five in the quarter, but closed the first half on a 10-3 run culminating with a Matt Herasme 3-pointer, which put Don Bosco in front for good at 25-23 with 1:12 remaining.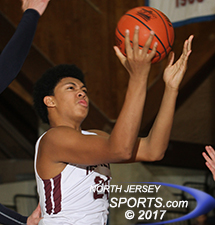 Ron Harper had 14 points and 6 boards for Don Bosco Prep, which will face defending champion St. Joseph Regional in the semifinals.
Herasme was one of five different players to hit a trey in the first half for Don Bosco. Harper led the way offensively with 14 points and six rebounds, while Bagin added 11 points with eight rebounds. Paul scored just five points, but his impact was far greater thanks to eight rebounds, four assists and stellar defense on Minaya.
Minaya, who entered averaging 19.5 points per game, was limited to just 12 points on 4-of-16 shooting, while being cover predominantly by Paul.
"He's a tall guard like me and he's tough. He's a lefty, he can shoot, he can get to the rim. He's really good and I was excited to get it on with him," said Paul. "He's a good player and I just did my best defending him."
Minaya, who scored his 1,000th point last week, added six rebounds and six blocks to lead a Golden Knights squad, which was held to a season low in scoring on Sunday by a Don Bosco team, which, while inconsistent, showed it has the talent to win another Jamboree title if they correct the mistakes that nearly cost them in the first half
"It shows we have a lot of talent, but that we have a lot of stuff to work on," Earlington said. "If we make the right decisions and we learn from the mistakes we made in this game and apply it to the next game, we'll be really good and we'll be tough to beat."
CLICK HERE FOR MORE PHOTOS FROM THIS GAME. TO BUY A COLLECTOR'S PRINT OF THIS STORY, PLEASE VISIT 4FeetGrafix.com.