Monday, February 6, 2017
By Cory K. Doviak
NJS.com Editorial Director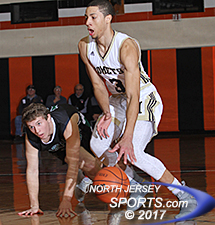 Atiba Taylor, Jr. scored 36 points, a Jambo high for this year so far, as No. 8 Hackensack held off No. 9 Pascack Valley, 74-65, in the Round of 16 on Sunday at Tenafly High School.
TENAFLY – Hackensack has been busy. Rather than looking to steal a couple of days off here or there to rest the legs for the stretch run of the season that is now officially underway, Comets just want to keep running.
After beating Ramapo at home on Thursday night, Hackensack went to Elizabeth and picked up an impressive road win on Friday night before reconvening for the dreaded 10 a.m. tipoff on Super Bowl Sunday in the Round of 16 in the Bergen County Jamboree. Far from complaining, it is exactly the type of schedule that Hackensack head coach Aaron Taylor was hoping to undertake.
"We are in shape. We run, we work them and the amount of games does not bother us. We are going to keep coming at you," said Taylor. "We were up against a team today in Pascack Valley that we knew was going to run some well-planned sets, they were going shoot the ball well, but they were going to have to do it for four quarters. Instead of worrying about my guys being tired, our plan was to wear them out. Fatigue is not an issue for us."
Hackensack might not have been breathing heavy in the fourth quarter against Pascack Valley, but it still had a lot of heavy lifting yet to do. As Taylor suspected it would be, PV was right there in crunch time. Matt Vasel's 3-pointer from the corner with 3:04 left in the fourth quarter gave the Indians a one-point lead.
Atiba Taylor, Jr., Hackensack's talented junior point guard, was the Comets' offensive force as he scored 36 points, a high for this year's Jambo so far, and he also drained his team's biggest shot. Right after Vasel gave Pascack Valley its final lead of the game, Taylor went to the other end and answered with a 3-pointer of his own that finally put Hackensack in front for good with 2:54 to play. Taylor then made eight straight free throws in the final 2:09 and his team was a combined 16 of 18 from the line in the fourth quarter of a 74-65 victory that put the Comets into the quarterfinals next Sunday at Fairleigh Dickinson University. Where, as the No. 8 seed, it will get a shot at No. 1 Bergen Catholic.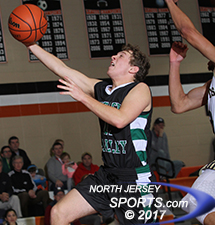 Matt Vasel hit a 3-pointer with 3:04 left in the game to give Pascack Valley its final lead.
"We just had to keep playing hard. Pascack Valley can shoot, Coach [Taylor] told us that before the game, and they made a lot of big shots. We knew this was game was going to be full of runs. They got us early, but we picked it up towards the end of the game," said Taylor, who, at 6-4 and with the ball in his hands much of the time, is a difficult matchup. "It was an early game, but I hit my first two shots and everything was good after that. I tried to do a little bit of everything; score, rebound, set up my teammates and I had a lot of help. It was a good team effort."
It was for Pascack Valley, too, which has gone from a team that started season at 1-5 to one that had a lead with just over three minutes to go in a Jambo game against a high-quality opponent. The difference in the outcome was really down to a couple of key sequences that went in Hackensack's favor.
"Shot selection and taking care of the basketball…," said PV head coach Al Coleman. "I could care less about moral victories. The bottom line is we had an opportunity. We went up late in the fourth and we missed an assignment that cost us a 3 in the corner from Taylor. We tried doubling the ball instead of doing our job and it cost us."
It what turned out to be the only truly competitive game in the four-game slate at Tenafly High School, neither team seemed to be bothered by the early tip. Matt Domville's three straight free throws and Legend Dominguez's short jumper from the corner gave Pascack Valley a 19-17 lead after the first quarter and an 8-0 run to close the second quarter gave the Indians a 33-28 lead at halftime.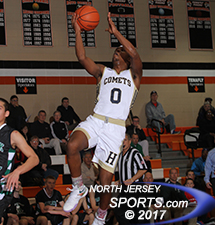 Bryce Drakeford scored 16 points for Hackensack, which will play top-seeded Bergen Catholic in the quarterfinals.
Hackensack played the final 9:26 of the first half without BJ Saliba, Jr., a key piece who picked up his second personal foul with 1:26 left in the first quarter. He returned in the third and drew two charges in the first two minutes of the third quarter in the midst of a 9-2 Hackensack run to open the second half. Bryce Drakeford gave the Comets their first second half lead, 37-35, on a bucket set up by a Saliba defensive rebound and assist and then hit a 3-pointer to tie the game at 46 after Pascack Valley had just run off 10 straight points of its own.
Toren Portee's 3 put Hackensack up 49-46 heading into the fourth quarter and there were two ties in the final period at 49 and 57. Vasel's 3 from the corner with 4:07 to play gave Pascack Valley its final lead of the game at 60-59 before Taylor returned the favor to put Hackensack in front for good.
Alex Lin (19 points), Dominguez (18 points) and Vasel (16 points) all finished in double figures and Domville had 8 for Pascack Valley. Noah Baumgarten and Justin Schaumberger split the other four points.
Hackensack also had three double-figure scorers with Taylor doing the most damage with an efficient 36-point effort. Drakeford, who recently signed to play football at Wesley College next season, scored 12 of his 16 points in the second half. Razeyah Surrell (10 points) provided a legitimate interior option, Saliba scored just 6 points but affected the game with his defense and passing and Portee, the Comets' energy guy off the bench, added 5.
So now it is on to the quarterfinals where Hackensack will be a decided underdog against Bergen Catholic, the loaded top seed, but a live one with a shot. The Comets (15-5), after an 0-2 and 4-4 start to the season, have now won 11 of their last 12 games and are one round further in the Jambo then they made last season.
"We lost a couple of players from last year, but the leadership was still here and everybody contributes the same effort. You might score more in one game than you do in an another, but all of the other parts of the game stay the same," said Drakeford. "We have been hot and things are going good. I feel like we can go further in the Jamboree and in the states as well. We have BC next and we know they are good, but that is what we have been prepping for. We will see them in the Round of 8 and we will see what happens."
CLICK HERE FOR MORE PHOTOS FROM THIS GAME. TO BUY A COLLECTOR'S PRINT OF THIS STORY, PLEASE VISIT 4FeetGrafix.com.