Sunday, February 5, 2017
By Cory K. Doviak
NJS.com Editorial Director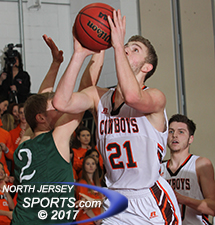 On a day on which offense was hard to come by, Nick Guillemain scored a game-high 19 points for Pascack Hills, which knocked Ramapo out of the Jambo, 39-33, on Saturday.
ALLENDALE – How hard were points to come by in Saturday's Bergen County Jamboree Round of 16 game between sixth-seeded Pascack Hills and No. 11 Ramapo? Well, consider this: Pascack Hills scored just four points in the whole of the third quarter and none over final 4:50 of the period. The Cowboys entered the second half leading by a point, made just one field goal and two free throws, yet exited the quarter tied.
Ramapo did not score a single point through the first 5:48 of the second half, yet one baseline jumper and a conventional 3-point play allowed the Green Raiders to turn a one-point deficit into a tie game heading into the fourth quarter.
Droughts like that can sometimes be chalked up to bad offense, but that was not the case. Both teams were patient, neither kicked the ball all over the court and both have capable shooters and slashers. In this county tournament slobber-knocker, there were just not that many uncontested shots to be had.
"Usually we have a spurt at some point, but that just did not happen today," said Pascack Hills head coach Kevin Kirkby. "They play real solid defense. They are tough kids, they are athletic kids and they kind of got us out of what we wanted to do offensively."
With every point at a premium it was Jason Shill's 3-pointer, the only one that Pascack Hills hit in the second half, that opened the fourth quarter scoring and gave the Cowboys the lead for good in a grind-it-out, 39-33 win that puts Pascack Hills, a semifinalist last season, into the quarterfinals next weekend where it will play St. Joseph Regional, the defending champion and No. 3 seed that shares the same zip code.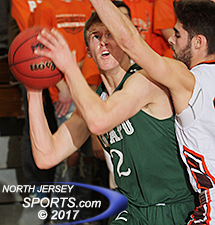 Just about all of the team-high 11 points that Ramapo sophomore KC Hunt scored were of the contested variety.
There is not much to catch up on through the first three quarters as the game was tied a 9 after one and Pascack Hills nudged in front at the break, 20-19. The third quarter was a near stalemate that ended in a 24-all tied that was broken when Shill's trey went down with 6:22 remaining. To say that Pascack Hills went 'on a run' from there would be and overstatement as it methodically and eventually built the largest lead of the game for either side when Michael Murphy scored on a designed play out of a timeout to make it 34-27 with 1:57 to play in the game.
"We knew that Ramapo was a good defensive team. We had to fight hard for all four quarters," said Murphy. "There were no easy moments. We had to match them defensively and it paid off in the end."
Seven was a big number to overcome for a Ramapo team that made just three second half field goals, but the Green Raiders did manage to get back within one possession inside the final minute. Kyle Hroncich got all the way to the basket and KC Hunt hit all four free throws in two separate one-and-one situations to make it a 35-33 game with 50 seconds left, but Nick Guillemain hit all four of his free throws in the final 19 seconds to ice it for Pascack Hills.

The game really was a duel between Hunt and Jason Oppler on the Ramapo side and Murphy and Guillemain for Pascack Hills. They all took turns guarding each other and all four were the only ones in the game to finish in double figure scoring.
Michael Murphy scored 15 points for Pascack Hills, which will play defending champion St. Joseph in the quarterfinals next weekend at FDU.
"KC Hunt was face-guarding me, Jason Oppler was on Murph and those are two really good defensive players that make it really hard to score. We had to run a lot of motion, we had to screen a lot and they forced us to work really hard on offense," said Guillemain, a senior and a first team All-Bergen County selection last season. "Our offense was working out in the third quarter, but we can play defense, too, and we held them to a low amount of points until we could finish it out."
Hunt (11 points), a sophomore, and Oppler (10 points), a junior, combined for well more than half of the offense for Ramapo, a team that does not have a single senior in its starting lineup. John Whooley had 4 points, Hroncich had 3 and Andrew Curcura made a first quarter field goal for the Green Raiders. Peter Gostkowski's second quarter 3-pointer represented the only points off the bench for Ramapo, or for either team for that matter.
Pascack Hills' scoring was even more concentrated as Guillemain (19 points) and Murphy combined for 34 of the Cowboys' 39 points. Shill had 5 and Ryan Rocklin made a second quarter 3-pointer to round out the scoring for Pascack Hills, which has been down this Jambo road before.
Last season the Cowboys beat Ramapo, then the top seed, in the quarterfinals before giving St. Joseph all it could handle in the Final 4. This year it was Ramapo in the Round of 16 and SJR coming up in the quarters, but Pascack Hills has long been established as a Jambo threat no matter the round or opponent.
"We have Joe's and I have seen enough of them to know it is going to be a big challenge for us," said Kirkby. "Right now, as the No. 6 seed, we are supposed to be in the Final 8 and we are. So from here on out it is all house money and we will see what we can do next week."
CLICK HERE FOR MORE PHOTOS FROM THIS GAME. TO BUY A COLLECTOR'S PRINT OF THIS STORY, PLEASE VISIT 4FeetGrafix.com.