Sunday, February 5, 2017
By Cory K. Doviak
NJS.com Editorial Director
Tyson Etienne helped Dwight-Englewood turn a 17-point third quarter deficit into a 66-56 win over Ridgewood in the Round of 16 in the Bergen County Jamboree on Saturday in Allendale.
ALLENDALE – Dwight-Englewood had to be cautious. Not a particularly deep team and beset by early foul trouble, the Bulldogs just could not afford to extend it defense and fully exploit the quickness advantage that it should have had against Ridgewood in the Round of 16 in the Bergen County Jamboree. As a result, Dwight-Englewood slumped into the locker room having scored just 19 first half points and then were on the verge of being run out of the gym at Northern Highlands High School when they returned for the third quarter.
Ridgewood had no such issues as it was shuttling players in and out and taking advantage of its superior size to pound the ball inside. Junior Mike Schretter, the Maroons' 6-foot-7 center, scored seven straight points in the span of 58 second and point guard Tommy Carver added a floater to make it a 9-0 run and a 17-point Ridgewood lead with 4:06 left in the third quarter.
Dwight-Englewood could no longer worry about saving its legs or its fouls. It had to turn up the pressure, harass every ballhandler it could find and create enough extra possessions to make a comeback even possible if not probable.
"We just had to play defense. It was not a matter of it we were going to make shots on the offensive end, we just had to grit it out and fight for the ball more than they wanted the ball," said Dwight-Englewood sophomore Tyson Etienne. "That is what brought us back. The fans, the bench were all engaged and they gave us that extra push that brought us back."
Michael Schretter scored 15 points for Ridgewood, including seven in a row as the Maroons opened their big third quarter lead.
It was more two-handed shove because back Dwight-Englewood came in stunning fashion. Not only did they wipe out all of the 17-point deficit, but when the Bulldogs finally went ahead they did so for good. It was a 27-point turnaround in the final 12 minutes as fifth-seeded Dwight-Englewood advanced to the Jambo quarterfinals with a 66-56 win over No. 12 Ridgewood.
"We are a team that can go on big runs. We did not shoot the ball well in the first half, but we knew that in the second half we would get some shots to fall. We just had to get good ones," said Dwight-Englewood head coach Bob Rudolph. "We played better team defense in the second half. We went man and we trapped in the halfcourt for a while, extended full court and made them really try to handle all of the pressure we could put on them."
Ridgewood looked like it was playing pressure free for the first 20 minutes. Tommy Carver, Gabe Millstein and Quin Peene all hit first quarter 3-pointers as the Maroons led 15-8 after one and maintained that seven-point lead right into the half up 26-19.
Schretter was a force on the offensive glass all day and especially in that one-minute, third quarter span when he scored seven straight points all by crashing the boards. He tapped in a miss, was fouled on a putback and made two free throws and did the same the next time down the floor to put Ridgewood in front 36-21 with 4:43 to go in the third quarter. Carver's floater the next time down the floor marked the culmination of the good times for the Maroons, whose lead ballooned to 38-21.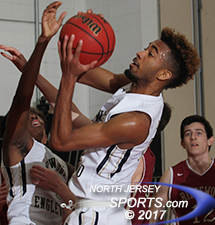 Jordan McKoy scored 17 of his game-high 23 for Dwight-Englewood, which will play Teaneck in the quarterfinals.
To say the wheels then fell off might be too strong, but Dwight-Englewood did lay down a spike-strip that kept tripping up the Maroons for the remainder of the game. Every dribble, every pass and every possession was challenged by the Bulldogs, who started springing traps, tipping balls and getting out in transition. Jordan McKoy signaled the start of the comeback with a 3-pointer from the wing and finished the period with another 3 from just off center from the top of the key to get Dwight-Englewood back to within 44-37 heading into the fourth quarter.
"We weren't just going to give up. We were going to keep pushing, keep playing for each other and Coach [Rudolph] kept up his confidence in us," said McKoy, a 6-foot-3 sophomore. "We had to weather the storm. We know we are an undersized team, so we have to play with more heart than the other team and you could see that when we started the comeback. This is a one-time opportunity and we just kept pushing."
Dwight-Englewood closed the third quarter on a 16-6 run and then used a 7-0 spurt midway through the fourth to put itself on the doorstep. Etienne's bucket off a feed from Judah McIntyre got the Bulldogs to within 48-47 with 4:05 to play. Ridgewood temporarily stopped the bleeding with a Chris Zito basket, but the Bulldogs came right back again by scoring the next 10 points. McKoy hit a jumper from the foul line to start it and McIntyre's steal, layup and free throw gave D-E the lead, 52-50 with 2:34 left, for the first time in the game.
McKoy's conventional 3-point play with 1:30 to go put the Bulldogs up 57-50 and Ridgewood never got back closer than five points the rest of the way.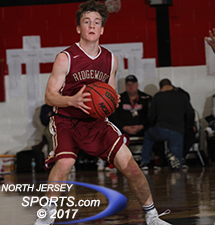 Tommy Carver made three of Ridgewood's six 3-pointers, including
its only trey of the second half.
"My teammates Tony [DeBellis] and Isaiah Pean made a good trap and I just jumped the ball," said McIntyre, speaking of the go-ahead sequence. "We were down 17 points in the second half, so we really didn't have anything else to lose. To come back and win it like we did…It's the county tournament and there is no better feeling than this."
Ridgewood, which won its way into the Round of 16 with a win over Glen Rock last weekend, was led by Schretter and Carver, who each finished with 15 points. Quin Peene scored 7 of his 9 points in the first half, Millstein scored all 5 of his in the first quarter.
Dwight-Englewood's scoring was titled in the opposite direction as McKoy scored 17 of his game-high 22 in the second half and 12 of Etienne's 20 came after the break. McIntyre added 9 points, Isaiah Pean had 7, DeBellis added a fourth quarter 3-pointer and Aidan Pink's second quarter field goal gave the Bulldogs their only points off the bench.
So now it is on to the quarterfinals at Fairleigh Dickinson University where Dwight-Englewood (17-1) will get a shot at No. 4 Teaneck, which ran by No. 13 Fair Lawn, 85-57.
"Our team chemistry is what has us at 17-1. We play hard, we play together and it is just fun playing with this group of guys," said Etienne, one of three sophomore starters for D-E. "We are a family, that is what makes us good and we want to take it as far as we can."
CLICK HERE FOR MORE PHOTOS FROM THIS GAME. TO BUY A COLLECTOR'S PRINT OF THIS STORY, PLEASE VISIT 4FeetGrafix.com.