Sunday, January 29, 2017
By Cory K. Doviak
NJS.com Editorial Director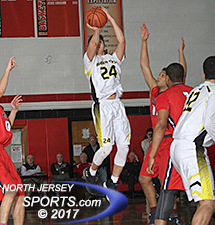 Senior Steve Lai taking the buzzer-beating jumper that gave Bergen Tech a 48-45 win over Saddle River Day, its first ever in the Bergen County Jamboree.
BERGENFIELD – In the NBA there would have been at least five possessions left in the game. In college basketball there would have been at least four. In New Jersey high school basketball, where there is no shot clock, Bergen Tech was free to play for the last one when it rebounded a Saddle River Day miss with 1:22 left in a tie game in the opening round of the Bergen County Jamboree.
It took three time outs to maintain possession, but the Knights still had the ball when they set up to in-bound from the sideline with four seconds left. Either there was going to be overtime or there was going to be a Bergen Tech win and there was no doubt who was going to take that game-deciding shot. Senior point guard Steve Lai was option 1 through 10.
"My assistant coach was like, 'Hey, do you maybe want to go to another guard and maybe spread the floor and get some motion? I said, 'No, I am going to put the ball in Steve's hands," said Michael Mongelli, Bergen Tech's first year head coach. "He is a senior and we were going to let him make the decision."
With the clock hurtling toward all zeroes, Lai made the decision to pull up from about 22 feet at the top of the key. The shot looked good in the air and even better went in splashed through the hoop to give 16th seeded Bergen Tech not only a thrilling 48-45 victory, but also its first-ever victory in the 61-year history of the Jambo. The Knights had made only two previous appearances and had not been included in the Jambo field since 1995.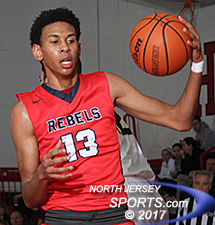 Miles Lewis scored a team-high 13 points for Saddle River Day.
"We just ran a set play that we always run. I got the ball and took a dribble, crossed-over and then took another dribble. I knew time was running down and I knew I had to rise up and shoot it. It felt good leaving…and it went in," said Lai, the only senior in Bergen Tech's starting lineup. "This is crazy. We haven't been here in 20 years, this is my first time and I am a senior and Bergen Tech has never won a Jambo game before. Our school is not really known for basketball, our gym is never really filled like this. It was crazy to have all of these people watching us play and to bring this win home, I hope some people are going to be excited about us and for us."
Saddle River Day is no Jambo regular either as it was making only its third-ever appearance and the first half might have been an example of two teams trying to adjust to the pressure of playing in what is generally considered the most prestigious county tournament in New Jersey. Bergen Tech made just five first half field goals and scored only four second quarter points, but still managed to get into the locker room trailing by only a bucket at 19-17.

There were four lead changes and three ties in the third quarter as both teams started to see the ball go through the basket, but it was not until Bergen Tech sophomore Marc Martinez got going late in the period that either team made a sustained bid to pull away. Scoreless in the first half, Martinez scored eight points in the final three-and-a-half minutes of the third quarter and his 3-pointer from the wing with 35 seconds to go kicked off a 12-2 run that carried right over into the fourth quarter.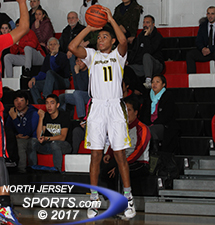 Bergen Tech sophomore Marc Martinez scored all 12 of his points after halftime.
Lai beat the third quarter horn with a step-back jumper from the corner to give his team a 34-31 lead. Howell Nunez and Firas Khansa split the first four points of the final quarter to put BT 38-31 and Martinez canned a 3 from the corner off a baseline drive and dish by Lai to make it 41-33 to 4:48 to play. That was the largest lead for either side in the game.
"We got hot because we kept penetrating and kicking the ball out to open shooters. I didn't take every shot because we work as a team and when one guy gets going we all kind of follow," said Martinez, who scored all 12 of his points in a seven-minute, second half span. "It was a slow first half for me, but I stayed confident and kept my head together until I could start making some shots."
Saddle River Day, to its credit on a day when points were hard to come by, rallied back. After falling behind by 8, the Rebels ran off 10 of the next 12 points in the matter of three minutes to get back even. Kevin Ranaghan scored inside, Dylan Musial grabbed a rebound and went coast-to-coast for a layup Miles Lewis scored four quick points on a 3-pointer and a free throw to get SRD back to within 43-41 with 2:32 to play. Kevin Gibbs scored inside with 1:47 left to get the game tied.
Lai and Lewis then traded baskets to make it 45-all before Bergen Tech set off on the 1:22-long possession that etched itself in Knights hoops history.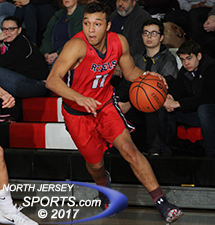 Dylan Musial scored 11 points for Saddle River Day, which was making its third-ever appearance in the Jambo.
Mongelli took a time out with 30 seconds to go and another with 7 seconds left and Saddle River Day used one of the four fouls it still had left to give with four seconds to go. The Rebels elected not to give another, which allowed Lai to get the look he wanted with enough time to get it off. Then came the basket, the buzzer and the celebration all in rapid succession.
"We wanted to Steve to get to the top of the key. He is a much better shooter from there then from the wing and we knew we wanted him to be straight on. Like I said, just a great shot," said Mongelli, who, in his first season as a head coach at Bergen Tech or anywhere, now has a perfect winning percentage in the Jambo. "Coming in I knew we would be decent, but I knew that we would be young. We had a senior leader in Steve and a bunch of young kids that we could mold into the program. To see it come together on a day like today is pretty special."
Both teams were balanced in their scoring as Saddle River Day had three in double figures; Lewis (13), Musial (11) and Gibbs (10). Ranaghan and Trevor Hansen each kicked in 4 points and Nick Eiler had the other three for the Rebels, who really hurt themselves with a 4 of 11 display at the foul line, including just 1 of 4 in the fourth quarter of a tight game.
Bergen Tech, which earned a shot at top-seeded Bergen Catholic next Sunday in the Round of 16, was led by Lai's 13 points and Martinez's 12. Andrew Yoon scored 6 of his 8 points after halftime, Alex Whang added 6, Nunez finished with 5 points and Khansa had the other 4 for the Knights, who combined to go 6 of 10 from the free throw line.
CLICK HERE FOR MORE PHOTOS FROM THIS GAME. TO BUY A COLLECTOR'S PRINT OF THIS STORY, PLEASE VISIT 4FeetGrafix.com.