Wednesday, January 25, 2017
By Cory K. Doviak
NJS.com Editorial Director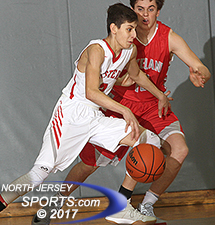 Freshman Darius Sohikish made six 3-pointers and scored a career-high 27 points for Fair Lawn, which punched its Jambo ticket with a 74-55 win over Lakeland on Tuesday afternoon.
FAIR LAWN – This is the time of year and this is the specific week when Jambo Fever infects the Bergen County boys basketball landscape. Tuesday represented the slate of games that are to be considered by the selection committee. There is math going on all over the place as .650, the needed win percentage to gain automatic entry, and there are the subjective aspects of strength of schedule, good wins, bad losses and other variables.
In Fair Lawn, however, Jambo Fever was a little bit more like when you feel like you have to sneeze a little bit but then don't.
"My seniors are kind of aware of it because the last time we went, my first year here as an assistant when [Chris] Moseley and that group went, they were freshman. They saw a little bit of it," said Fair Lawn head coach Kyle Sabella, who was an assistant to Rich Micallef for that 2014 team. "But the younger guys we have now? They don't really know anything about it. I say Jambo, they say what is that? I said we have to win today to clinch a .650 winning percentage and they were not really into doing the math."
None of that matters now as Fair Lawn can put down its pencils. On the strength of a 23-1 run bridging the second and third quarters on Tuesday against Lakeland, the Cutters cruised into the Jambo by posting a 74-55 victory and improving to 10-4 on the season. And they did it behind a breakout performance by freshman Darius Sohikish, who can flat out shoot it.
Lakeland's strategy early was to us a triangle-and-two designed to take away Fair Lawn's two most established scorers, seniors Justin Ensuncho and Quamere Crews, and force a third scorer to emerge. The plan went up in smoke when Sohikish came off the bench with 3:30 left in the first quarter and made his first 3-pointer of the game just 11 seconds later and he was just getting started.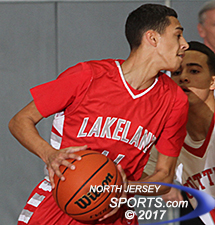 Frankie Sierra made five 3-pointers and finished with 21 points for Lakeland.
Sohikish made three first half 3-pointers, made two more during the Cutters' game-changing third quarter run, made six in the game and finished with a team-high, game-high and career-high 27 points. He shot Fair Lawn into the Jambo, even if he is not yet quite sure what that means.
"I don't have that much experience with [the Jambo], but I know it is a huge thing and I am just happy that we are in now. I am looking forward to playing in it," said Sohikish. "After I saw my first shot go in I was feeling it and was just looking for some spots where I could get my shot off."
The game was tied at 17 after the first quarter and Lakeland held a lead for large part of the second quarter. The Lancers went up 27-22 after their senior center and 1,000-point scorer Boris Beric scored in the post with 3:02 left in the first half. But then Sohikish then hit two 3-pointers within 22 seconds of each other kicked off the 23-1 run that ended with another Sohikish trey that gave Fair Lawn a 45-28 lead with 4:44 left in the third quarter.
Ensuncho finished off a conventional 3-point play to push Fair Lawn's lead over 20 points for the first time at 51-30 with 3:22 left in the third quarter, the Cutters led 56-40 to start the fourth and Lakeland never got any closer.
Ensuncho is Fair Lawn's point guard and its leading scorer, but he has meant much more to the Cutters than just stats this season, which can only be considered a surprise, at least to those outside the program and maybe the head coach.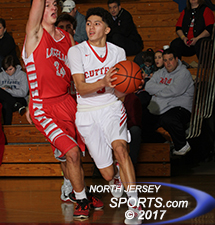 Senior Justin Ensuncho finished with 15 points for Fair Lawn, which improved to 10-4 on the season.
"I was hoping to get to 10 wins and get into the state playoffs. The last two years have been rough, so I thought those were goals to shoot for," said Sabella, whose all-senior backcourt of Crews and Ensuncho has been the driving force to piling 10 wins already. "Justin is the best defensive player I have ever coach, hands down. So forget about the offense, forget about his ability to run the team at that end and control the game, he gets close to seven steals a game. He is our leader, everything runs through him and, unfortunately for him, he has been getting a lot of attention lately, so he has to not score as much and he has to facilitate. He doesn't complain, he just does his job."
Ensuncho, who was a starter on the two teams that struggled in each of the past two seasons, appreciates where this year's team is at the moment and he was one of the few that saw it coming.
"I always thought we could do it. I was pretty confident that we would have a good season and make the Jambo because we put in the work in the offseason. I know I did and I knew it would pay off," said Ensuncho. "We are in now and people are probably going to overlook us yet again, but we want to go as far as we possibly can. We know we belong and now we want to make some noise."
Sohikish made noise with his career-high 27 against Lakeland and junior Patrick Snoad also set a new career best with 16 points, including four 3-pointers. Ensuncho (15 points) and Crews combined for 23, Tyler Johnson added 6 and Edwin Muniz had the other two points for Fair Lawn, which went 16 of 20 as a team from the free throw line. Frankie Sierra (21 points, five 3-pointers), Beric (12 points) and Johari Swinger (10 points) all finished in double figures for Lakeland.
CLICK HERE FOR MORE PHOTOS FROM THIS GAME. TO BUY A COLLECTOR'S PRINT OF THIS STORY, PLEASE VISIT 4FeetGrafix.com.