Saturday, January 14, 2017
By JC Baumuller
Special to NJS.com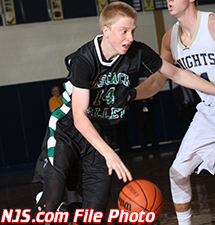 Junior Alex Lin scored 9 of his game-high 25 points in the fourth quarter as Pascack Valley picked up its third win of the season, 57-47, over Tenafly on Friday night.
HILLSDALE -- Pascack Valley opened the fourth quarter with an 11-2 run to break open a close game and top Tenafly 57-47, in Friday night home game. Junior Alex Lin tallied nine of his game-high 25 points in the final frame and senior Matt Domville, who dominated the inside all game long, had four points in each quarter to finish with 16.
"The last few games he's really elevated his play," Valley coach Al Coleman said of Domville." He's been so tough, giving us an inside presence. He really bangs, keeps balls alive and I'm proud of how he played."
"I just crashed the boards as hard as I could," Domville said. "We had a goal as a team to box out and get every rebound and as a senior I wanted to lead by example."
Lin was on fire in the first half, scoring 16 points, including a pair of 3-pointers that gave Valley a 6-2 lead two-and-a-half minutes into the game.
"He was very efficient in the first half," said Coleman. "He's a tough match-up problem because he's 6-foot-6. He can put it on the deck and take you outside and he can shoot the ball pretty well. So he definitely creates a mismatch problem for a lot of people."
"My teammates got me the ball," Lin said, "and they were giving me some space and giving me some open shots. I'm a pretty good shooter and I think I can get to the basket pretty well."
The Tigers, who have two sophomores, two juniors and senior Alec Kaufman in the starting lineup, were able to hang with PV for most of the game.
"Defensively we broke down a little bit," Tenafly head coach Jeff Koehler said. "I loved the effort - they worked hard. Offensively we need to move the ball a little more. We were stagnant a little bit. We have to get people involved. They're young so hopefully they'll fight through this."
Tenafly fell behind by eight early in the second quarter but battled back to trail by only one, 27-26. Three-pointers by sophomore Eric Berschadsky and senior Ethan Schiffman closed the gap to four and then junior Antonio Bonilla ripped the ball away from a Valley player and scored to cut the lead to two.
After a bucket by Domville, Bonilla canned a 3 to bring Tenafly within one point heading into the halftime intermission.
"We let down on our defense for a little bit," Lin said, "but we came back stronger and played better defense."
Tenafly grabbed a one-point lead on two occasions in the third quarter. Berschadsky, who led the Tigers with 13 points, faked a Valley defender to the floor and then hit a side jumper. Twenty seconds later Bonilla gave Tenafly a 33-32 lead with a short jumper. After Domville scored from in close, Berschadsky scored again to put the Tigers up, 35-34.
But Indians senior Legend Dominguez hit a pair of free throws and then drained a 3-pointer in the last minute to propel Valley to a 39-35 lead heading into the fourth quarter.
"We do have a lot of scorers and we have to spread it around," said Koehler. "But we let them come back because we feel we have to shoot. PV moved the ball around to get us tired so we had no legs for threes. That's how you finish games. They're a smart, senior-based team. We're still learning."
Domville and Tigers sophomore Johnny Angbazo traded baskets to begin the fourth quarter. Then Lin scored on a 3-point play, a drive to the basket and a pair of free throws to give the Indians an 11-point lead, 48-37.
"We finally learned to buckle down on defense," said Domville. "And we wanted to focus on rebounding and boxing out."
Coleman hopes that the team will continue to play as they have this past week.
"We've had a lot of battles this year," Coleman said. "We've lost a couple of close games so this was good for us. We closed one out against Ridgewood the other night and hopefully we built upon it tonight. And we're hoping to continue to build."
"I think we picked it up," Lin said of the season." We had a losing streak but now we're playing a lot better, sharing the ball more."
TO BUY A COLLECTOR'S PRINT OF THIS STORY, PLEASE VISIT 4FeetGrafix.com.