Friday, January 13, 2017
By Cory K. Doviak
NJS.com Editorial Director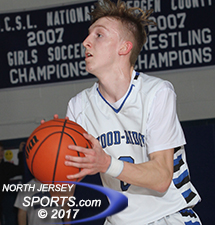 On the day he turned 17, got his driver's licence and got to skip a test, junior Andrew Marino went off for 27 points as Wood-Ridge kept itself in the hunt for a league title and a Jambo spot with a
75-69 win over St. Mary.
WOOD-RIDGE – At this point in the season there is really no use in trying to do the math in the NJIC Meadowlands Division. The league leaders all have two losses in a confusing equation of who beat who and there are others with three losses that are a well-timed win from leap-frogging into contention. The Meadowlands Division is a beautiful mess and nights like Thursday show that it is not going to be cleaned up anytime soon.
All in the span of the same couple of hours North Arlington beat Becton, Paterson Charter upended Hasbrouck Heights over in Wood-Ridge, Andrew Marino had the game of his life to cap a day he will remember forever to help keep his Blue Devils right in the middle of the fray.
Thursday was Marino's 17th birthday and it started with him having an excused absence from his forensics test so that he could take his driver's test, which he passed. He then drove to his own gym, got out of his own car and proceeded to score 27 points, including making 15 of his 17 free throw attempts, for Wood-Ridge, which kept itself alive in the race for a league title and for a spot in the Bergen County Jamboree with a 75-69 win over St. Mary.
Not a bad 24 hours for a high school junior.
"It's was a big day for me. I was allowed to come late to school, I didn't have to take my forensics test, I got to skip that, then I came here and was able to get a big win with the boys," said Marino. "You can't ask for anything more than that and now I get to drive out of here. My car is in the parking lot."
Wood-Ridge got off to a flying start as Ryan Ploscia scored three first quarter baskets, the first two of which gave the home team double-digit leads. He grabbed a defensive rebound and went coast-to-coast for a layup that made it 12-2 just 2:35 into the game and he made it 14-4 less than two minutes later.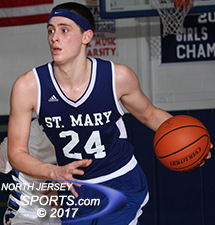 Despite foul trouble all game long,
St. Mary's Marc Dadica finished with a game-high 29 points and 14 rebounds.
St. Mary head coach Brian Gaccione burned two of his timeouts in the first two-and-a-half minutes of the game and his team responded. By the time Ploscia scored his final first quarter bucket, a layup off a Luke Vu-Nguyen drive-and-dish with 1:08 left in the first quarter, St. Mary was already back in the game. Marc Dadica's pull-up jumper had the Gaels within 20-16 at the end of the opening period.
Dadica, the 6-foot-8 center, was unstoppable when he could catch-and-turn in the low block or when facing the basket from 15 feet and in, but he rarely got a look without taking contact and foul trouble slowed his aggressiveness. Dadica got to the free throw line 13 times in the first half alone and played the full 32 minutes, but had to be careful for most of them. He played with two personal fouls without picking up his third for the final 10:01 of the first half, which ended with his team in the lead. Alex Pena's jumper from the elbow with 1:24 left in the half gave St. Mary its first lead of the game at 32-31 and the Gaels held a 37-35 edge at the break.
Despite being ahead going into the locker room, Gaccione knew his team, saddled with foul trouble and just 8 of 17 from the free throw line through two quarters, had missed a chance to put Wood-Ridge further behind.
"Our lack of ability in the first half to make foul shots didn't allow us to separate. We were concerned that we were going to have a hard time guarding the ball and they exposed us a lot and put us in foul trouble," said Gaccione. "They put us in foul trouble with the dribble drive. They have multiple guys that can put it on the floor and our foot speed is not great this year. That being said, we did have our opportunities."
There was foul trouble on both sides for most of the game. With Jack Barteck picking up two early ones and Marino whistled for his second late in the second quarter, Wood-Ridge went deep into its bench to pass the time. Inside the final minute of the half, sophomore Anthony D'Amico was inserted and asked to guard Dadica for a couple of trips, a height mismatch of at least one foot.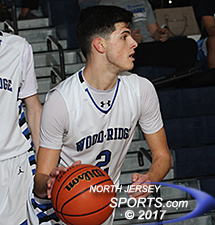 Junior Jack Bartek scored 15 of his 18 points after halftime for Wood-Ridge, which is now 6-4 on the season.
But it was all hands on deck, D'Amico did his job and Wood-Ridge was back at full strength to make a run in the third quarter. John Whaley, one of the best standstill shooters in the NJIC, knocked down a 3-pointer and Vu-Nguyen scored in transition to put the Blue Devils up 47-41. Marino scored five points in a row to make it 55-49 and Barteck's two free throws to end the period had Wood-Ridge ahead 57-53.
Dadica, who finished with a game-high 29 points to go with 14 rebounds, picked up his third foul just 28 seconds into the third quarter and his fourth with 3:25 left in the quarter, but Wood-Ridge was walking a fine line between trying to pin the big guy with his fifth and not just driving to the basket and hoping for a whistle. The Blue Devils are not an in-the-paint kind of club and they had to find the balance.
"Well, that was the thing. We talked about it between [the third and fourth] quarters about still playing our game. We wanted to get that last foul on [Dadica] but that couldn't be the only thing we were worried about," said Barteck, a slashing junior guard who got himself to the free throw line 11 times in the game. "We still had to run our offense."
A Barteck free throw with 3:31 left in the game put Wood-Ridge up 65-61, but St. Mary was going nowhere. Alex May's only bucket of the game was a 3-pointer from the corner and Justin Dykstra (12 points) followed with a basket from the baseline for a quick 5-0 run that put the Gaels back in the lead, 66-65, with 2:42 to play. Wood-Ridge got back even when Marino made the front end of a one-and-one after forcing Pena (13 points) to commit his fifth and final foul with 1:40 to go and Barteck got all the way to the basket for the lay-up that finally gave the Blue Devils the lead for good, 68-66, with 1:07 to play.
Things only got stranger from there as, after Barteck finished a conventional 3-point play to put his team up 71-67 with 31 seconds left, Wood-Ridge returned to the floor after a time out with six players on the floor. They got away with it when St. Mary missed both technical free throws and then closed things out when Vu-Nguyen made an uncontested layup off a baseball pass thrown from the other end of the floor by Whaley with 21 seconds left.
Justin Dykstra had 12 points for 5-3
St. Mary, which needs to win three of its next four to secure a Jambo spot.
"If having six guys on the floor cost us that game I would have resigned right there. That is on me," said Wood-Ridge head coach Ed Rendzio. "But our kids fought through that, they fought the whole game, and this was a big win for us."
It was a big night for Marino, whose team-high 27 points led three Blue Devils in double figures. Barteck scored 15 of his 18 after halftime and Vu-Nguyen had 13. All 9 of Whaley's points came from behind the 3-point line and Ploscia scored all six of his points in the first quarter before being hit with foul trouble. The win pushed Wood-Ridge to 6-4 on the season and with a clear path to the Jambo. With five games left before the cutoff, 4-1 would get it done.
"We have Eastern Christian, another good team, on Saturday at [the Public vs. Private Showcase] and we have to be 10-5 [to make the Jambo]. We have our work cut out for us. We'll take the rest of today to enjoy this and then it's right back to work tomorrow," said Rendzio. "This game tonight was just one step in the process. We have five juniors and one senior that play a lot and this is a group that is special to me. I have known Andrew [Marino] and Jack [Barteck] pretty much since they were born and sometimes it is hard to separate the coach relationship from the friend relationship, but these guys work hard and I will continue to push them and challenge them to try to help them get where they want to go."
St. Mary wants to go to the Jambo, too, and the road just got a little bit bumpier. The Gaels (5-3) will have to win three out of four and we play West Milford in two days," said Gaccione. "We don't have a lot of time to feel sorry for ourselves because right after that we play Heights, North Arlington and Becton. There is a shot and that is still our goal."
CLICK HERE FOR MORE PHOTOS FROM THIS GAME. TO BUY A COLLECTOR'S PRINT OF THIS STORY, PLEASE VISIT 4FeetGrafix.com.