Saturday, January 10, 2015
By Cory K. Doviak
NJS.com Editorial Director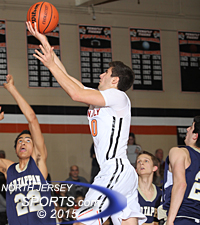 Amit Yona scored a game-high 26 points for Tenafly, which came from seven points down in the fourth quarter to beat Old Tappan, 72-65, and improve to 5-3 on the season.
TENAFLY – The fall season was like a traveling road show at Tenafly. With the boys soccer team winning a state sectional championship and the girls volleyball team making it to a section final, Tiger fans were accustomed to filling bleachers and gyms across North Jersey. Jeff Koehler, the volleyball coach, saw first hand how a packed house full of raucous supporters can affect a game in a positive way. So he sought to bring the same kind of energy with him when he took over this season as the boys basketball head coach.
"I told a kid I would give him a varsity letter or whatever it takes to get [the student section] going. I told them they had to get the "Defense, defense" chants going because our team feeds off of that," said Koehler. "Volleyball and soccer had that in the fall and we want to have that in the winter, too. It's good for the community and it is good for our team, especially."
It was a mutually beneficial relationship on Friday night as the fans showed up in big numbers and it full throat and the basketball team gave them plenty to cheer about as the Tigers erased a seven-point fourth quarter deficit, blocked Old Tappan's final shot of regulation with time running out and then took control halfway through the four minute overtime period to post a 72-65 win over Northern Valley/Old Tappan.
They are starting to feel it in Tenafly now as the Tigers improved to 5-3 on the season with the goal of making the Bergen County Jamboree after a three-year absence.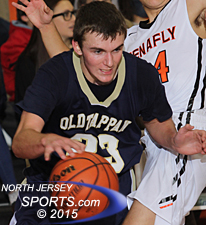 Dan Fitz made 4 3-pointers and led Old Tappan with 19 points.
"We are very strong in that locker room. We know we can win some games if we play the way we want to play, control the tempo and work on defense," said Tenafly's Amit Yona, who kind of plays the point-forward position, a bigger guy who handles it and facilitates. "It's just a different feeling around here this year. Last year we probably would have lost this game, we lost a lot of really close games, but we got through it tonight. I am proud of our guys and the Jambo is definitely the goal."
Where Tenafly was last year is kind of where Old Tappan finds itself at present, a representative side that is in just about every game it plays, but has let a couple slip away. The Golden Knights made it to the final of the Jack Reilly Holiday Tournament, but lost in the final and gave four-time defending Bergen County champion Teaneck all it could handle earlier in the week before falling short.
Old Tappan led 13-11 after the first quarter, 24-22 at the half, 39-36 after the third quarter and when Dan Fitz was left wide open on the wing, he nailed a 3-pointer with 6:07 left in regulation to give the Golden Knights a 47-39 lead. But what makes Tenafly such a tough matchup is that, while Yona, who is closing in on 1,000 career points, is option No. 1 on the offensive end, options 2, 3, 4 and 5 are pretty good too and each took their turn pulling the Tigers back into the game.
Jake Spadaccini, a power forward in terms of strength but a point guard in terms of height, made a free throw and then followed in his own miss on the second attempt to get the Tigers within five points and then it was Ofek Efraim's chance to show off. Efraim hit back-to-back 3-pointers from the exact same spot just in front of the Tenalfy bench, which exploded after both, and then ran the pick-and-roll with Yona, who set the screen and then drifted to the sweet spot. Efraim's back pass led Yona right there and he buried another 3 to cap a 12-2 run that took just two minutes and gave the home team a 51-49 lead with 3:54 left in regulation.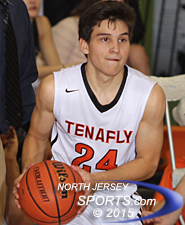 Tenafly's Blake Berne scored all 8 of his points in the fourth quarter and overtime period.
That was the first of seven lead changes in the final four minutes as Old Tappan hung in there by making just about every open shot from the perimeter that presented itself. Zach Weinberg's pull-up jumper from the baseline gave the Knights their last lead of regulation, 59-58, with 1:45 left.
Again, Efraim came through as he hit his third 3-pointer of the fourth quarter to give Tenafly the lead back with 1:33 to go before it got sloppy in the final 90 seconds. Old Tappan made only half of its four free throws in the final 1:19 and Tenafly was called for a travel and missed a rushed shot on its final two possessions before Yona blocked Old Tappan's final shot to send the game into overtime.
Tenafly never trailed in the extra session and the game was tied only one more time after Tyler Sokolich's step-through layup knotted the game at 63 with 2:13 to play. But the next time down the floor, it was Anthony Breakfield's turn to chip in and he buried an elbow jumper to give Tenafly the lead for good.
"That is a shot that coach has been giving me the freedom to take all year and I have been working on it all through the offseason. I have a lot of confidence in making that shot and it opened up for me," said Breakfield. "When I got the ball there, I didn't think about it, I just went up and it went in."
After an Old Tappan turnover, Breakfield scored off the offensive glass the next time down to open a four-point spread and Efraim made two free throws with 1:18 left to make it 69-63. And that was it.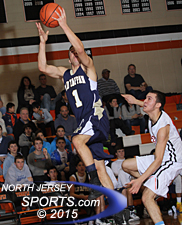 Old Tappan's Zach Weinberg scored 10 of his 12 points after halftime.
"It's kind of been the story so far. We are a play away and we are not making foul shots when we need to and you have to do those things if you want to win these close games. We had a lot of guys step up in this game against a good team on the road, but we just came up short," said Old Tappan head coach Craig Ferrara, whose team fell to 2-4 on the season. "We are close to getting over the hump. We are just going to keep working to fix some of these problems."
The free throw line was Old Tappan's nemesis as it finished 13 of 23 for the night and was just 8 of 15 in the fourth quarter and overtime combined, but the Golden Knights have plenty to work with as they try to climb back toward .500. They share the ball well, they have depth and they, while not blessed with a lot of size, can spread the floor and make defenses guard a bunch of quality shooters. Old Tappan was balanced on Friday night as four of their five starters finished in double figures. Fitz, who made four 3-pointers, led the way with 19 points followed by 14 for Sokolich, 12 for Weinberg and 10 from Jimmy Fasano. Old Tappan made 8 3-pointers in the game, two of them by Mike Vitti (6 points) and Brian Dwyer and Justin Minaya both came off the bench to make all four of their combined free throw attempts.
Yona led all scorers with 26 points and he is fun to watch. His size combined with his ballhandling skills make him a tough matchup as he can go by bigger defenders and shoot over the smaller ones. He's got a European flair to his game with a variety of flips from funky angles and he wrong-foots defenders by wrong-footing himself with shots let go before what seems natural.
Or as Yona put it, "I try to put a little Manu Ginobili in my game."
Breakfield. and Efraim each scored 12 points and both of them did it in spurts. Blake Berne added 8 points and all of them came at crucial moments of the fourth quarter and overtime. Nakia Griffin scored all 4 of his points off the offensive glass for Tenafly, which is starting to get that feeling that big things lay ahead this year with Koehler, previously the long time girls hoops coach, the capable ringleader in his first year on the boys bench.
"He just brings a different approach, a good approach and I don't really know how to explain it," said Breakfield. "But it is clearly working."
CLICK HERE FOR MORE PHOTOS FROM THIS GAME. TO BUY A COLLECTOR'S PRINT OF THIS STORY, PLEASE VISIT 4FeetGrafix.com.