Friday, December 23, 2011
By Cory K. Doviak
NJS.com Editorial Director
Mike Walker had 4 points and two steals in the final two minutes of regulation to help Lyndhurst erase an 8-point deficit on the way to a 62-56 overtime win over Lodi.
LYNDHURST – To climb back into the game from an eight-point deficit with less than two minutes to play in regulation, the Lyndhurst boys basketball team was going to have to make some shots and get some help. If Lodi was able to protect the ball and make some free throws, Lyndhurst probably would have been staring squarely at its first loss of the young season. But through a sequence of clutch plays on one end and defensive stops on the other, the Golden Bears found a way.
Mike Walker had a key steal and scored four points in an 8-0 run that Lyndhurst used to get even in the final 1:49 of regulation and then made a 3-pointer to give his team the lead for good in overtime as the Golden Bears won their third straight game to start the season, 62-56, on Thursday night.
"Down by 8 in the fourth quarter I knew we had to overplay a little to get a stop because we needed the ball. We needed to get some baskets in a hurry," said Walker, who jumped a passing lane for a steal that led to his own fastbreak basket, which kicked off the late 8-0 run. "We needed that right then and there to stay in the game. I can't saw it was all me because it was our team defense that forced them into a bad pass and that play got us going again."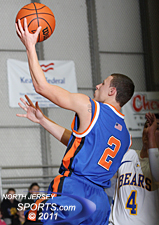 Vinny Paladino had 13 points for Lodi, which fell to 1-2.
The game was played in front of boisterous student sections for each team and, even though it is still the first week of the season, it had the feel of the postseason. Three technical fouls were handed out and both sides had to fight through foul trouble to put themselves in a position to win in the fourth quarter. One of Lyndhurst's starters was hit with a first quarter technical foul for questioning a referee's whistle and was sent to the bench for the remainder of the game by head coach Jeff Radigan and Lodi put Lyndhurst into the bonus early when it committed its seventh team foul just 5:20 into the game.
"That is a good team over there in Lodi and we knew we were going to be in for a battle. They are a very similar team to us, they are tough and they like to get after it," said Radigan. "For us it was all about defense. We kind of got down on ourselves a little bit when they started to make some shots in the middle of the game, but we got back to playing defense, we forced some turnovers and it paid off for us in the final five minutes [of regulation]."
Lyndhurst led for most of the first half, trailing only 2-0, 13-12 and 18-17, and had a 25-22 lead at the break. But with a fresh start in the team fouls column to start the third quarter, Lodi started to get into a rhythm. Vilson Goshi, who was held to just two points in the first half, scored seven in the third period, including a fastbreak layup with 3:08 left. He also converted a conventional 3-point play and Heithem Odeh hit a 3-pointer as the Rams carried a 40-36 lead heading into the fourth quarter.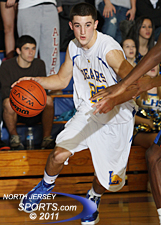 Lyndhurst point guard Kyle Pollio made 6 of his 8 free throws in the overtime period.
Donat Gashi made a 3-pointer with 5:41 left in the game to give Lodi a 46-40 lead and point guard Vinny Paladino stole an inbounds pass and took it in for a layup with 2:38 to go. It looked like Lodi had taken control for good with a 50-42 lead with 2:38 left, but then mistakes got the better of the Rams down the stretch.
A ill-advised 3-pointer led to a long rebound for Walker, who took it coast-to-coast for a layup. Lodi turned the ball over on its next possession and Lyndhurst cashed it in when Jerry Epifonio scored in the post to make it 50-46 with 1:22 to play. Next up was Walker's steal and layup that cut the Lyndhurst deficit to 50-48 with 1:06 left and Kevin Rehbein almost came up with another steal when he jumped the passing lane on the wing, but fell out out of bounds before he was able to call a timeout.
It was an opportunity saved for the Rams, and then another opportunity lost when Walker made his second steal in the final two minutes to set up Rehbein, who split two defenders for the layup that tied the game at 50 with 22 seconds left. When Donat Gashi's 3-point try at the buzzer was on line but just long, it was off to overtime where Walker scored first and Lyndhurst never trailed. The Bears made 9 of 13 free throws in the extra session to expand their lead with point guard Kyle Polio making 6 of his 8 attempts in the final two minutes to help put the game away.
"We heard all the fans going crazy in the fourth quarter and we knew that if we were going to pull it out we needed everybody on the team to make it happen. It had to be a team effort, not just one guy taking every shot," said Pollio. "In the overtime Mike [Walker] hit that big 3 to get us going and the crowd went crazy and we picked it up from there."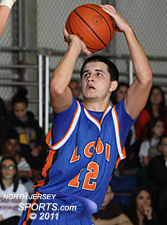 Nick Hoxha finished with 10 points as one of Lodi's four double-digit scorers.
Walker scored 13 of his game-high 17 points after halftime and he was one of four double digit scorers for Lyndhurst (3-0). John Hoff and Rehbein each finished with 12, and Pollio scored six of his 11 points from the free throw line in overtime. Jeremy Schaeffer and Epifonio each scored four points off the bench and Danny Kesack had the other field goal for the Bears. Lodi also had four double digit scorers with Vilson Goshi leading the way with 14. Paladino finished with 13, Donat Gashi scored 9 of his 11 points from behind the 3-point line and Hoxha, who battled foul trouble all night long, finished with 10 for the Rams, who fell to 1-2 on the season.
For the smaller schools who will not have the strength of schedule to get into the Bergen County Jamboree without the required .650 winning percentage, this was a big game for both teams who will each have a shot to get there. It is not possible to play their way in this early in the season, but it is possible to play their way out as one game can make a huge difference come the cutoff. Radigan has the Bears moving in the right direction as they head into the second annual Bruce Bartlett Holiday Tournament that they will host next week.
"We had some success late last season and the confidence started to build and we went to Susquehanna University over the summer, played eight games there and won them all. The football team had a great year and that helped with confidence, but we are taking it one game at a time," said Radigan. "We are the kind team that can beat any team we go up against, but we are also the kind of team that can lose to anybody we play. That means games are going to come down to one play here or one play there and we have some things we need to clean up."
FOR MORE PHOTOS OF THIS EVENT OR TO BUY A COLLECTOR'S PRINT OF THIS GAME STORY, PLEASE VISIT 4FeetGrafix.com.