Saturday, December 17, 2011
By Rich Barton
NJS.com Staff Writer
Mike Gibney, whose father played on Woood-Ridge lone state championship team in 1979, hit a trio of three pointers in the third quarter as this year's version of the got off to a fast start with a 77-59 win over St. Mary.
WOOD-RIDGE – Merely walking into Wood-Ridge gymnasium serves as a reminder of what the Blue Devils are aiming for. For all the banners hanging in the gym, there is only one denoting an outright state championship. It is the biggest and it has been hanging alone since Wood-Ridge won the Group 1 state boys basketball championship back in 1979. Facing rival St. Mary on Friday night was the first of what might be many steps towards adding another state championship banner to the wall for a team that is the defending North 1, Group 1 state sectional champion and has all five of its starters returning.
Trailing heading into the second quarter, Wood-Ridge's Mike Gibney gave the team a spark from the perimeter. Gibney, whose father played on the '79 championship team, hit a trio of three-pointers in the third quarter to give Wood-Ridge a lead it would not relinquish in a 77-59 triumph in the season-opener for both teams at Wood-Ridge High School.
"I think we had some jitters early on, but we know what we can do when we settle down and take care of the ball," said Gibney, a junior. "We're always battling for a league title with St. Mary's, so this was a huge game right out of the gate."
St. Mary's is just starting to adjust to the loss of four starters from last year's squad, along with working under new head coach Brian Gaccione. But the Gaels played hard throughout and showed they were not intimidated. Esteban Morris' only field goal, a layup, gave St. Mary's a 17-15 lead after one quarter of play.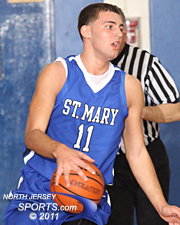 Connor Cuccinelli finished with 14 points and 8 rebounds to lead St. Mary.
Over the past decade, Wood-Ridge has been known for playing an up-tempo style that wears teams down. However, what it has really honed in order to take the next step is perfecting a variety of full-court presses, mainly a 2-1-2 and a 1-2-2 to try and create turnovers. The Blue Devils did just that in the second quarter as Gibney nailed consecutive three-pointers and fellow junior sharpshooter Gary Whritenour used his quick release to nail a pair of his own that gave Wood-Ridge a 44-28 halftime lead.
"We've always been able to score both outside and inside, but it's our defense that is going to take us to the next level," said Whritenour. "When we get turnovers that gives us numbers on the other end. It gives us a lot of options of guys we can go to or we can dump it down to Vin (O'Beirne) inside."
The Gaels refused to lie down against their archrival and they had one big run left in them to start the third quarter. Conor Cuccinelli scored twice inside and a layup by Shawn Johnson capped a 12-0 run that slice the lead all the way to 44-40.
But that was close as they got with O'Beirne and Angel Colon each scoring on layups to quell the threat before the Blue Devils blew the game open early in the fourth quarter.
Vin O'Bierne finished with a double-double as Wood-Ridge got a win in its season opener.
Whritenour hit six three-pointers en route to a game-high 26 points for Wood-Ridge (1-0). O'Beirne had his usual double-double with 18 points and 12 rebounds, while Gibney scored 13 of his 18 points in the second quarter. Cuccinelli had 14 points and eight rebounds, while Johnson added 13 points for St. Mary's (0-1).
With the always tough first game out of the way, the Blue Devils are now off and running, quite literally. Their high-powered offense will get another big test on Thursday when they travel to play Cresskill, whom they beat to win the North 1 Group 1 title last year. But with hopes of league title, a section crown, and a Group 1 state championship in its sights, the Blue Devils welcome any test that comes their way. If they need any extra motivation, all they do is walk into their gym and glance up at the 1979 state championship banner.
"We definitely look at that banner every day and I know a lot about that team," added Gibney. "Winning a state title is a goal we hope to achieve down the road, but we have to worry about other things first like getting better every day and winning a league title. We know it's a long season, but we're happy to get off to a good start with a win tonight."
FOR MORE PHOTOS OF THIS EVENT OR TO BUY A COLLECTOR'S PRINT OF THIS GAME STORY, PLEASE VISIT 4FeetGrafix.com.