Saturday, December 17, 2011
By Cory K. Doviak
NJS.com Editorial Director
Wes Dickinson scored 20 of his game-high 30 points off the offensive glass as Dwight-Englewood opened its season with a 54-8 win over Leonia on Friday night.
ENGLEWOOD – Normally for a smaller school, a season's objectives are not so grand. Usually the preseason list of wanted accomplishments includes competing for a league title and getting to the .650 winning percentage needed for automatic entry into the Bergen County Jamboree. But for Dwight-Englewood, which returns all but one starter from last season's team that finished 23-3, the above mentioned checklist is just not demanding enough.
"We are going for a county championship, 100 percent focused on getting that far," said Dwight-Englewood senior Wesley Dickinson. "Every year since I came in and Coach [Eli Goldenberger] came in when I was a freshman we have been building and building. The next step for us is not to have a better record, it is to get into the county tournament and go far when we get there."
Dickinson kicked off his season with a bang. He scored a game-high 30 points in typical fashion. One of the best offensive rebounders in all of Bergen County, Dickinson got 20 points off the offensive glass and reached his point total with 15 two-point field goals as Dwight-Englewood pulled away late in a 54-38 victory over Leonia on Friday night in the Modell's Athletic Complex.
Dickinson's ability to time and then grab wayward shots takes some of the pressure off of the other Bulldogs, who can make something happen on the offensive end simply by taking shots at the basket, not necessarily making them.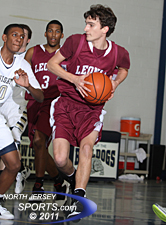 John Watson's personal five-point run had Leonia within 10 points midway through the fourth quarter.
"Around the basket Wes is tough, he is killer. He has creative ways to finish from different kinds of angles and he is quick. His second jump is a good as his first jump and sometimes we tell our guys that taking a shot is kind of like throwing up a pass to Wesley. It's not always pretty, but..." said Goldenberger. "What I am pleased with tonight is that he made some better flash cuts into the area to catch the ball, which is something he has been working on. I thought we could have gotten the ball to him more tonight, actually."
Leonia is a team that will win some games this season as well as it returns four of its five starters from last year. The noticeable exception is Chris Churchill, the 6-foot-9 center now a freshman at Middlebury College, the No. 1 ranked Division 3 team in the country. But the Lions lost starting center Chris Loscalzo early on after he took an elbow to the mouth in the first quarter and was left with a nasty gash inside his upper lip that would require stitches. With Loscalzo out and with Dwight-Englewood pressing after every made basket before dropping off to a trapping 1-3-1 in the halfcourt, the Bulldogs used a fast tempo and the turnovers they created with it to get out to a 16-8 lead after the first quarter and a 30-20 lead by halftime with Dickinson scoring 20 points before the break.
Dwight-Englewood scored the first six points of the third quarter and was up by 18 at 46-28 heading into the fourth, but the Lions hung in there. Two straight buckets, the first on a pretty high/low bounce pass out of double team by Rich Simons, and a free throw by John Watson had the Lions within 10 points with less than five minutes to go in the game and they forced D-E into a 10-second violation on the ensuing possession, but Leonia then threw away the inbounds pass and its chance to make it interesting down the stretch. Watson's second bucket had Leonia to within 48-38, but Dwight scored the final six points of the game to get win No. 1 out of the way for the season.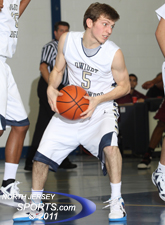 Jason Katz will try to help D-E fill the hole left by the graduation of Zach Hodges.
It was also a chance for Jason Katz to get accustomed to his new role in the rotation, an important one as Dwight-Englewood adjusts to the graduation loss of Zach Hodges, who held down the point guard position for the previous three years. Katz, who was just accepted to the University of Michigan, has some big shoes to fill as a primary ball-handler, along with Robbie Zeller, on a team with championship aspirations.
"Zach was not only the point guard, he was also our emotional leader, our glue, and with him gone we all know that we have to step up our games," said Katz. "His loss is not something we can make up with just one guy doing his job, we all have to fill that hole. We have experienced guards that can handle the ball and Wes [Dickinson] has stepped up his leadership role and we just have to keep it together and keep playing."
The Bulldogs also got solid efforts from Keion Osbourne and Austin James, who, in addition to getting out in transition on the offensive end, also help create turnovers from their spots on the wing in the 1-3-1, where there length is an obvious asset.
"Keion is long, Wes is long, Austin James is lanky and has good hands, this kid [Katz] is quick and he is tough and Robbie Zeller, who is coming off an ankle injury, is a smart and heady little point guard," said Goldenberger. "I don't know how deep we are but we have some guys that can come off the bench and give us some quality minutes and if that all comes together and everybody accepts their role, we can have a great season. I am not saying I feel we have been disrespected, but when you look where we were ranked behind some of the teams that were rated higher than us, I will say that we feel like we have plenty of motivation."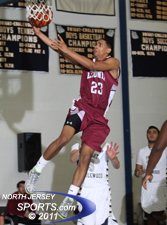 Wilfredo Munoz and Leonia will try to get win No. 1 next time out against Ridgefield.
Leonia has plenty of motivation as well and part of it is to avoid the type of start it had last season when it opened 0-4 and struggled to catch up the rest of the way. But with a healthy Loscalzo, with versatile players like Simons and Wilfredo Munoz, a steady point guard in Eric Williams, a banger like Leon Cromer and some quality depth, the Lions are not likely to fall too far behind the rest of the pack this time around.
"We knew it was going to be a tough test tonight and that we were going to be forced into some turnovers because of how [the Bulldogs] play and how well they play. I scouted them last week and saw that they were up in the press and they are a good team. They were not 23-3 [last season] for nothing," said Leonia head coach Fran Orlowski. "But this is a game that we can build on. We have to avoid getting off to a start like we had last year when we lost four straight and we really have to focus on our next game, which is against Ridgefield."
FOR MORE PHOTOS OF THIS EVENT OR TO BUY A COLLECTOR'S PRINT OF THIS GAME STORY, PLEASE VISIT 4FeetGrafix.com.