Monday, January 30, 2012
By Rich Barton
NJS.com Staff Writer
Josh LeClerq, Garfield's lone senior starter, scored 17 points to help Garfield hold off St. Mary, 53-46, on Sunday in the opening round of the Bergen County Jamboree.
ORADELL – Because it has just one senior starter and only one starter taller than 5-foot-10, the Garfield boys basketball team has had to rely on a set formula win win games. The Boilermakers are a their best when playing from in front with a chance to close out games by and taking care of the ball in the fourth quarter when the game is on the line. But in Sunday's first-round Bergen County Jamboree game against St. Mary's, the most important game of the Boilermakers' year to date, that poise in the fourth quarter started to wilt and with it nearly went all of an 11-point lead inside the final minute. Garfield bent quite a bit in the final stanza, but never broke when it counted the most.
Damon Godbolt hit two big free-throws and Isiah Morales iced the game with another as 14th-seeded Garfield earned a gritty 53-46 triumph over St.Mary, the No. 19 seed, at Bergen Catholic High School.
"Things got close there at the end, but we kept trusting each other that somehow we would get the job done," said Josh LeClerc, Garfield's lone senior starter. "We had some careless turnovers in the fourth quarter and they took advantage of them, but we never backed down, we never lost any confidence, and we stayed aggressive on both ends of the floor."
Garfield took control early in the second quarter when Morales nailed a baseline jumper, then hit a three-pointer to give the Boilermakers a seven-point lead, which they maintained at halftime, 22-15.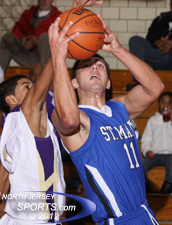 Connor Cuccinelli (13 points, 11 rebounds) finished with a double-double for St. Mary.
The third quarter was more of the same with St. Mary's trying hard to cut into that deficit and the Boilermakers holding them off. When Morales beat the third-quarter buzzer with a three-pointer to make it 39-28, it looked as if that could have been the final nail in St. Mary's stay in the Jambo.
Such was not the case though as LeClerc picked up his fourth foul early in the fourth quarter and Josh Davis took advantage of LeClerq's extended stretch on the bench. Davis hit a runner off the glass then followed it up a minute later with a three-pointer that trimmed the Garfield lead to 40-36. Point guard Ryan Monaghan's only basket of the game was a big one as he knocked down a three-pointer from the corner to slice the once double-digit deficit down to one, 46-45, with 1:20 to play.
Garfield then caught one of two fortunate breaks in the final 80 seconds of regulation. First, the Gaels nearly forced a steal at midcourt and a jumpball was called with the possession arrow pointing in Boilermakers' direction. That allowed them to retain the basketball and also get LeClerc back in the game. Then, after Morales hit one of two free throws, St. Mary's Shawn Johnson went to the charity stripe for two shots. The first one was good, but the second one popped out and Damon Godbolt was eventually fouled. Godbolt calmly sank both free-throws for a 49-46 lead. Morales hit a free-throw with 27 seconds left to ice the game and send the Boilermakers into next weekend's Round of 16.
"Those shots by Damon (Godbolt) wer huge, probably the biggest of the game for us," said Garfield head coach Chris Annibal. "I thought we did a good enough job down the stretch to pull this one out against a real tough team. Every year, it's a goal to qualify for the Jambo and to play well. You are representing your school, your town, and yourself. We have a lot of pride in Garfield and that shows with the effort we put forth every time we step on the court. To get here, play well, and win a game is even better because it's proof that we have a pretty good team over here."
Isiah Morales had 17 points for Garfield, which is one win away from its first ever spot in the Jambo quarterfinals.
The backcourt of LeClerc and Morales have emerged as one of Bergen County's best backcourt tandems, each dropping in a game-high 17 points for Garfield (12-2). Jahad Pompey also came up big in the second half where he scored all 10 of his points. Connor Cuccinelli had a double-double of 13 points and 11 rebounds for St. Mary (9-4). Johnson also had 13 points and Davis added eight.
Garfield has a much bigger task ahead of it next week when they face third-seeded Hackensack. The Boliermakers will likely have a size disadvantage at every position, but they see that as just another obstacle to surmount on their way to what could be to the school's first-ever Jambo quarterfinal appearance. Just ask Morales, who drudged up his inner Norman Dale when asked about facing Hackensack next weekend.
"We know the hype on Hackensack and we know how good of a team they are, but we want to prove we're also a really good team" said Morales. "There will be a lot of excitement and a lot of nerves for both teams. But when the ball goes up, it's just their five against our five. The court is the same for both teams and the baskets are the same height. All we can do is play hard every single possession and see what happens."
FOR MORE PHOTOS OF THIS EVENT OR TO BUY A COLLECTOR'S PRINT OF THIS GAME STORY, PLEASE VISIT 4FeetGrafix.com.