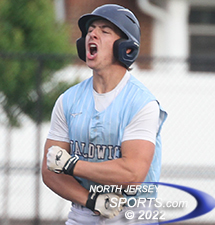 Mike O'Neil had two hits and three RBI for Waldwick, which won its first state sectional title since 2016 with 13-10 victory over Wood-Ridge in the North 1, Group 1 final on Friday.
WOOD-RIDGE – Over the course of pre-season practice and then into the regular season, baseball coaches do everything they can to simulate unique game situations in order to get their players to be ready for virtually anything. Though there are no amount of fungos hit, wheel plays run or pre or postgame speeches that can prepare a team for what might happen in a wild championship game that might be the biggest game in the lives of most of not all of the players on both teams.
That was exactly what took place when the top two seeds in the North 1, Group 1 state sectional tournament, Wood-Ridge and Waldwick, met with each team's season at stake.
In a contest with enough twists and turns to resemble a Formula 1 race, everyone from diehard fans to casual ones was on the edge of their seats. Both teams showed the resolve of a champion; However, only one would get both the elusive final out and a section title to go with it.
After a trio of errors eviscerated a four-run lead an inning earlier, Waldwick was trailing by a run heading into the top of the seventh inning. There was never any panic and the Warriors kept grinding. After scoring the tying run, Nick Ciano brought home the go-ahead run with a single and Mike O'Neil followed with a two-run double.
Wood-Ridge brought the potential winning run to the plate in its final at bat of the season, but Rocco DeMenna had enough left in the tank to induce a fly ball out to end it as second-seeded Waldwick rallied from three different deficits to win its first North 1, Group 1 title since 2016 with a thrilling 13-10, three-hour triumph over top-seeded Wood-Ridge on Friday afternoon at the Wood-Ridge Athletic Complex.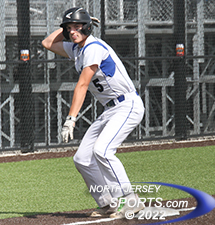 Wood-Ridge senior Trey Packen tripled and scored the first run of the game.
"We're a really close team and we work our butts off. We were ready for the moment," said O'Neil. "At this time of the season, guys are banged up and not necessarily feeling 100 percent. Our strong suit is our mental toughness. We showed the pride and the selflessness that we've had all season; everyone doing their job and playing for each other to reach our goal."
Playing on its home field, Wood-Ridge got off to a good start. Starting pitcher Nick Rizos had a pair of perfect nine-pitch innings in the first two frames. Senior Trey Packen got things going on the offensive end. The lefty went with an outside pitch and drilled it into the left-field corner for a triple before scoring on a wild pitch for a 1-0 lead.
Waldwick finally got the bats going in the third. A walk and a bunt single turned the lineup over. Leadoff batter Phil Centineo won a long battle with Rizos to drive in both runners with a double to left-center to put Waldwick in front. Ciano followed with an RBI single as the Warriors took a 4-1 lead.
The Blue Devils answered back in the bottom of the fourth. With a run already in on an infield single by Phil Giancaspro, a key call also went the Blue Devils way. Giancaspro collided with Waldwick's second baseman Justin Dressler as the ball arrived but was ruled safe. Rizos' infield single plated a run and Nick Marchitelli's groundout made it 4-4.
With momentum on their side and DeMenna now on the hill, the Blue Devils had a chance to break things wide open in the fifth. They loaded the bases with nobody out and were able to take the lead on a sac fly from Gavin DeRobertis. DeMenna settled down and prevented further damage to keep the deficit just one run, 5-4.
With the bases loaded and the winning run at the plate Rocco DeMenna got the last out for Waldwick, which will play New Providence in the Group 1 semifinals.
O'Neil came up clutch in the final two innings for Waldwick. With two outs and two strikes on him, he stayed patient and drove a fastball into center to bring home the go-ahead run. Anthony Marco and DeMenna kept the two-out rally going with doubles to stretch the Warriors' lead to 9-5. As hard as the Warriors fought to regain the lead it did not take long for them to virtually give it away. A trio of errors, including back-to-back miscues on routine plays allowed Waldwick to cut the deficit to one run. Rizos made them pay for the extra outs in the inning by delivering a two-run single to give Wood-Ridge a 10-9 lead and whip the home crowd into a frenzy.
Waldwick had one more chance though and provided a final twist to an already epic battle.
In the top of the seventh, Zach Hulsizer was hit on the very first pitch of the frame and fellow senior Frank Kasperowicz singled with both runners moving up on a wild pitch. Alex Manziano came up huge in the nine-hole with his third hit of the day to tie the game. After an intentional walk to Centineo, Ciano stepped to the plate with redemption on his mind after looking at a called third strike in his previous at-bat in the sixth. His single drove in Kasperowicz with the eventual game-winning run.
"It was a huge spot, but I had to take that at-bat like it was any other at-bat that I've had this season," said Ciano. "If we were going to beat a team like Wood-Ridge, we had to have quality at-bats. Our team is focused on barreling it up throughout our lineup. This team just doesn't give up and we play for each other.
O'Neil padded that lead with a two-run double to make it 13-10. A three-run lead seemed far from safe as Wood-Ridge was not about to go down without a fight.
"There were times earlier this season where we got down and battled with our backs against the wall," said Waldwick first-year head coach Dan Freeman. "We have a ton of heart, and these guys pick each other up. We're always going to compete, and we felt confident offensively that we could put together good at-bats."
DeMenna, who threw 79 pitches in three innings of relief, was starting to show signs of fatigue after a couple of quick outs. After giving up a pair of four-pitch walks to load the bases and bring the winning run to the plate, he ran the count 3-0 on the next batter. With nowhere to put him, DeMenna spotted a fastball directly over the heart of the plate. The pitch was swung on and hit on the button, but it sailed directly into the glove of Kasperowicz in straightaway center for the final out as the Waldwick players celebrated with a mixture of both wild elation and total exhaustion.
Centineo scored three runs and drove in a pair for Waldwick (23-7). O'Neil, Ciano, and Marco each had two hits and three RBIs for the Warriors.
In their final games in a Wood-Ridge (21-10) uniform, Sarlo matched his career-high with three hits and Rizos finished with a career-best three RBIs.
The Warriors will hit the road again on Tuesday. In the Group 1 state semifinals, they will face North 2, Group 1 champion New Providence. Although there is now a new goal to chase, being a Group 1 state champion, this senior-laden group will always look back at this game as the craziest one they ever played together.
"This is our dream and it's one we've had since we were nine years old," said O'Neil. "For us seniors, it's our last shot. To keep our heads on straight and to accomplish this together as a group is a special feeling. We'll always remember this game, but this isn't it. We're always preparing for what's next and we want to get two more wins."
FOR MORE PHOTOS FROM THIS EVENT PLEASE CLICK HERE. TO BUY A COLLECTOR'S PRINT OF THIS STORY PLEASE VISIT 4-FeetGrafix.com
---