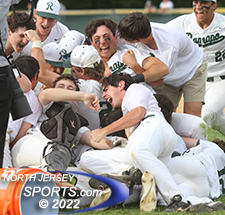 Ramapo celebrated its first state sectional title since 2005 after a 3-2 win over Montville in the North 1, Group 3 final.
FRANKLIN LAKES – The toughest part of trying to describe Friday afternoon's North 1, Group 3 state sectional final is deciding which storyline to follow. There were so many of them.
Ramapo, the No. 3 seed and the home team, was trying to win its first state sectional title since 2005 and do it in honor of Charlie Landers, a fallen teammate, who has been the source of inspiration throughout an up-and-down season that has turned into one of the best in program history.
Its opponent, No. 4 Montville, is a state tournament Bergen County killer. Last season, as the No. 15 seed, the Mustangs upset Ramapo in the first round in Franklin Lakes and this year they came in with consecutive playoff wins over Pascack Valley, the defending section champ, and top-seeded Northern Valley/Old Tappan, the reigning Bergen County champion.
There was the pitcher's duel between two of the state's top arms, Montville junior lefty Ian Kaiser and Ramapo senior right-hander, Niko Logothetis. The focus could have been on the atmosphere in which the game was played. If tickets had been sold it would have been a sellout. The top row of the football/soccer field stands, which offers a birds-eye view on the third base side, was fully populated all the way down the leftfield line. Fans lined the outfield fence just about all the way around and It was six or seven deep down the right field line where the home supporters camped.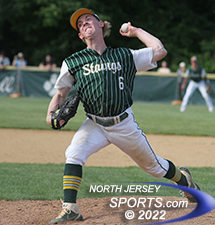 Ian Kaiser, a competitor from first pitch to last, threw all six inning and allowed just one earned run for Montville.
In a term not often used to describe a high school baseball game, it was played at a frenetic pace. Each dugout was full and every player not on the field or in the on deck circle was up on the fence and in full throat. On more than a couple of occasions the home plate umpire had to settle down both dugouts. The intensity started on full boil and only increased from there.
With Ramapo batting in the bottom of the third inning Logothetis looked up from his seat atop a bucket in the dugout and said, "This is a chippy game," and it was the perfect description.
It was a classic that went right down to the final pitch, which was thrown by Logothetis and, after being redirected, was caught in right field by Christian Cavagnaro for the final out of a 3-2 victory that gave Ramapo its first state sectional title in 17 years.
Crazy…just friggin' crazy.
"I had to keep my composure, lock in," said Logothetis (7 IP, 2 R, 2 ER, 8 H, 7 K, BB), who has blossomed into one of the top pitchers not in Bergen County or North Jersey, but in the entire state. "I couldn't let the energy or the pressure get to me. I focused in, settled in and kept my composure for as long as I was out there."
Logothetis is the only public school pitcher to beat Non-Public North A champion Don Bosco Prep this year and he did it on the big stage, a three-hit shutout in the quarterfinals of the Bergen County Tournament and then he threw another gem in a tough-luck 1-0 loss to St. Joseph Regional in the county semifinals. The run against him in that contest was unearned.
With the help of a Cavagnaro diving grab for the second out, Logothetis wriggled out of a two-on, one-out jam in the top of the first inning and his teammates gave him a slight lead to work with in a contentious bottom of the first. Kaiser seems to enjoy the role of WWE-style heel. He ruffled some feathers in the semifinal upset of Old Tappan and did not seem to mind at all in drilling Ramapo catcher Payne Teel, who took one in the back of the shoulder. There was a stare down on Payne's way to first base where he was replaced by courtesy runner Matt Bedrin.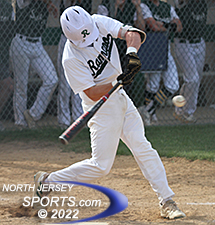 Ramapo sophomore Payne Teel pulling his hands in before muscling the game-winning hit over first base.
JT Psirogianes then singled, both runners moved up a base on a wild pitch and Bedrin scored the game's first run on Jake Lopez's RBI groundout. The third out of the inning came in explosive fashion when Psirogianes tried to score on a pitch to the back stop, but Montville catcher Brian Lovaglio flipped to a covering Kaiser, who had time to get his knee into Psirogianes' chest to block the plate before delivering the tag with a full swing of the glove to the face. Kaiser took a brief pause over Psirogianes in the cloud of dust before heading to the dugout.
The energy needle was pinned in both dugouts and Montville used the surge to get even in the top of the second. Three straight one-out infield singles by Hunter Force (1-for-3, R), Christian Zurawlow (2-for-2) and Matt Colatrella (1-for-3) proceeded Ryan Wehrle's RBI groundout. Logothetis got a called strike three to limit the damage and then whiffed the first two hitters in the top of the third before Logan Force gave the Mustangs their lone lead of the game with a no-doubter, a solo blast that made it 2-1.
Ramapo got a break when Connor Saslow reached on an error leading off the bottom of the third and took full advantage. Jack Klein reached on an infield single and then Teel (1-for-2, 2 RBI) put together the game's signature at bat, a 10-pitch battle with Kaiser, who never gave an inch. Teel, a sophomore, fouled off multiple tough pitches before pulling his hands in and muscling one off the handle and just over the head of first baseman Ryan Nieskens, who chased it up the line as Saslow and Klein raced home to put the Green Raiders in front for good, 3-2.
"I was sitting fastball and he threw a lot of them. His slider was all right and I almost got one for a hit, but it went just foul. I fouled off a couple more fastballs and the one I finally got was great pitch in on my hands. I got a little lucky and got it over the first baseman's head" said Teel, the latest in a long line of Teel family members who have made their mark on Bergen County athletics. "It's a great feeling to win a state sectional championship and to carry the Teel name on the field and keep it in the history books."
Kaiser (6 IP, 3 R, ER, 3 H, 7 K, 2 BB) not only talks the talk, but he walks the walk. The Binghamton University commit struck out the next three hitters to close out the third and did not allow a hit and walked just one over his final three innings of work. He pitched well enough to win, but so did Logothetis, who had one more jam to deal with in the top of the fourth.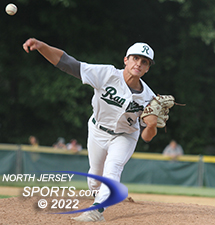 Niko Logothetis went the distance for Ramapo, which will play Cranford in the Group 3 semifinals on Monday..
Zurawlow singled to right field leading off and Wehrle reached on a one-out error to put runners on the corners for Kaiser, who again did not shrink from the moment. A left-handed hitter, he scorched a line drive that was destined for the right field corner until Charlie Wingfield, Ramapo's freshman first baseman, picked it off and won the race to the bag for the inning ending 3-3 double play.
"I was holding the runner on, the pitch comes in and the ball was coming at me fast. I knew I had to react fast because the ball was tailing to my left," said Wingfield. "I barely caught it. I got it in the palm actually, and I knew there was only one out, so I looked for the base, tagged the base and got him."
Logothetis then retired all six batters he faced in the fifth and sixth innings and worked around a one-out Wehrle single in the seventh to close it out for the Raiders, who will play North 2 champion Cranford on the road in the Group 3 state semifinals on Monday.
"If you look at the banner out there that lists the state championships it says '98, 2001 when I was a sophomore, 2002 when I was a junior and 2005 when I was in college. That was the Shooter Hunt year [when Ramapo went to the state final]. I love Ramapo; I am back coaching here for a reason. I want to give back and help the kids," said Garrison Ward, the Raiders' co-head coach and a proud alum. "For us to win one after such a drought that most of the kids who played today weren't even alive, it's awesome. My heart rate [in the last inning] was 119 there, but against Bosco it was 158, so the breathing exercises I have been doing the last couple weeks are paying off. These kids deserve it. They work so hard, they play so hard and I am so happy for them."
One of them is team captain Michael Whooley, who is heading to Villanova University where he will play alongside his brother John, who never won a state sectional title in his standout catching career at Ramapo.
"All I know is that today is 100-percent history made and it feels amazing. We are going to be on that fence forever and I am going to come back next year and hopefully they win it again, but we are going to see our team out there and know what we accomplished," said Michael Whooley, who ended with a zinger. "First time in 17 years…state champs and every time I see my brother I will let him know."
FOR MORE PHOTOS FROM THIS EVENT PLEASE CLICK HERE. TO BUY A COLLECTOR'S PRINT OF THIS STORY PLEASE VISIT 4-FeetGrafix.com.