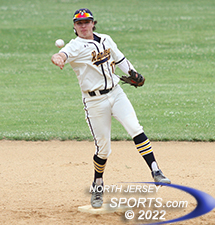 Ramsey shortstop Robbie Caffrey turning a first inning double play. After that it was all Rams in an 11-1, 5-inning victory over Demarest in the North 1, Group 2 state sectional semifinals.
RAMSEY – When shortstop Robbie Caffrey fielded a hard-hit one-hopper and turned it into an inning ending 6-6-3 double play in the bottom of the first inning, Ramsey seized control Tuesday's North 1, Group 2 state sectional semifinal. Playing as the top seed on their own field, the Rams never let fifth-seeded Northern Valley/Demarest, one of the hottest teams in North Jersey coming in; get a foothold in the game.
Ramsey sent 12 hitters to the plate in the bottom of the first inning, wrapped out four hits and drew four walks and scored eight times in the opening frame to set up an 11-1, five-inning victory that sets up a final of intense local interest. Ramsey (25-4) will host second-seeded league rival Westwood, which outlasted Mahwah, 10-9, on Friday.
"I was not expecting this. I knew we were facing a very challenging arm. We were really looking to just grind out a couple of runs and maintain a lead," said Ramsey head coach Paul Urbanovich. "All of the credit goes to our hitters, particularly Anthony Pallone. He really set the tone,"
Pallone, Ramsey's junior centerfielder doubled twice, drove in three runs and scored another, not in the game, but just in the first inning alone.
"Last game I was 0-for-4, so today I came out really looking to be aggressive and jump on some fastballs," said Pallone, who split the right-centerfield gap with his first double and the left centerfield gap with his second. "I put two in the gaps and that felt good. I felt good at the plate today and a lot of other guys did, too."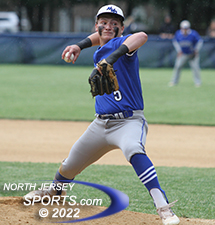 Dan Argenziano threw 4 2/3 innings of relief for Demarest, which finished the season with a 16-11 record.
Pallone (2-for-4), who reached safely in all four of his plate appearances, Will Kirk (1-for-3, R) and Connor O'Hara (2-for-3, 2 RBI) had hits in the opening inning. Luke Monico (1-for-2, R, BB), Aidan McNally (1-for-2, 2 R) and Robbie Caffrey (1-for-3, 2 RBI, 2 R) all drew walks and Brooks Kanwisher (1-for-3, RBI, R) reached on an error that extended the inning another five batters.
When all was said and done eight of the nine spots in the Ramsey scored a first inning run and O'Hara, the senior left-hander, had a huge cushion to with when he took the mound for his second inning of work. O'Hara (5 IP, 1 R, 0 ER, 2 H, 7 K, 2 BB) faced the minimum through the first three innings with Caffrey's double-play erasing Demarest's lone baserunner to that point and he retired seven straight before Ryan Sabot reached on an error leading off the top of the fourth.
"I feel like in my last few outings I didn't really have my best stuff, but I was able to get it going early and then after we got the runs I was really able to settle down. I was a little nervous coming into a big game like this, but the defense behind me is always solid and I was happy to pitch to contact," said O'Hara, who lived on the outside edge with his fastball all afternoon. "It's surreal [being this deep in the state tournament]. For the seniors we know that any of these games could be our last. We are just playing our hearts out every game. Last year we lost in this round, the semifinal, so to win here and keep going feels great."
It was the opposite in the other dugout where Demarest saw its late season surge come to a halt in one rough inning. The Norsemen had won 11 of their previous 12 games and were riding high after a 16-4 drubbing of fourth-seeded Jefferson on the road in Saturday's quarterfinal round.
Connor O'Hara allowed just two hits in five innings for Ramsey, which will play Westwood for the state sectional title at home on Friday
The Norsemen, who were making their first appearance in the sectional semifinals since 2018, got an RBI infield single from Andrew Hefter, which scored Sabot with their lone run in the top of the fourth. Kyle Miller had the other hit and Dan Argenziano stabilized the game on the mound with 4 2/3 innings of relief for Demarest, which finished its season with a 16-11 record powered by a solid class of nine seniors.
"We put up a good amount of runs against Jefferson and if we get out of that [first inning] maybe giving up two runs, I think we still have a good shot, but it got away from us. Down 8-0 against a team like Ramsey makes it very difficult to say the least," said Demarest head coach Marc Houser, who reached the personal milestone of 100 career wins earlier this season. "This group is special. What they did prepares them for the future and that is just what we talked about with our seniors out there [in the postgame]. It's bigger than baseball and this has been a great group to work with."
Ramsey got a two-out RBI single from Kanwisher in the second inning and closed the game out with two more in the fifth. Aidan McNally led off with a single and scored on Caffrey's double to left-center and, after an error and an intentional walk loaded the bases, Michael Featherstone (2-for-4, RBI) shot an RBI single the opposite way to close out the festivities.
The Rams press on now and the final comes with an added twist. It will also be Round 3 of Urbs versus Urbs this season as the Urbanovich brothers, Paul and Nick are the head coaches with Paul's Ramsey squad looking for the season sweep. The first two matchups determined the league championship and the stakes are raised even higher this time.
"It's always fun having Coach's back," said Pallone. "We are trying to win a state title and give him the bragging rights at Thanksgiving."
FOR MORE PHOTOS FROM THIS EVENT PLEASE CLICK HERE. TO BUY A COLLECTOR'S PRINT OF THIS STORY PLEASE VISIT 4-FeetGrafix.com.