Senior Michael Sarlo drive in a pair of runs in Wood-Ridge's 5-1 win over Hasbrouck Heights in the quarterfinals of the North 1, Group 1 state sectional tournament..
WOOD-RIDGE – Nick Rizos throws the ball, Michael Sarlo catches the ball. It has been that way for quite some time now at Wood-Ridge where the now senior battery has been varsity fixtures since their freshmen years. They went through the growing pains together, through the COVID-lost season of 2020 together, through two league championship seasons together and earlier this week they were both named All-Bergen County Third Team.
Partnerships like that are rare in high school baseball and the Blue Devils are in no hurry to see it discontinued.  
"Nick Rizos played mostly third base as a freshman, but he pitched three or four games and his first win was a no-hitter against Weehawken, a game that Sarlo caught," said Wood-Ridge head coach Mike Carcich. "The two of them have put so much into this program, they are both the kind of kids that you love to have in your program and you wish they could just keep coming back every year."
Rizos and Sarlo played leading roles in making sure that their high school careers and Wood-Ridge's season will continue for at least one more game. Rizos went the distance on a three-hitter and Sarlo drove in the game's first run and then the eventual game-winner in a 5-1 victory over Hasbrouck Heights on Saturday in the North 1, Group 1 state sectional tournament at the Wood-Ridge Athletic Complex.
"Days like today are why you put in all the work in the offseason, why you eat right, why you work out and why you make sure your arm is right," said Rizos. "I love putting all of my effort into this sport and into this school."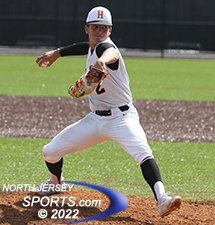 Hasbrouck Heights Junior Tristan Govea will be one of the top returning arms in the NJIC next season.
Rizos' (7 IP, 1 R, 0 ER, 3 H, BB, 8 K, 4 HBP, W) effort on Saturday consisted on 102 pitches thrown in what was a tight matchup most of the way against Hasbrouck Heights, the defending champion that ended Wood-Ridge's season in last year's semifinal round. Rizos, who pitched the final 5 1/3 innings with a bruised right shin courtesy of a blistering comebacker off the back of Joe Stevens, was being matched by Heights junior right-hander Tristan Govea.
Sarlo's leadoff double in the second inning led to the game's first run when courtesy runner Sal Catanzaro switched places with who painted the rightfield line with an opposite field, two-out double that gave the Devils the 1-0 lead that did not last all that long. Govea was hit by a pitch leading off the top of the third, was run for by Anthony Moretto, who moved up on a Damon Rivera and scored on a throwing error.
Rizos worked around an error and his third hit batsman of the game to get out of the fourth inning unscathed and Wood-Ridge left two runners on base in the bottom of the fourth with Dominic Aioso's sliding grab in left field accounting for the final out,
The breakthrough finally came in the bottom of the fifth when Wood-Ridge sent eight hitters to the plate and scored three times all set up my Nick Marchitelli's leadoff single back through the box. Trey Packen drew a walk, both runners moved up a base on a wild pitch and then Sarlo, on a 3-2 pitch with the infield in, delivered a line drive to centerfield. Michael Quimbayo made a nice catch on the sinking liner, but Marchitelli tagged and scored the go-ahead run.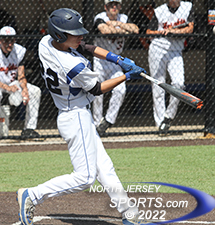 Phil Giancaspro drove in 3 runs for Wood-Ridge, which will host Mountain Lakes in the section semifinal on Tuesday.
Giancaspro (2-for-3, 3 RBI) then provided the breathing room. He blooped a single into the triangle behind the second base bag and, with two outs and both runners moving on contact, Packen and Sal Catanzaro scored to make it 4-1. Sarlo (2-for-3, 2 RBI, R, SAC) tacked on an insurance run with an infield single that scored Packen (1-for-3, 2 R, 2 SB, BB) in the bottom of the sixth and Rizos worked around a leadoff single and a two-out walk in the seventh to close out Wood-Ridge's 20th win of the season, their fourth straight year reaching that mark.
The top-seeded Blue Devils (20-9) will be at home again in the semifinals where they will host No. 4 Mountain Lakes on Tuesday at 4:00 p.m. Under Carcich Wood-Ridge has won league titles and it has won multiple Bergen County Tournament games, including this year when it reached the quarterfinals before falling to eventual champion Northern Valley/Old Tappan. It is the state sectional championship that has eluded the Devils, but they are just two wins away now with Packen set for the semifinal start and Rizos back on full rest should they make the final.
"With Rizos, Packen and Stephen Crandall we have three of the best arms in Group 1 baseball and hopefully that will be the key for us this time around. Without Rizos on the mound today we don't win that game today, and we have all the confidence in Trey that he will do it against Mountain Lakes," Carcich. "The one thing that has been holding us back is the lack of a state title; it's the one thing that is not on our resume. We Trey and Crandall in relief [on Tuesday] if necessary and with Rizos for a final when we get there; we couldn't ask for a better set up than that."
FOR MORE PHOTOS FROM THIS EVENT PLEASE CLICK HERE. TO BUY A COLLECTOR'S PRINT OF THIS STORY PLEASE VISIT 4-FeetGrafix.com.