Jared Shiffman secured the save for Pascack Valley, which earned a spot in the Group 3 state final for the first time in program history with a 5-3 win over Millburn on Monday in Hillsdale.
HILLSDALE – This is a public service announcement for all of those planning to attend the in-person graduation ceremony for the Class of 2021 at Pascack Valley High School, which traditionally takes place on the baseball field…Wear a helmet and/or bring a glove.
With its 5-3 win over Millburn on Monday in the Group 3 state semifinal, Pascack Valley's baseball season is still going and soon-to-be Panthers but still Indians according to their uniform tops are going to need that real estate for a little while longer. PV will play for the outright Group 3 state title in the final game of the 2021 high school baseball season on Saturday night in a 7:00 p.m. start at Veteran's Park in Hamilton.
"We graduate on Wednesday. We are going to be playing past graduation and they don't know this yet, but we are going to hit on graduation [day]. Somewhere we are going to hit," said PV head coach Will Lynch, who is bringing the program to the state final for the first time in its history. "They graduate right here [on the infield] and I have to try to get that moved to the turf because somebody might get hurt."
Pascack Valley has locked on to a winning formula and just refuses to deviate. Quality starting pitching, clutch bullpen help when needed, airtight defense and timely hitting are the staples of PV's 5-0 run through the state playoffs. This was the first time in the postseason that PV has given up more than one run in a game and it has outscored its opponents by a combined score of 15-6.
Millburn (19-6) was the only team to have a playoff lead as a rare error allowed Danny Cifu to reach leading off the game and he came around to score an unearned run. The Millers nearly got some early separation as they had the bases loaded with one out, but Cole Porter, PV's starting pitcher, picked off a liner back to the box and threw to first for the inning ending double play. Porter (6 2/3 IP, 2 R, 0 ER, 6 H, 5 K, 2 BB) allowed just four more hits before exiting with two outs in the seventh inning with 111 pitches thrown.
Cole Porter threw 6 2/3 innings to pick up the win for Pascack Valley.
Pascack Valley made up the deficit with an unearned run of its own in the bottom of the first inning and then went ahead for good in the bottom of the second when another Millburn error opened the door to a three-run frame. Dylan Criscuolo (1-for-2, R) drew a one-out walk, MJ Biener reached on a two-out error and then three straight RBI singles by Porter (1-3, 2 R, RBI), Zach Novakowski (2-for-3, RBI) and Charlie Saul (1-for-3, 2 RBI) gave PV the lead for good, 4-1.
Millburn kept up its pursuit and crept closer in the top of the fifth when Henry Jacobs reached on a tough error leading off. Shortstop Mason Baronian gobbled up the sizzling one-hopper, but his throw pulled Zach Traina off the bag. Porter issued a one-out walk and gave up a single to Robert Schneider to load the bases before throwing a pitch that came in contact with a thread on the jersey of Steven Echavarria. That forced home Jacobs to make it 4-2 with the bases still loaded, but Criscuolo came home with a ground ball to third base for the second out and Porter got another ground ball to escape further damage.
Biener, the unsung No. 9 hitter and the starting catcher for a dominant pitching staff, finished 1-for-3. The hit was a two-out single in the bottom of the sixth that scored Anthony Rossomondo and pushed PV's lead back up to 5-2.
"I definitely enjoy the No. 9 spot because a first pitch fastball is something I can look forward to. I am a fastball hitter," said Biener, a senior who drove in two runs in the state sectional final win over Teaneck and is hitting right around .400 for the season. "Personally I think it is really cool that we get to play past graduation. Everybody just wants to keep winning. This is the first time in our program's history that we have gotten this far. This is a team that is dominated by seniors and we've known all along through the playoffs that any of these games could be our last and that just pushed us forward. That has given us the motivation that we need."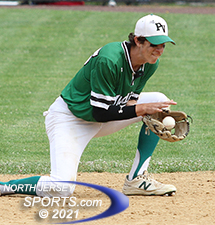 Shortstop Mason Baronian grabbing the final out for Pascack Valley, which will play Ocean City for the Group 3 state title on Saturday in Hamilton.
Millburn used its final turn at bat of the season to put one final scare into the home team. Cifu led off with a single before Porter induced two pop-ups. He had 107 pitches before a four-pitch walk to Matt Hollender used up the rest of his pitches. Enter Jared Shiffman, the senior right hander who was the winning pitcher in the semifinal victory over Roxbury, which was spread over two days, walked the first hitter he faced and gave up an infield single that scored Cifu and moved the tying run up to second base.
"Coming into the game where we are winning, all of the pressure is on you. We were up 5-2 and had everything to lose and they were down by three in the last inning and they had nothing to lose. It was a big spot, definitely," said Shiffman, who is 3-1 on the season and notched his fourth save on Monday. "I did it against Ramapo [in the county tournament], I've been in a lot of big games and I just wanted to stick to my strengths and give it all I got."
Shiffman slammed the door on a 6-4 putout with Baronian flipping to Novakowski for the out that sends PV into the state final and may send the graduation attendees ducking for cover. Both Porter and left-hander Anthony Sodano, who is 2-0 in the state tournament, will be on full rest for the state final with Shiffman also fully available.
"We lost to Cranford in extra innings in the semifinals in 2017. We couldn't get a bunt down and it still bothers me. Now we have another chance so we are going to go down to wherever the [heck] it is, Hamilton I guess, for the simple reason that these kids have done everything we have asked of them every single day," said Lynch. "Go make a play, go get a hit. These kids do whatever it takes."
FOR MORE PHOTOS FROM THIS EVENT PLEASE CLICK HERE. TO BUY A COLLECTOR'S PRINT OF THIS STORY PLEASE VISIT 4-FeetGrafix.com.